Customer Layouts

Are you particularly proud of your layout handiwork?! We would love to see your layout and even showcase it here for all to see and admire! If your photo happens to include a KMRC Exclusive - well we won't be complaining! Please send photos into sales@kernowmodelrailcentre.com and pop in the subject line 'FAO Hayley Newsletter'.

Keep an eye out on new layouts appearing weekly! Please note that it is me, Hayley, so don't expect any 'professional' opinions :)

This impressive layout was sent in by Mr Taylor. I say impressive not only because of the look of it but knowing it is a small layout in a flat in central London! He wishes he had more space to expand but I think your layout is perfect just the way it is!: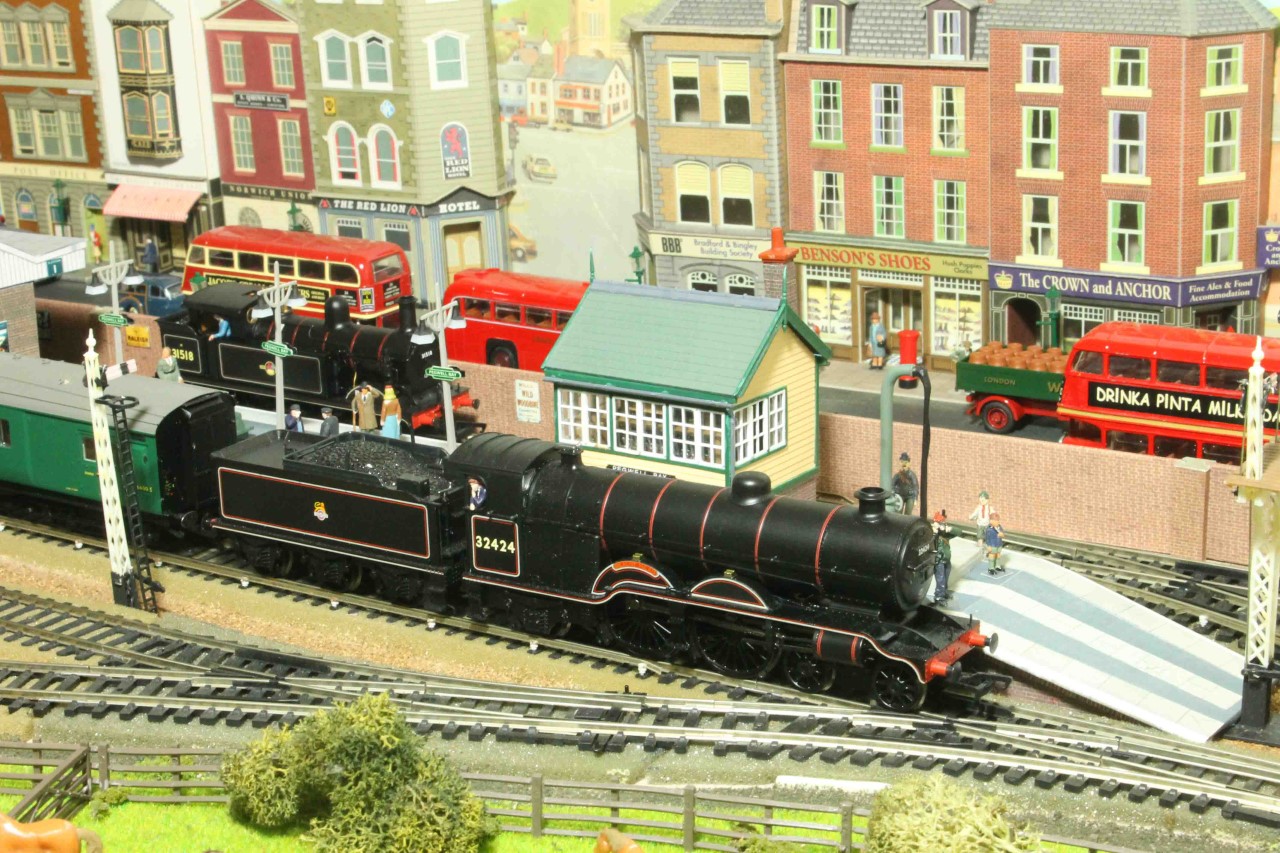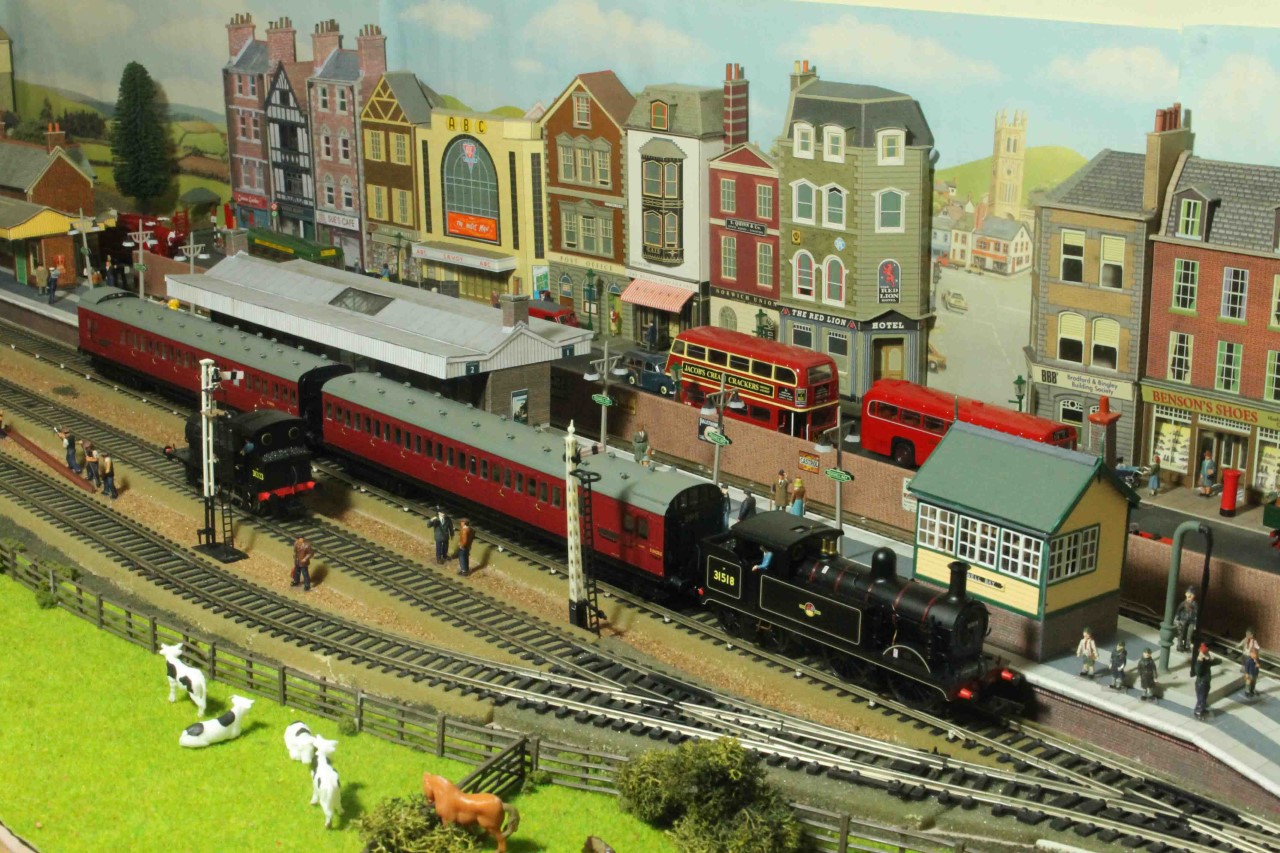 Mr Hampton sent in these great photos of his micro layout named Baker Wood Bunker. He says it represents a military railway facility where "stores" are trans-shipped between standard and narrow gauge systems before being stored underground. Fantastic work!: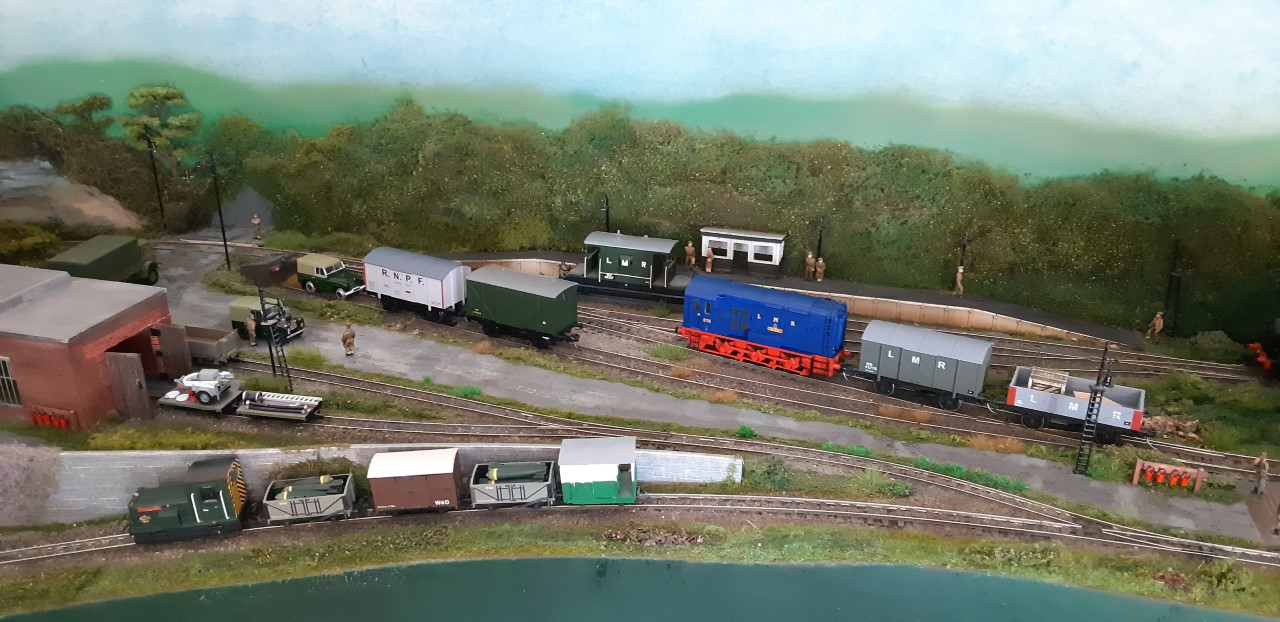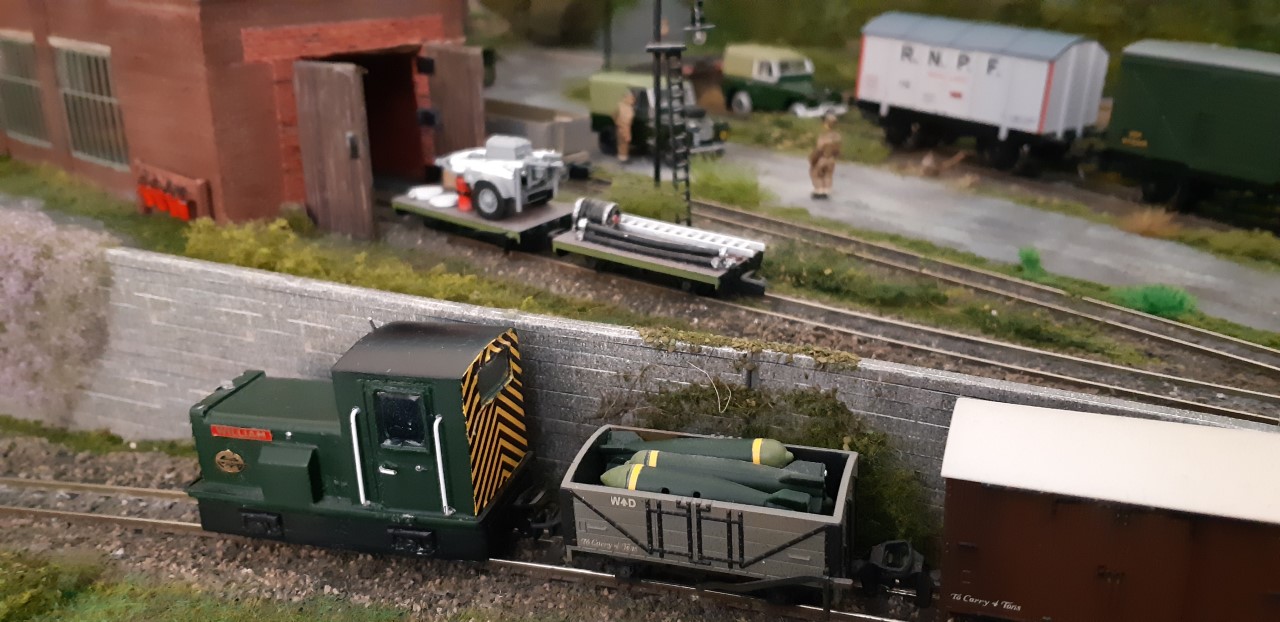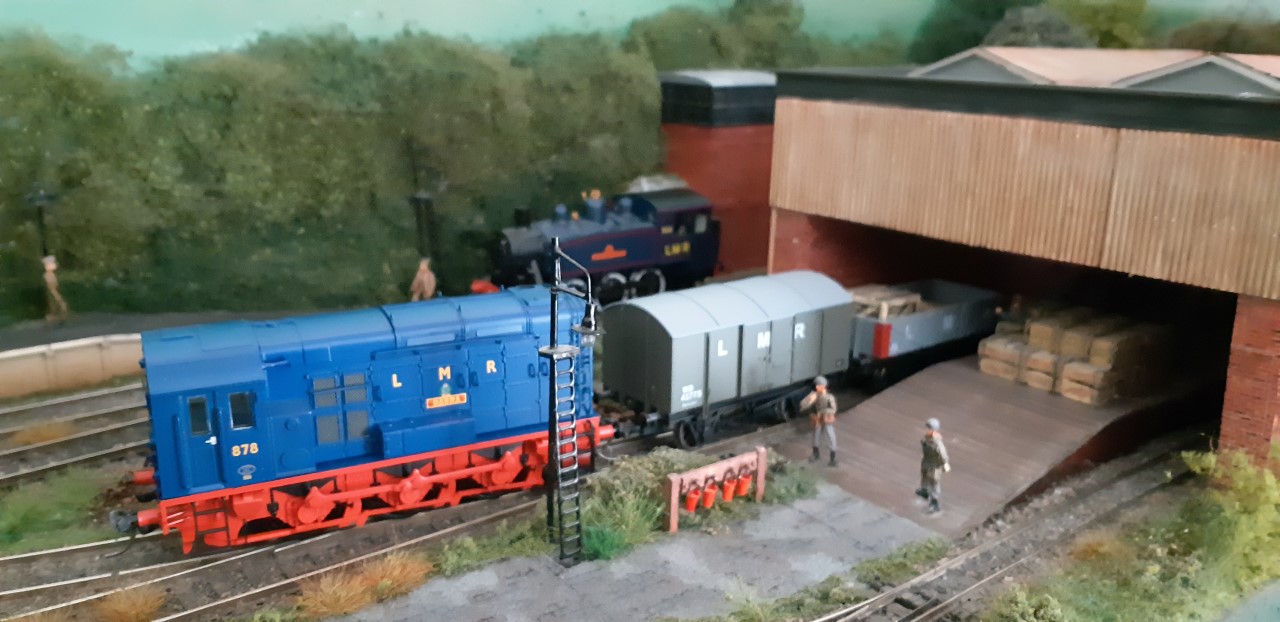 Mr Trevaskus recently bought our exclusive Cornish Engine Hous and wow! He thought we might like to see how good it looks in-situ and I must agree! I am loving how it is sitting in the hill side all overgrown like it has been there for some time! I am also appreciating all of the time and effort you have clearly put into the water effect under the bridge - superb!: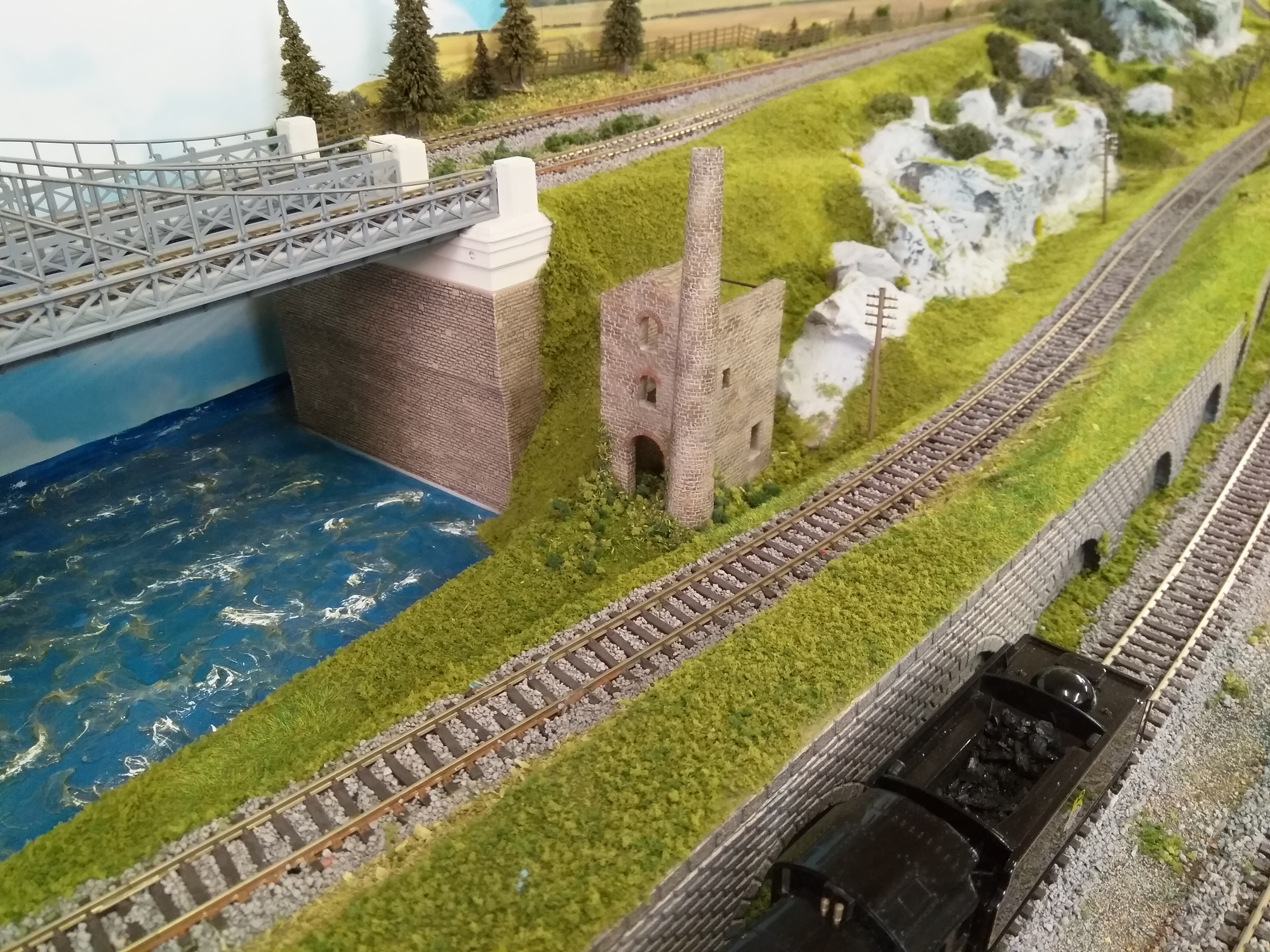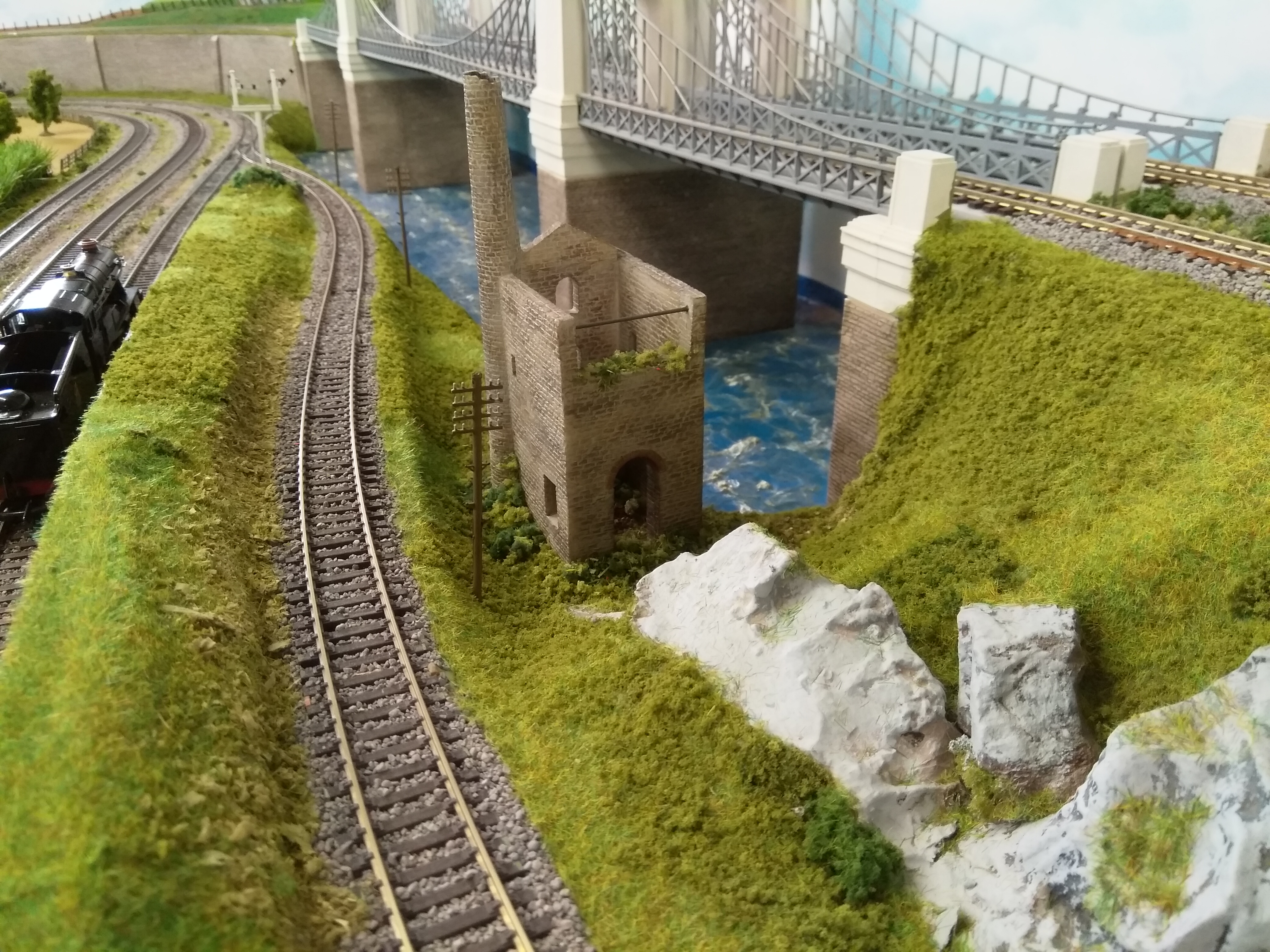 Mr Rich, from West Yorkshire, delighted my inbox this week with not only photos of his pride and joy but also that of his son's current wooden layout! Mr Rich's layout is loosely inspired by the Keighley and Worth Valley Railway, which is very local to him. It is set in the current day, but preservation gives him the excuse to run what he wants - why not! I am going to say that his son's magnificant wooden layout is based on all things fun with a dose of imagination thrown in there for good measure!: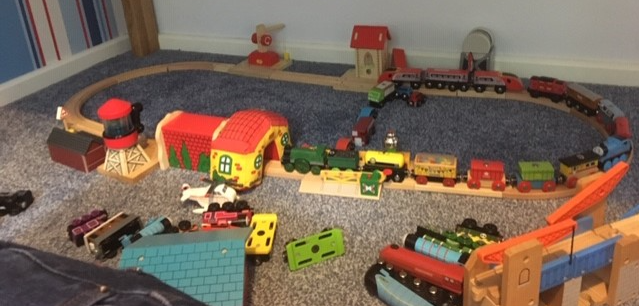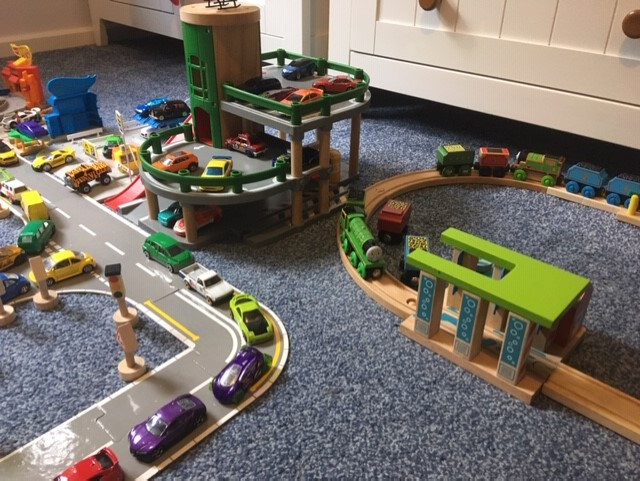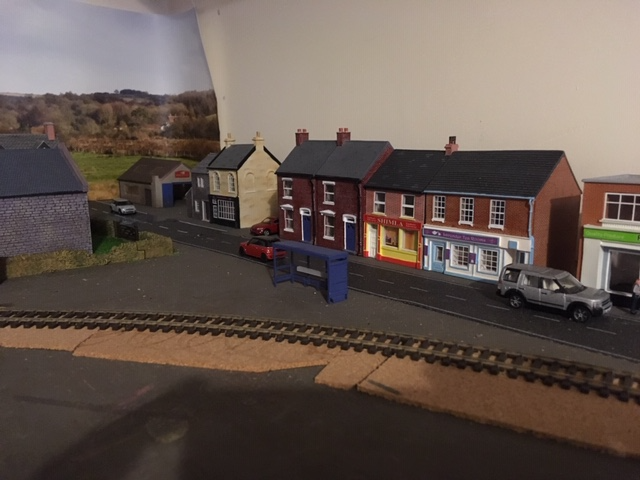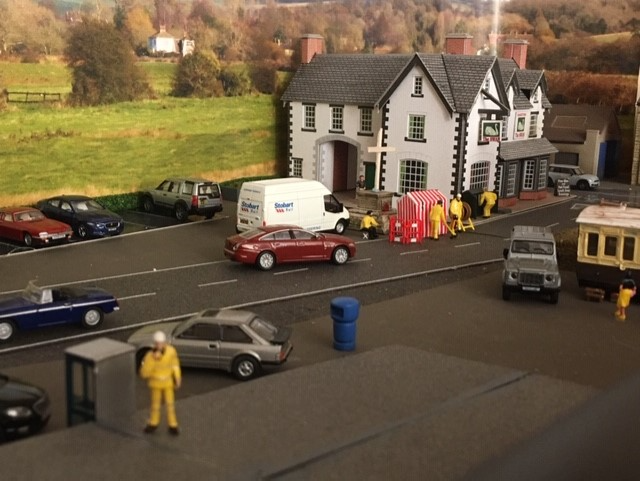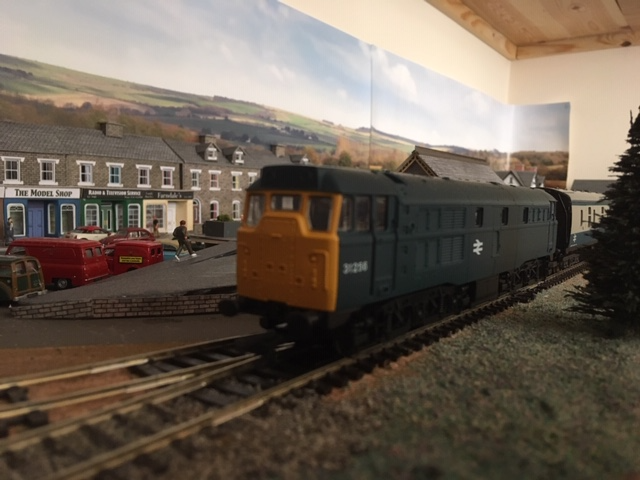 Mr Haigh sent in his photos of 'Longnor and Hollinsclough' after two villages in North Staffordshire, where he resided until relocating to Cornwall a few years ago. The first photo is of the Bullied Diesel 10203 in action, the second is of the Hornby Princess Coronations 46235 "CITY OF BIRMINGHAM" and 46256 "SIR WLLIAM A. STANIER F.R.S.", which both came from the shop in Camborne. The last is three trains at Longnor Tunnels: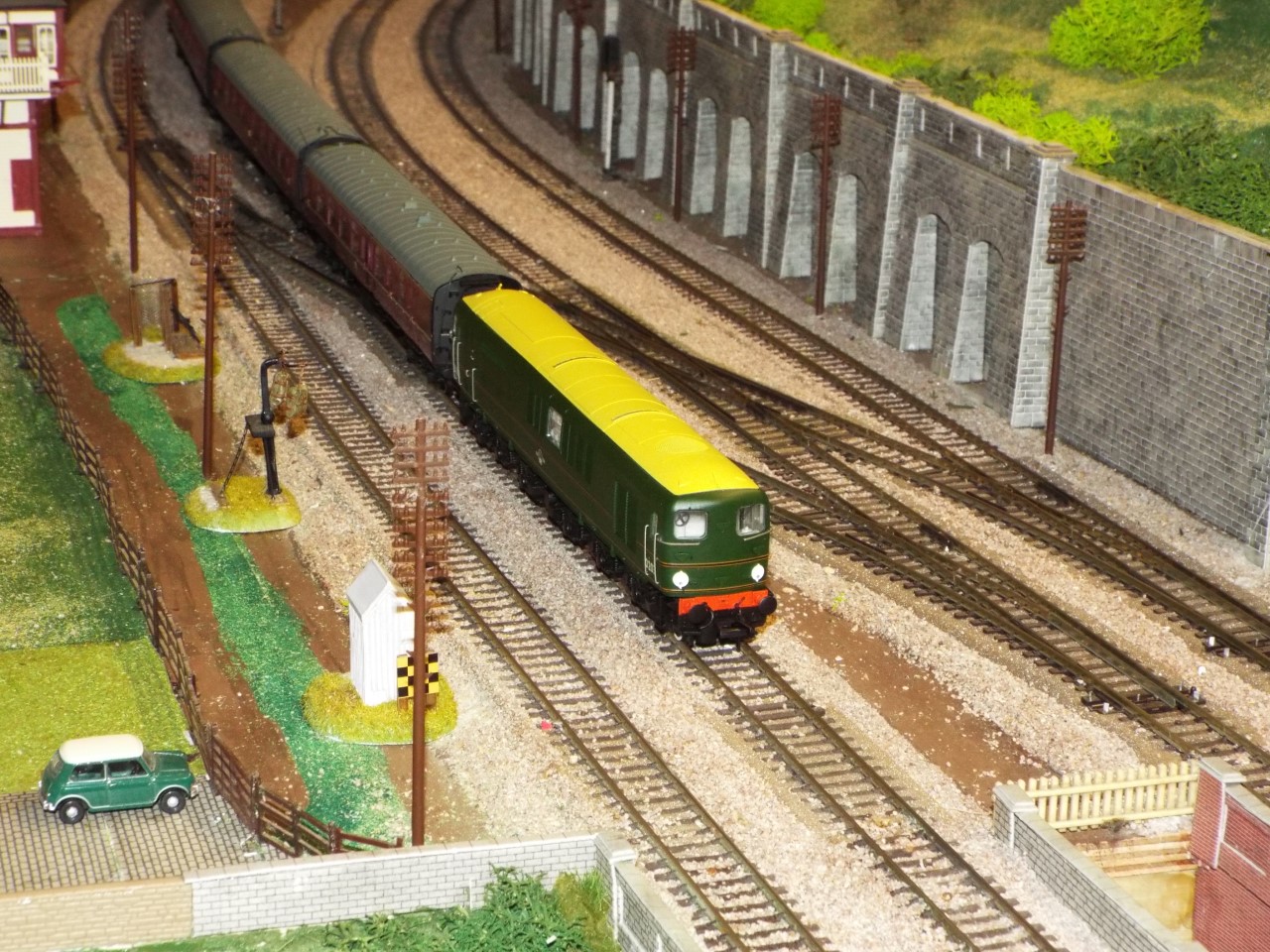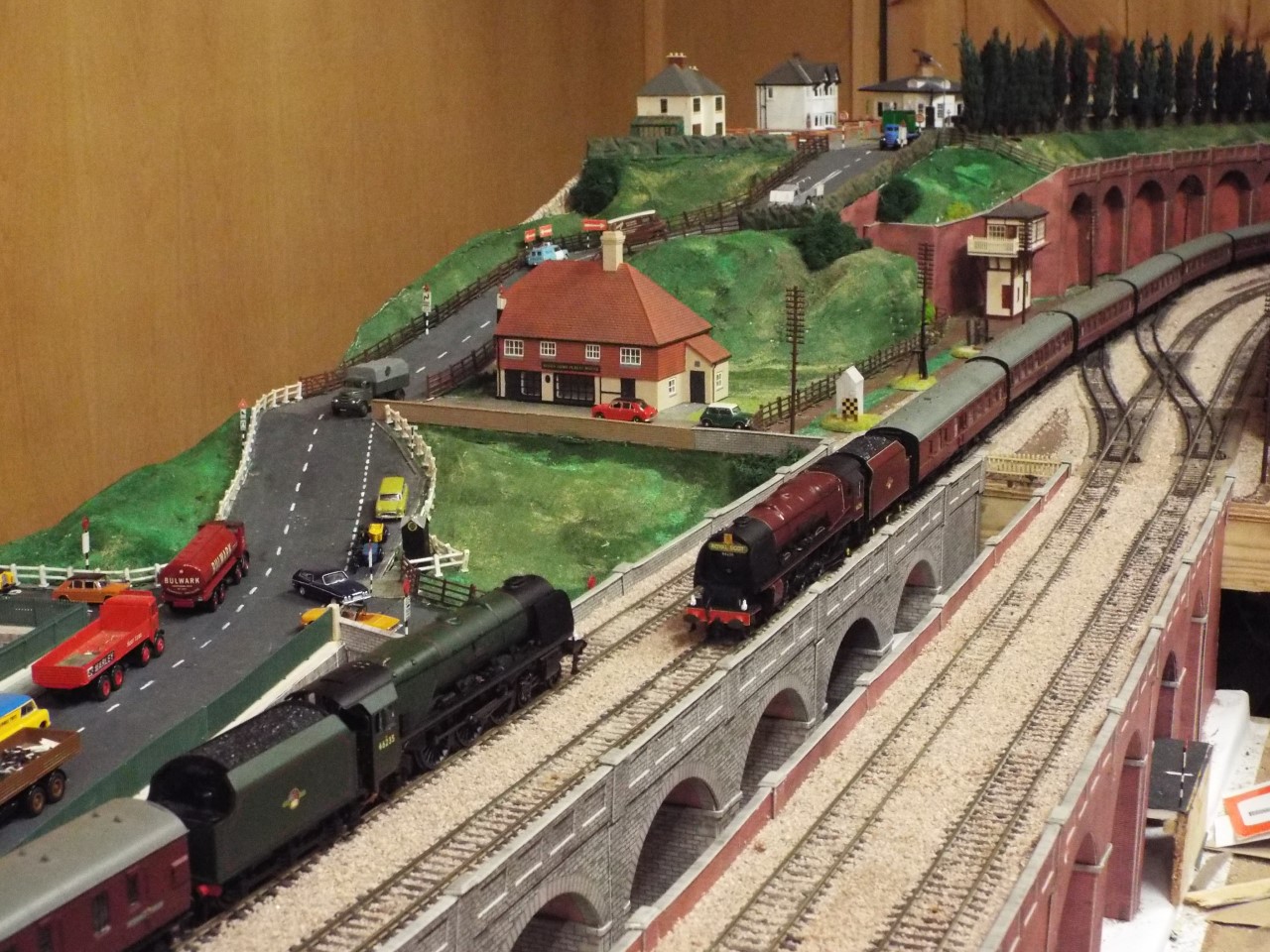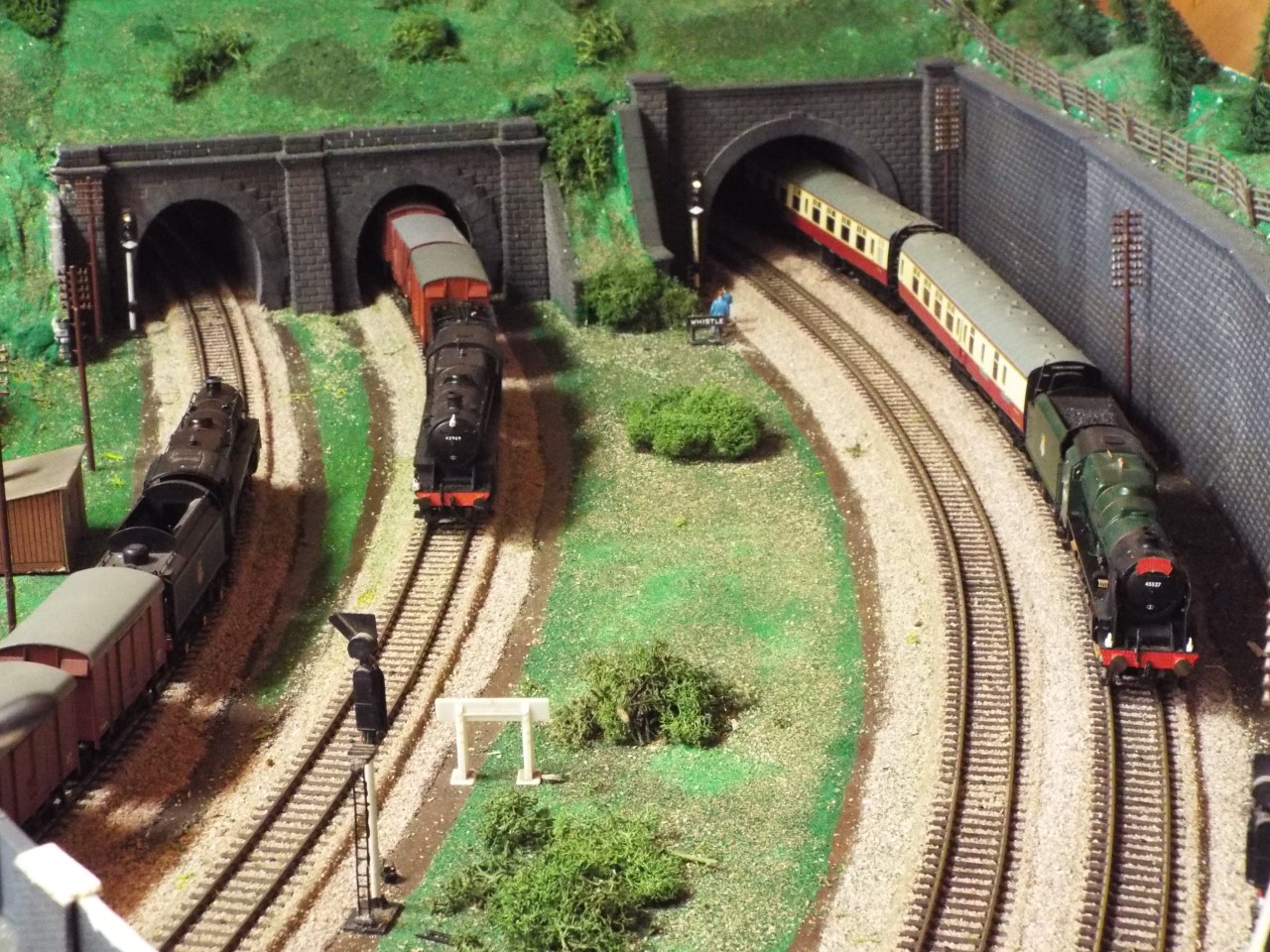 Mr Stone has sent in these photos of his remarkable layout! So many things to look at - what a brilliant story your layout tells and a work of art! I can't decide what my favourite little section is - maybe the snowman by the church or the child with his armbands by his paddling pool/elephant slide or maybe even the old run down Tea Room with the fires lit!: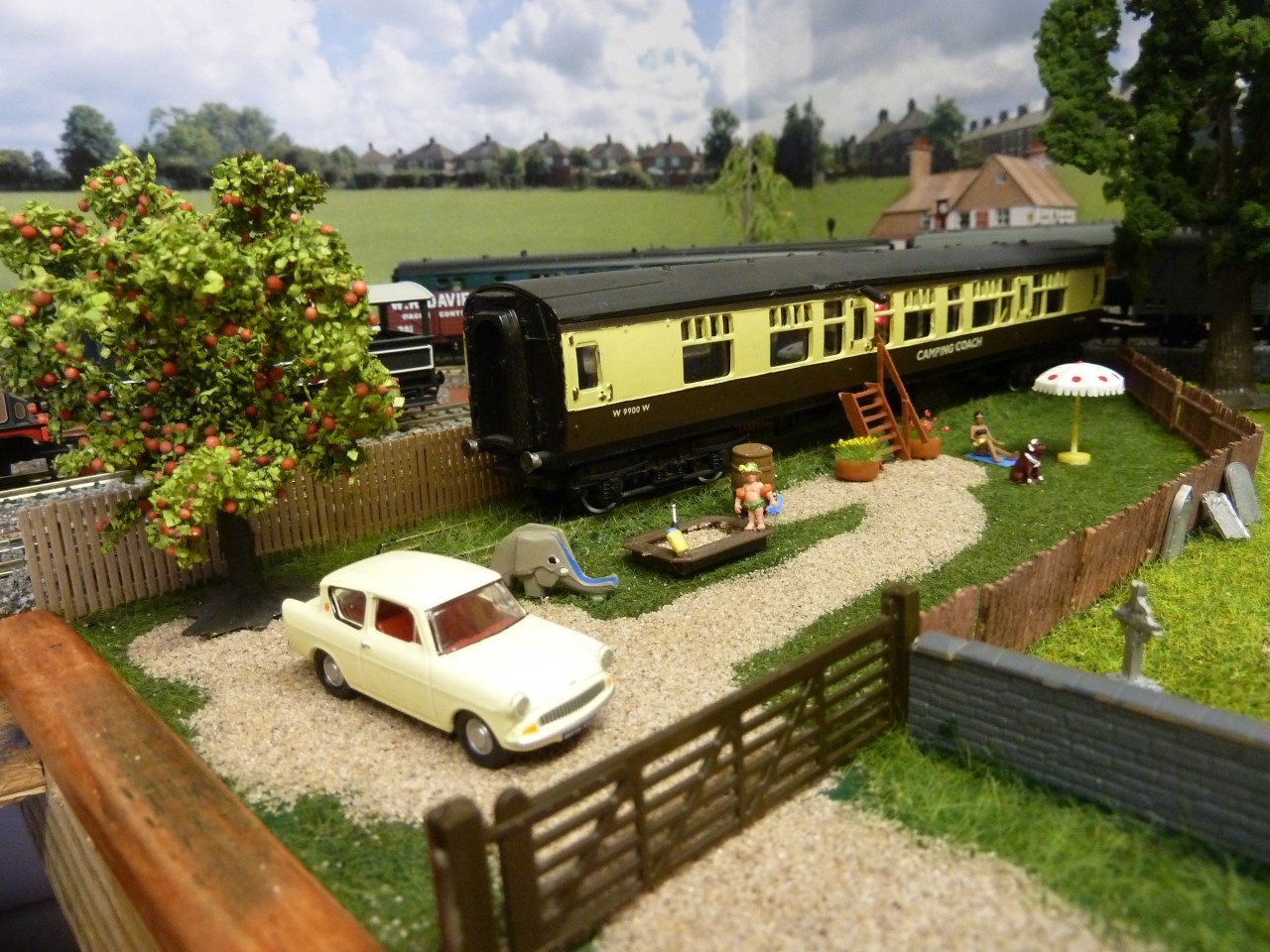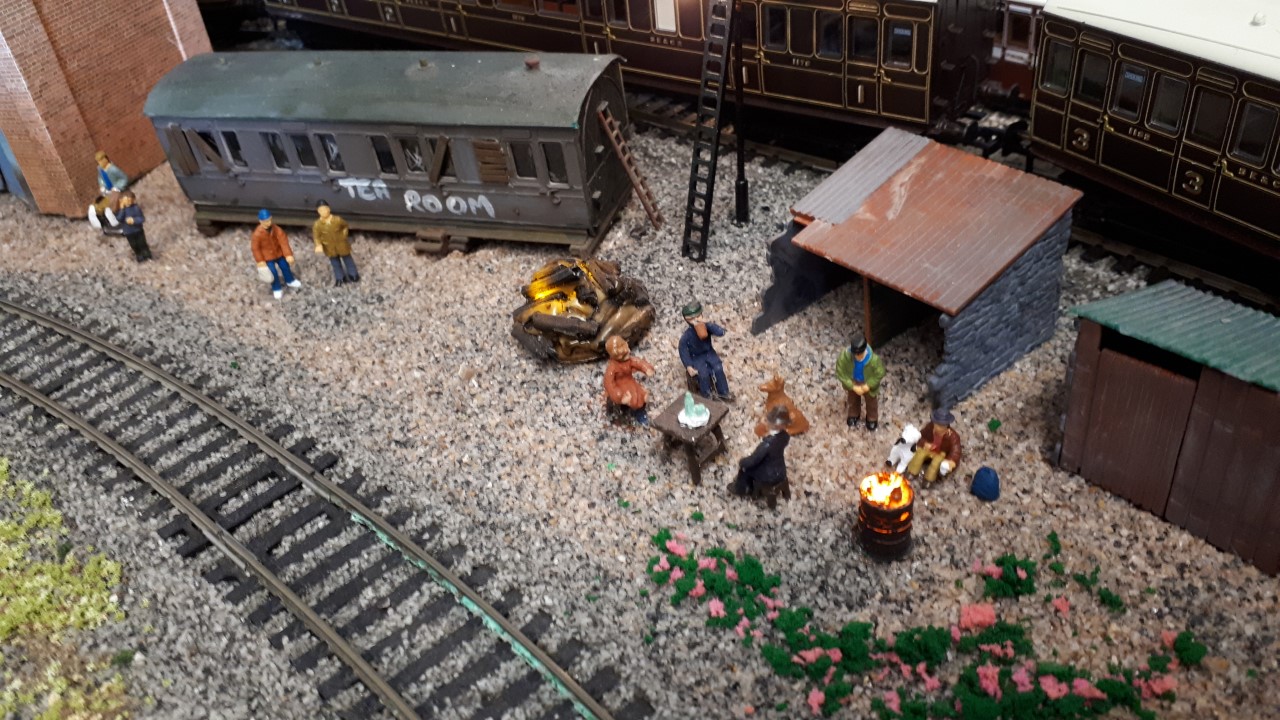 Mr Lynn sent in an additional photo of 'Newton Broadway' of the upper level main lines with two KMRC models running past each other (like it!). He has made this area of the layout fully scenic with a view to photographing trains that cannot fit on the programming track (like EMUs & DMUs).

For this photo he posed the A1A-A1A Warship (the D602 Bulldog) on a mixed goods train passing by from the left, while the weathered C-C in early blue (the D1030 Western Musketeer) approaches on a passenger service. The 09 Diesel Shunter 4107 sits idling in the siding with a departmental High Sided Steel Wagon DB479526 attached.

Thank you for this new view of your brilliant layout!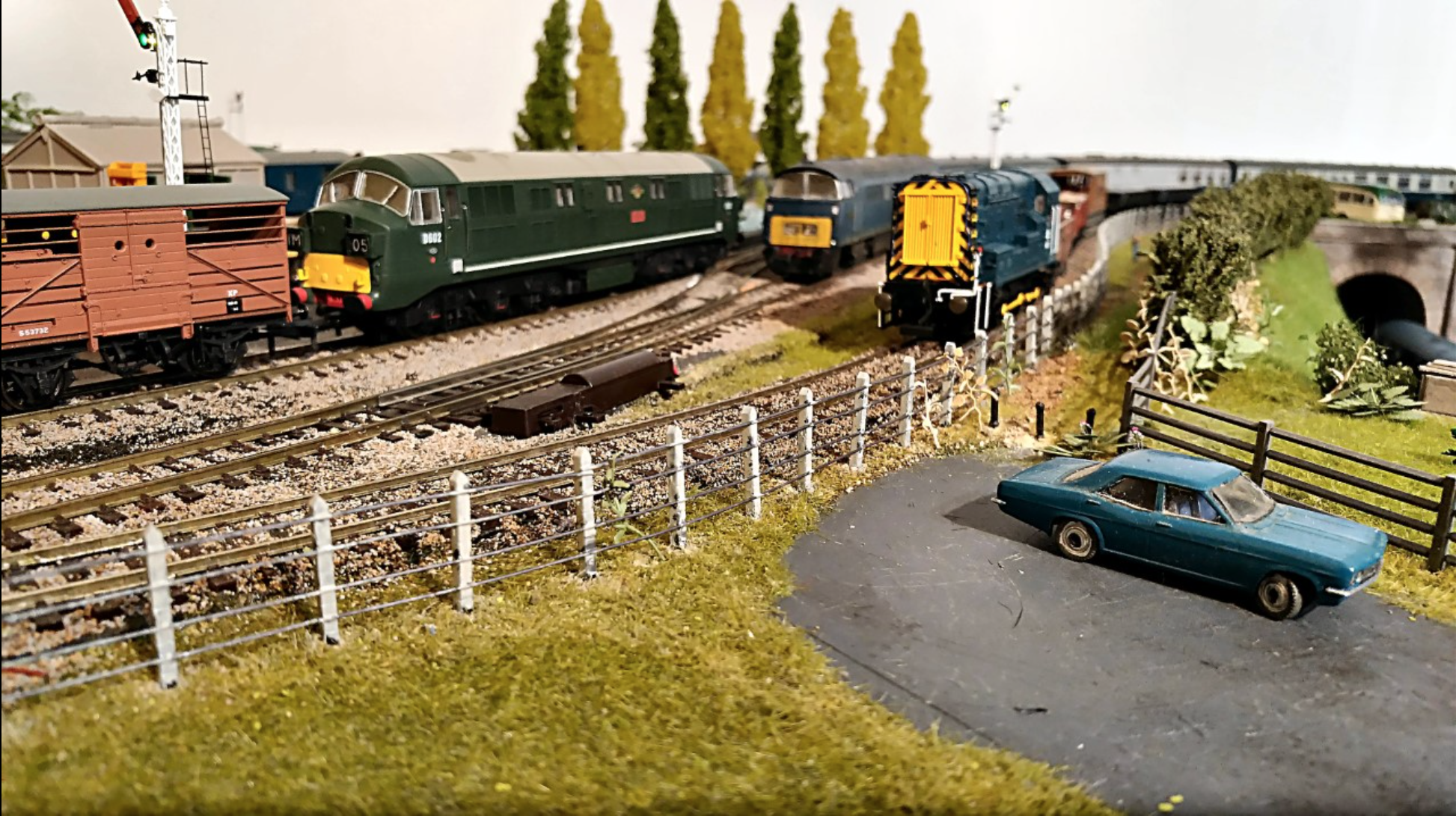 Mr Jackson, on the other side of the World in Wellington, has sent in something slightly different - a layout demolition and rebuild! The layout is on two levels, approx 28 ft by 12 ft, and takes up half of his four car garage - wowzer! What a lovely big space to have a layout. He mentioned that the roof has extractor fans and air conditioning to prevent heat damage in the summer. Great thinking!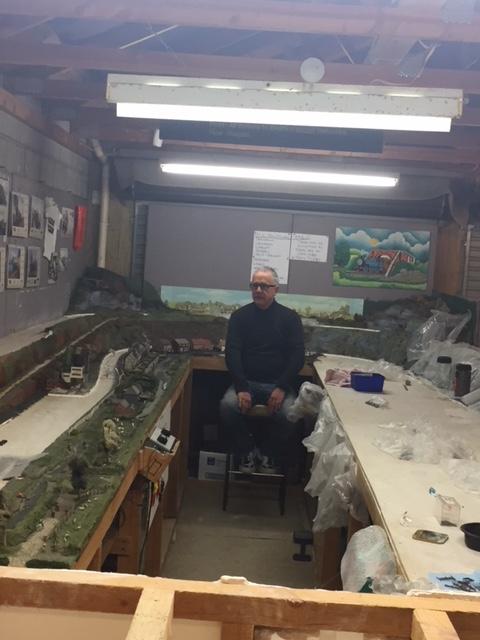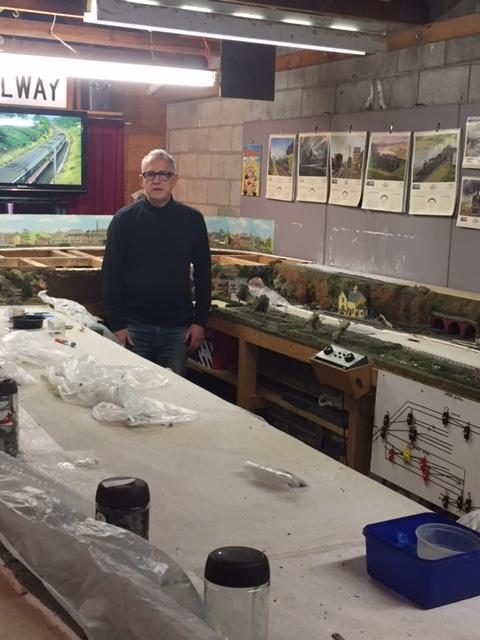 I ask above if you are particularly proud of your layout. Well... these two boys most definitely are! We (yes I am not afraid to admit I thoroughly enjoyed it also!) had great fun combining their wooden train set with the Hornby Junior Paddington Bear Train Set Alex, my youngest, received for his recent birthday. Highlights have to include the construction site created by Alex and the multiple bridges engineered by James :) Can you spot the two cardboard lizards watching on from the sidelines?! Surely you can't have a layout without guardians keeping an eye on it for you during your absence...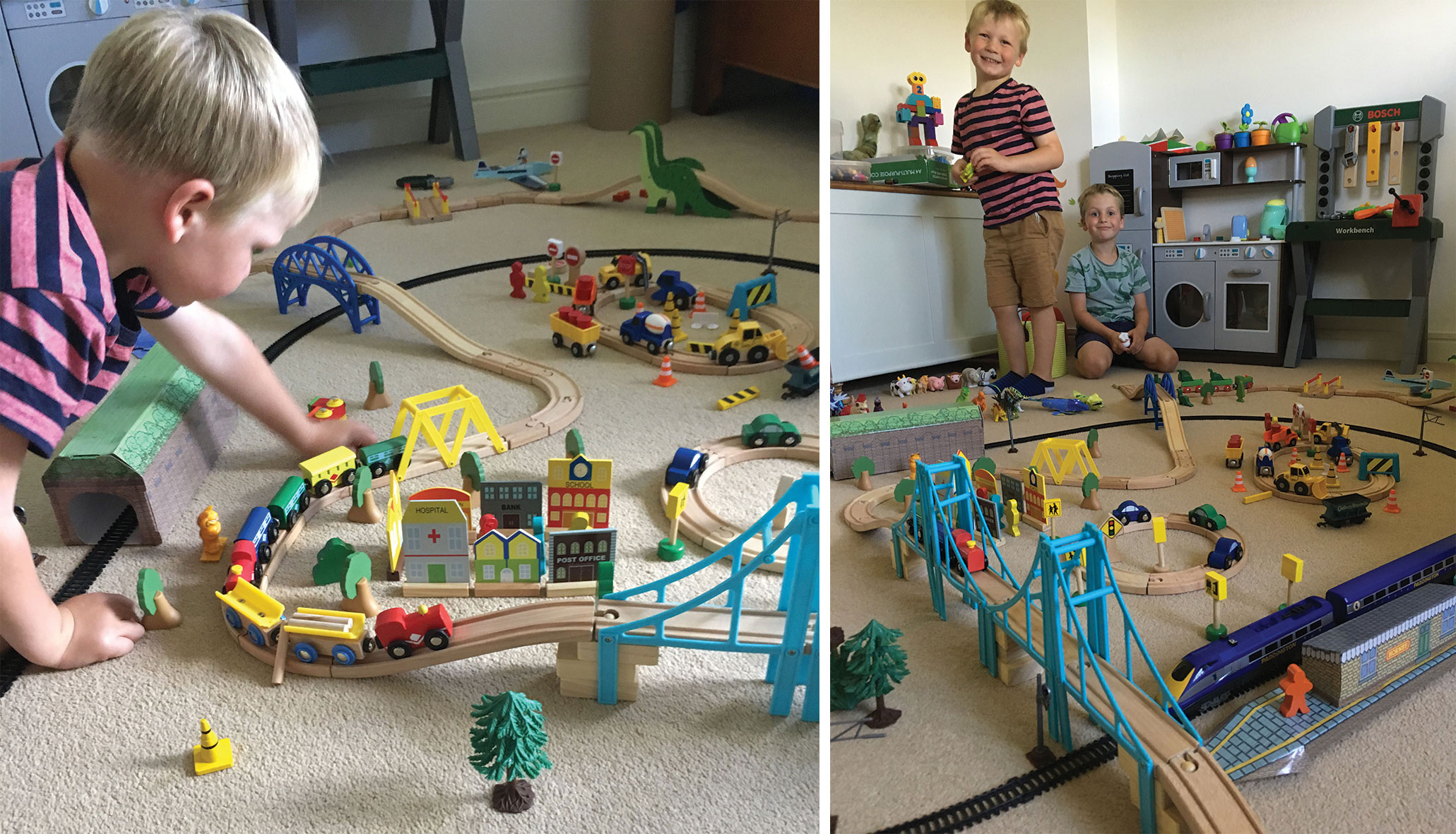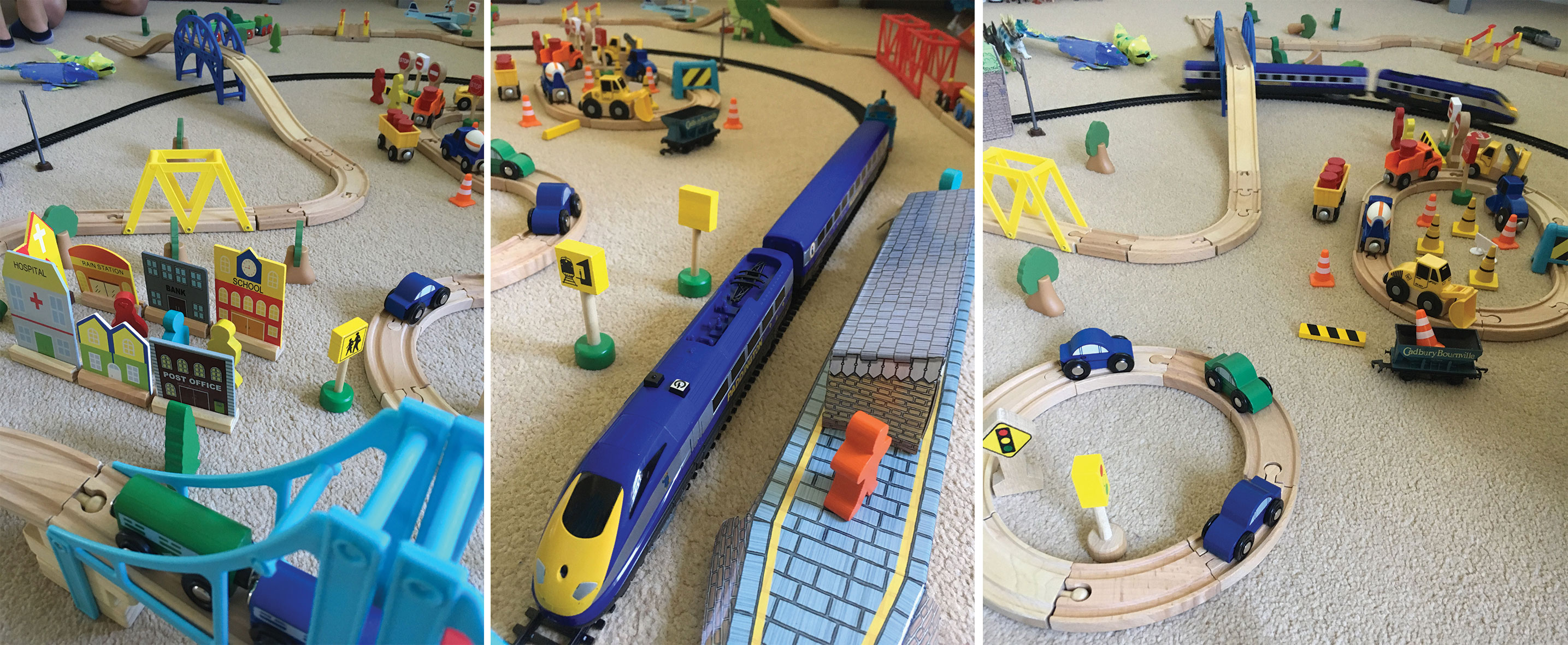 This is the new SDJR layout sent in by Mr Hale. He has generously credited our help in making this possible. In his words "In three busy months, most of the Southern buildings were replaced with SDJR, a very lucky find was the Bachmann signal box. Although small, the station has excelled expectations and we are very pleased." And so are we Mr Hale. We love hearing about our customer's triumphs!: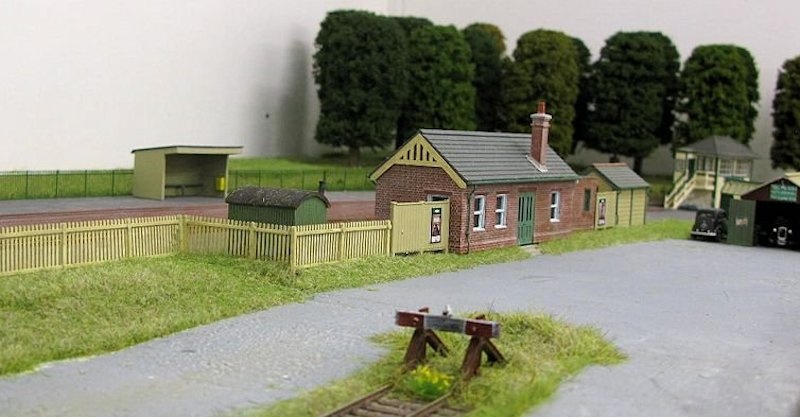 Take a look at this superbly detailed part of a customer's layout all the way over in France! It is of a scratch build wooden hanger (1/43,5) by Mr Goyvaerts! All the rest (trees, scenery, backdrop etc.) is also scratch build except the critter - which was a brass kit. Looking brilliant and oh so realistic!: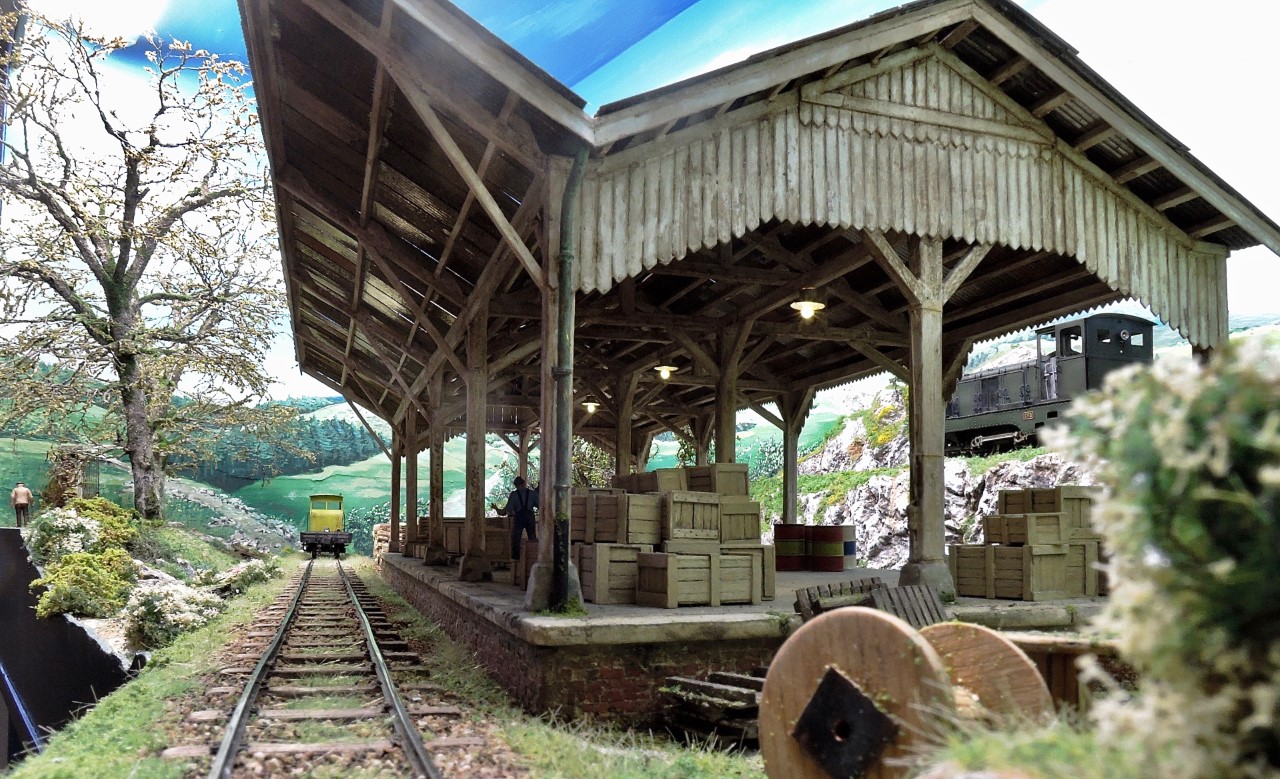 Look at this SMU comprising of (from left to right) a diagram O railmotor, a diagram G trailer and a diagram Q railmotor by Mr Steele! He mentioned that the diagram G trailer was converted from a diagram C8 third from the original Cornishman Corridor train of 1893 which, for the first time, enabled third class passengers venturing all the way to Cornwall/Kernow the comfort of a toilet! Great info - thank you! I feel like you should guest star in my newsletter's 'did you know' - haha! This set up is currently on one of Loddon Vale MRC layouts named Erlegh Quays.

Mr Potter sent in these two great photos of his green Warship on his fantastic looking layout! As mentioned by Mr Potter himself, note the appropriate Chocolate & Cream Coach stock!: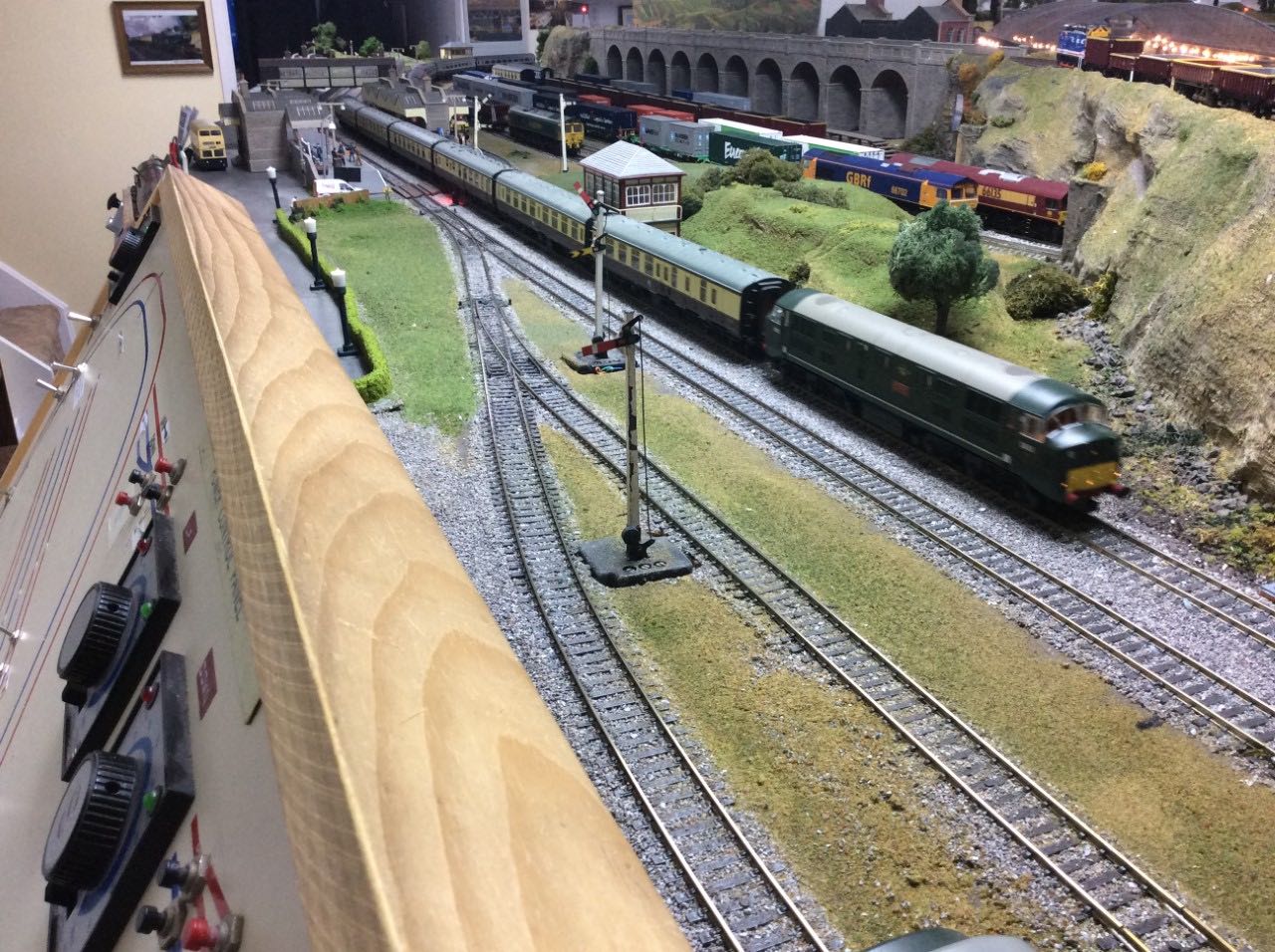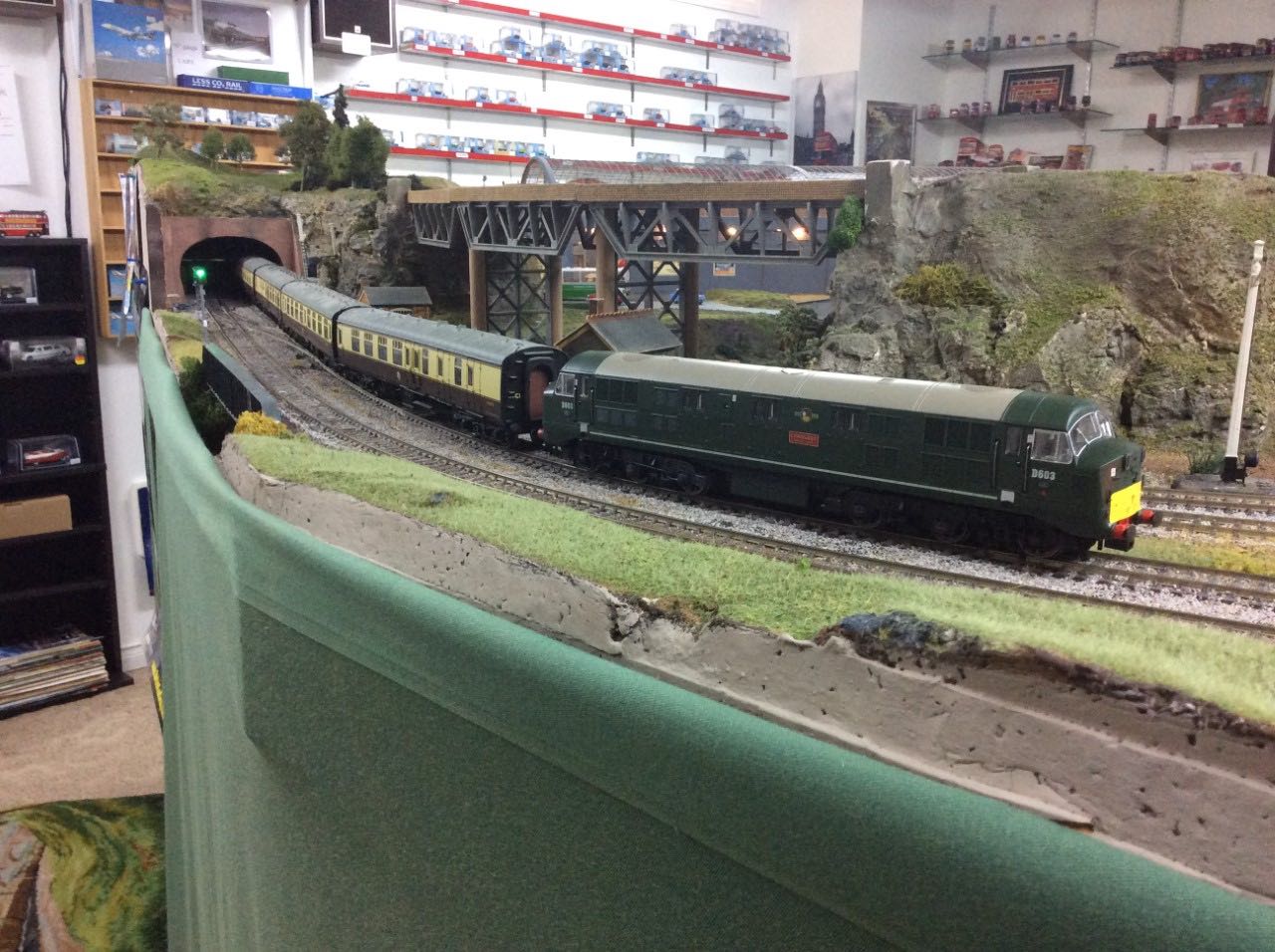 This layout, in Kent, has been photographed and sent in by Mr Wildman on behalf of Mr Turner! It has the D602 Bulldog (nicely weathered by GC Weathering - highly recommended by Mr Turner) leaving 83K Western Fields Depot. Thank you to Mr Wildman for helping out Mr Turner in his hour of need (fractured arm!). We all send our 'Get Better Soon' wishes: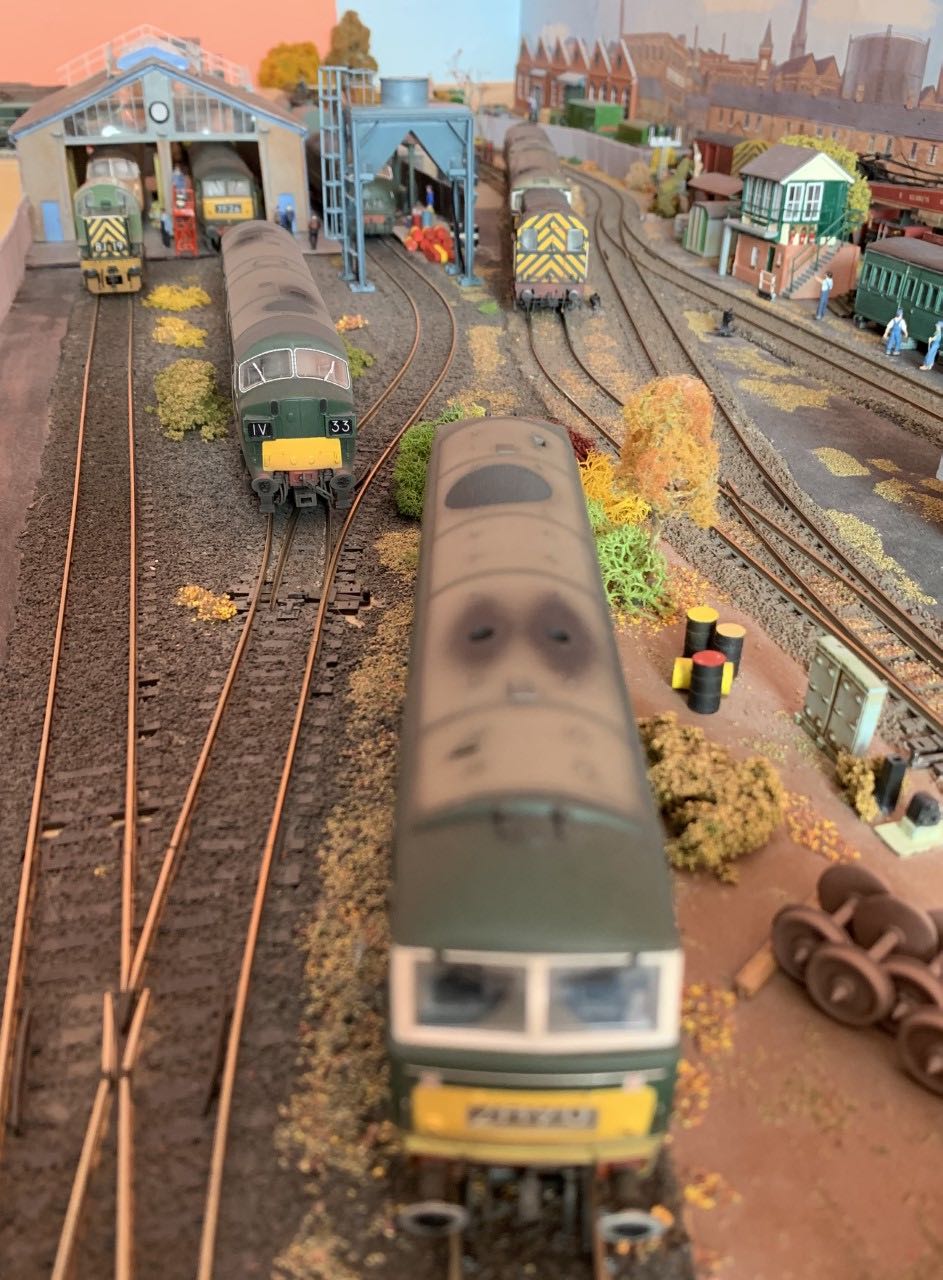 Mr Harris has sent me this picture of his layout 'Evesbury' featuring a 56xx next to one of our exclusive water tank - beauty! Is it just me or does it look like an actual street of houses in the background?! You all never cease to amaze me with your fantasic layouts!: Mr Bagaley has kindly sent in these very recent photos! The first one of the green 10201 at the head of a Southern Express Train was taken on July 7th and the photo of the black 10203, at the head of a Pullman in the carriage sidings, was taken a couple of months ago as it was getting ready to do a day trip to the seaside! I have a few trips planned to the seaside this year - have you?!: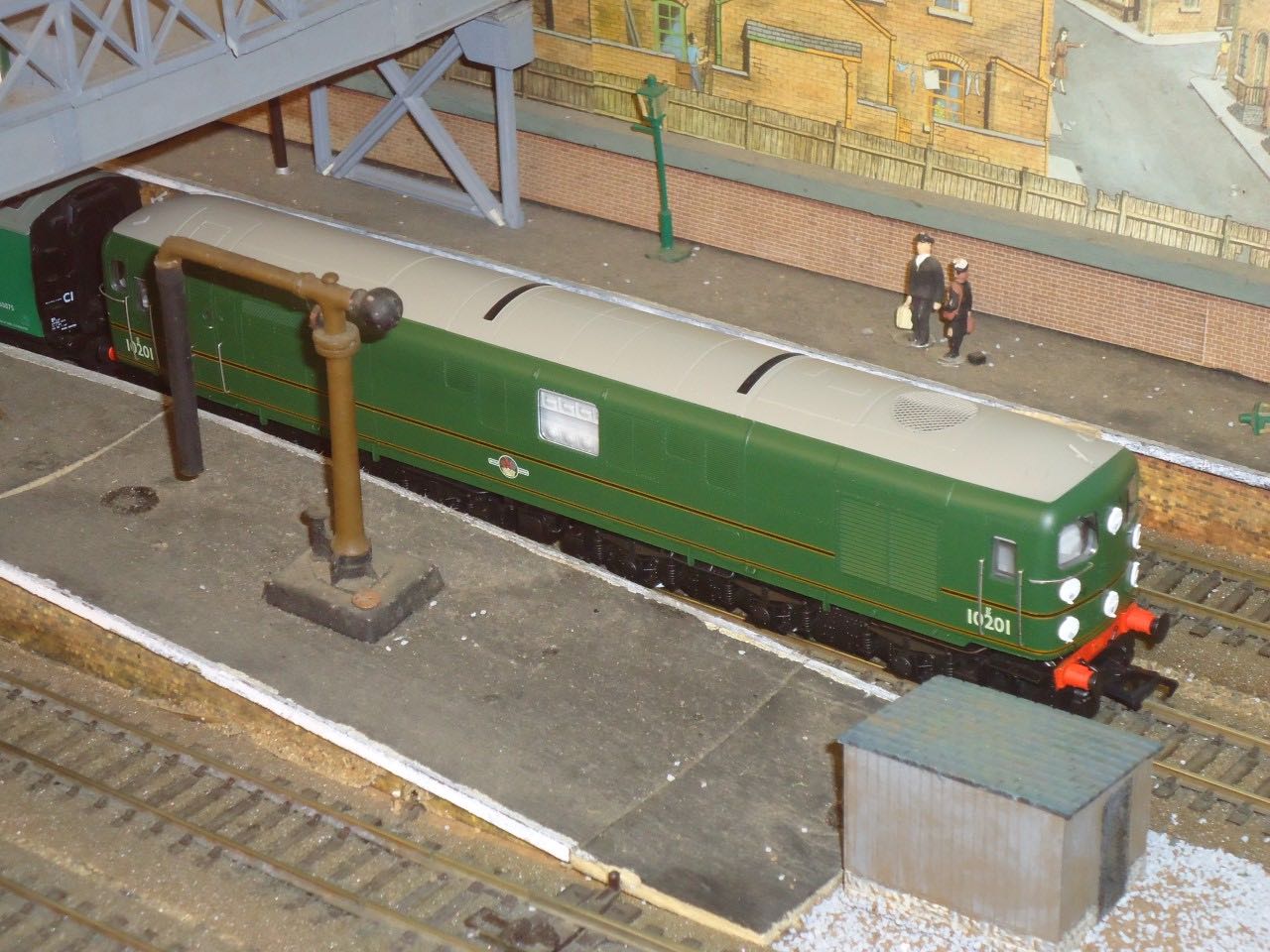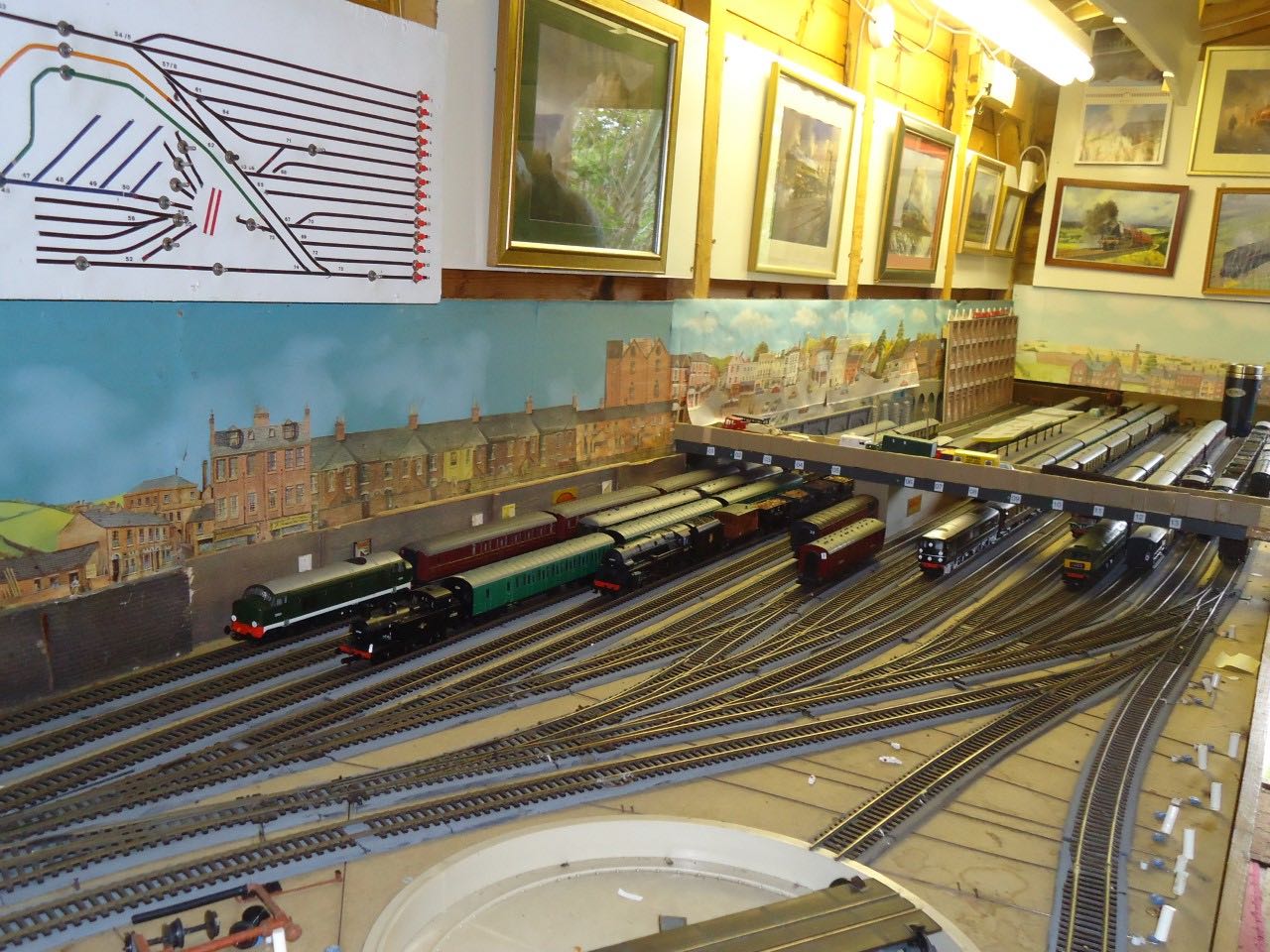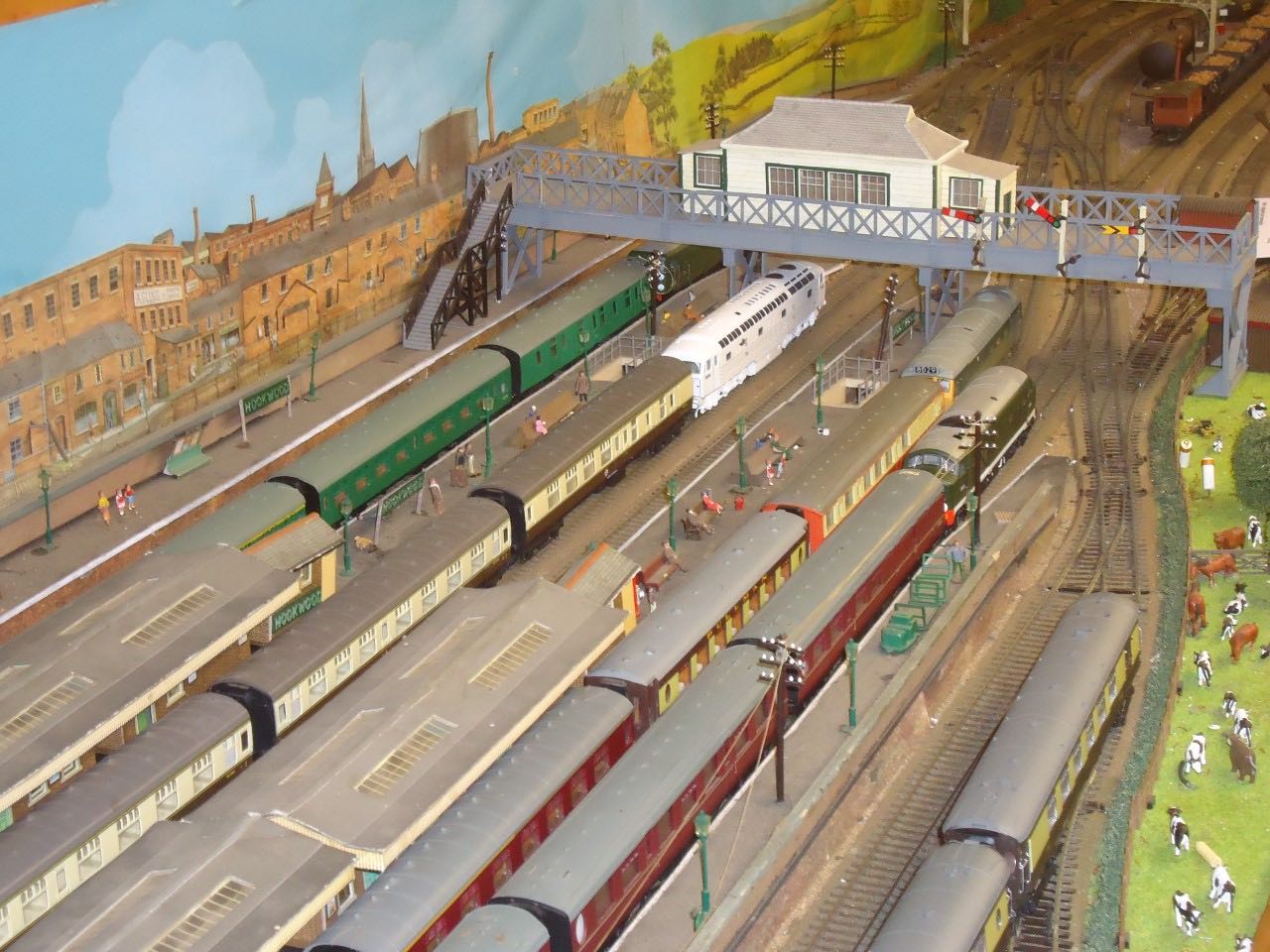 Mr Clarke has shared this photo of his 'Merstone IoW' layout, featuring one of our O2 models. He has changed its identity to no. 19 'Osborne'. He has several of our O2 models, and as Mr Clarke says, they can't all carry the same numbers! Brilliant work :):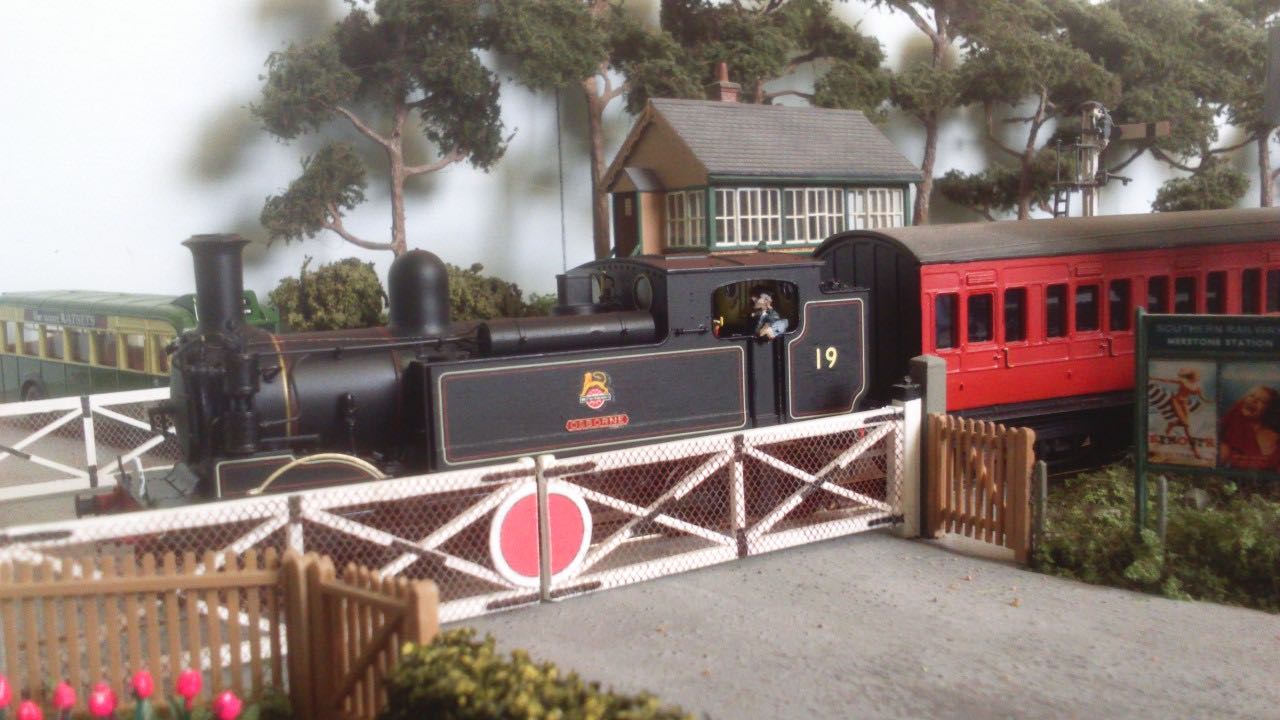 This week we have a fantastic layout with a wonderful description by Mr Warren! He mentioned it is inspired by the GWR Hemyock Branch and his interest in the history of the Dairy Industry, particularly in the South West: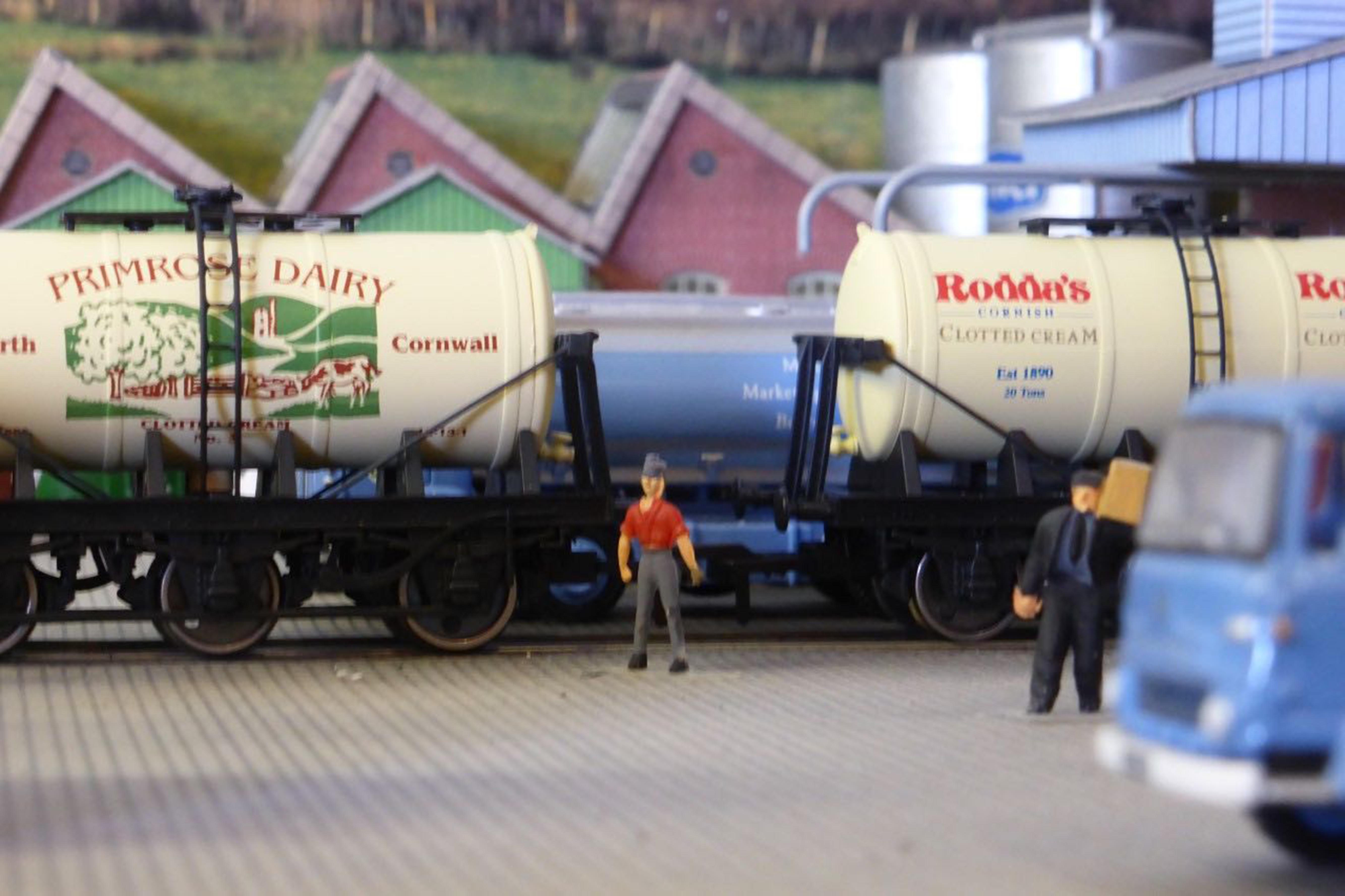 Short of local milk for the production of their clotted cream, two famous Cornish dairies have dispatched tankers to collect milk from Hemyock.
Arriving at Hemyock with a load of dairy produce for distribution under the United Dairies banner, another famous Cornish dairy's vent van is followed by a GWR Toad, branded "Hayle RU". It has just passed the PW Gang fully equipped with it's Holman/Compair compressor.
Four of Mr Warren's hobbies captured in one photo - railway modelling/caravanning/South West Dairies and Morris Dancing!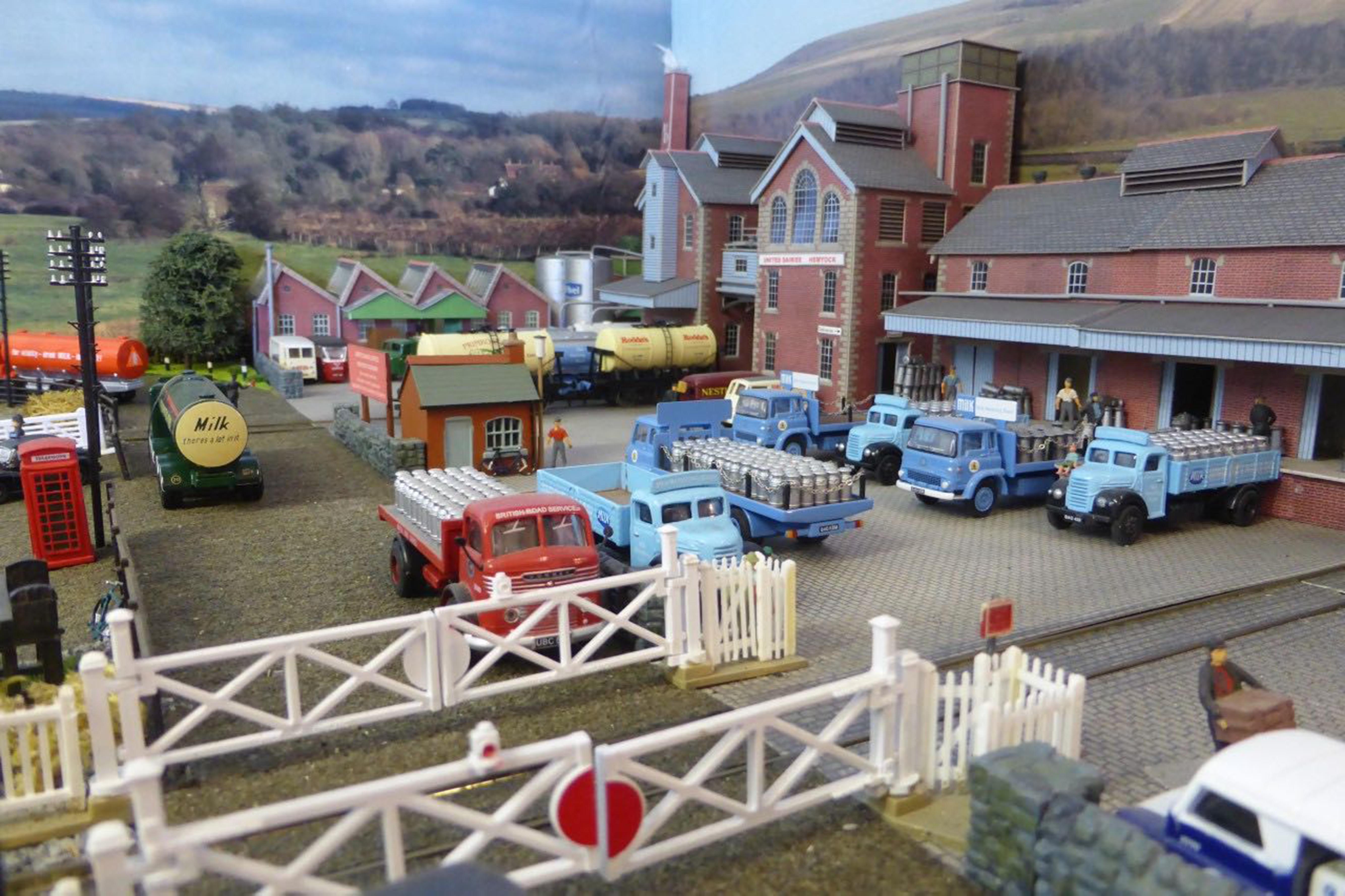 A busy morning in the Creamery yard.

Mr Siden has kindly sent in his pictures of 'Shillingstone' based loosely on Shillingstone Station on the old Somerset & Dorset Line. Looking 'ansome as they say down here in Cornwall: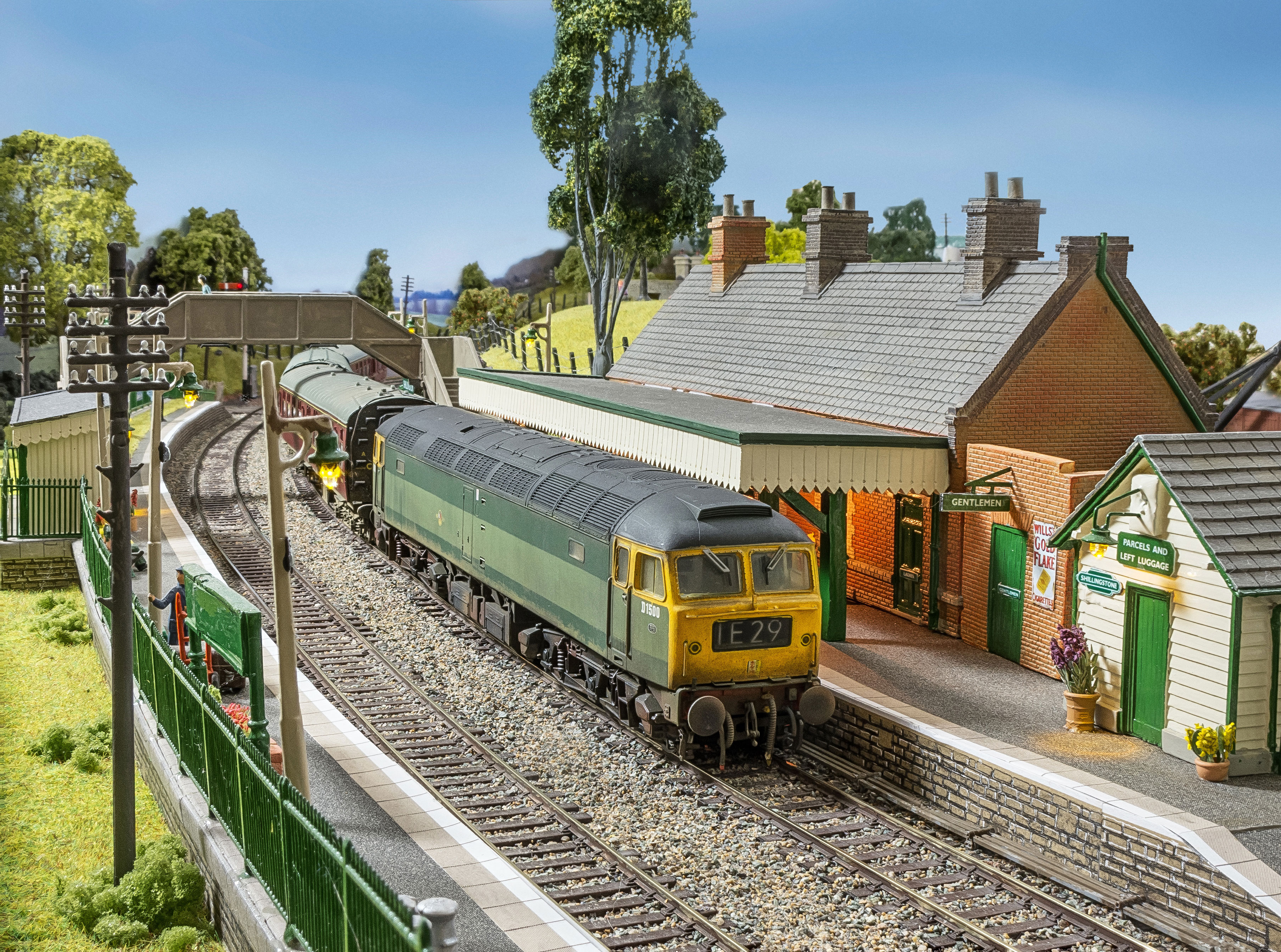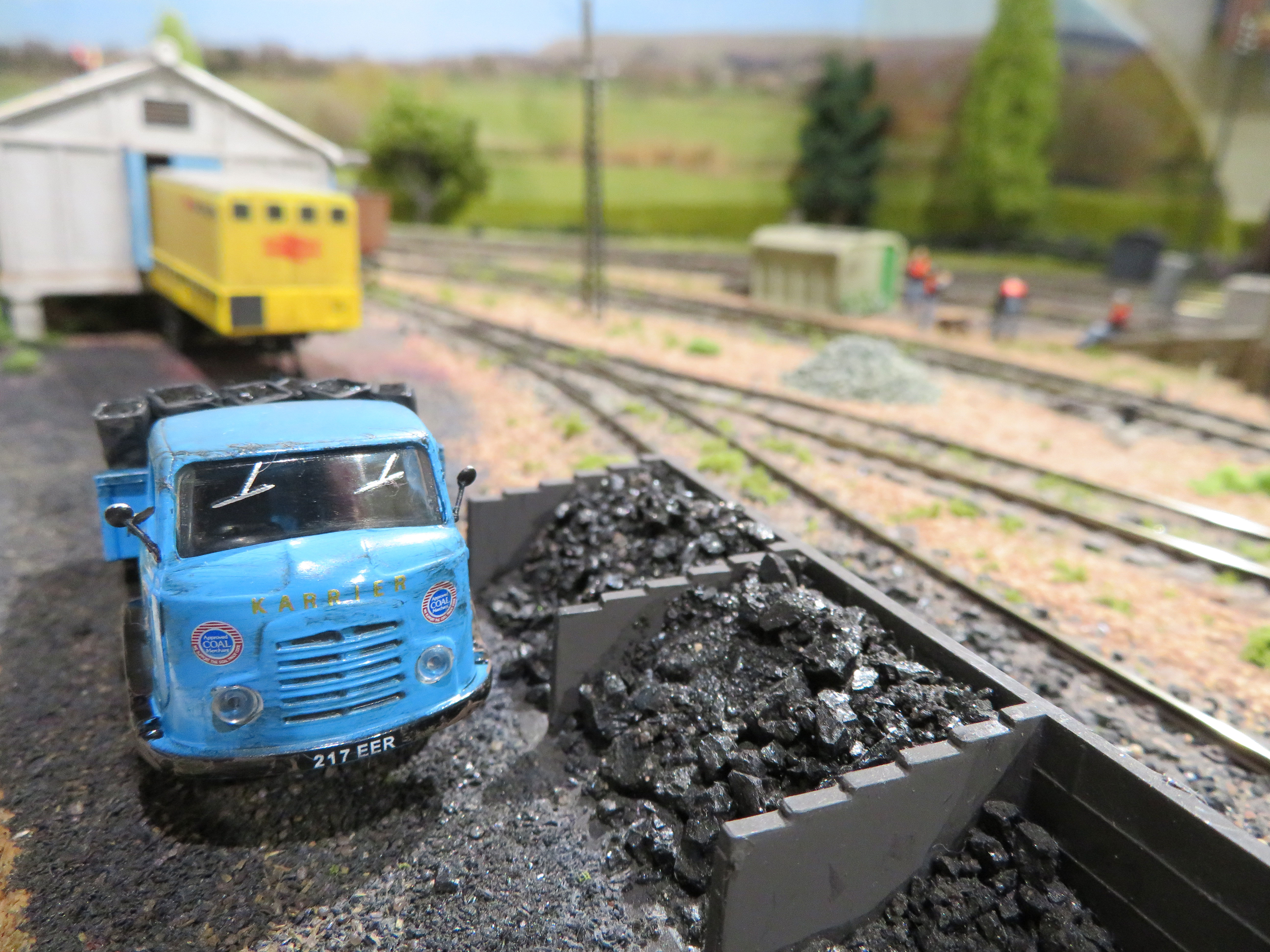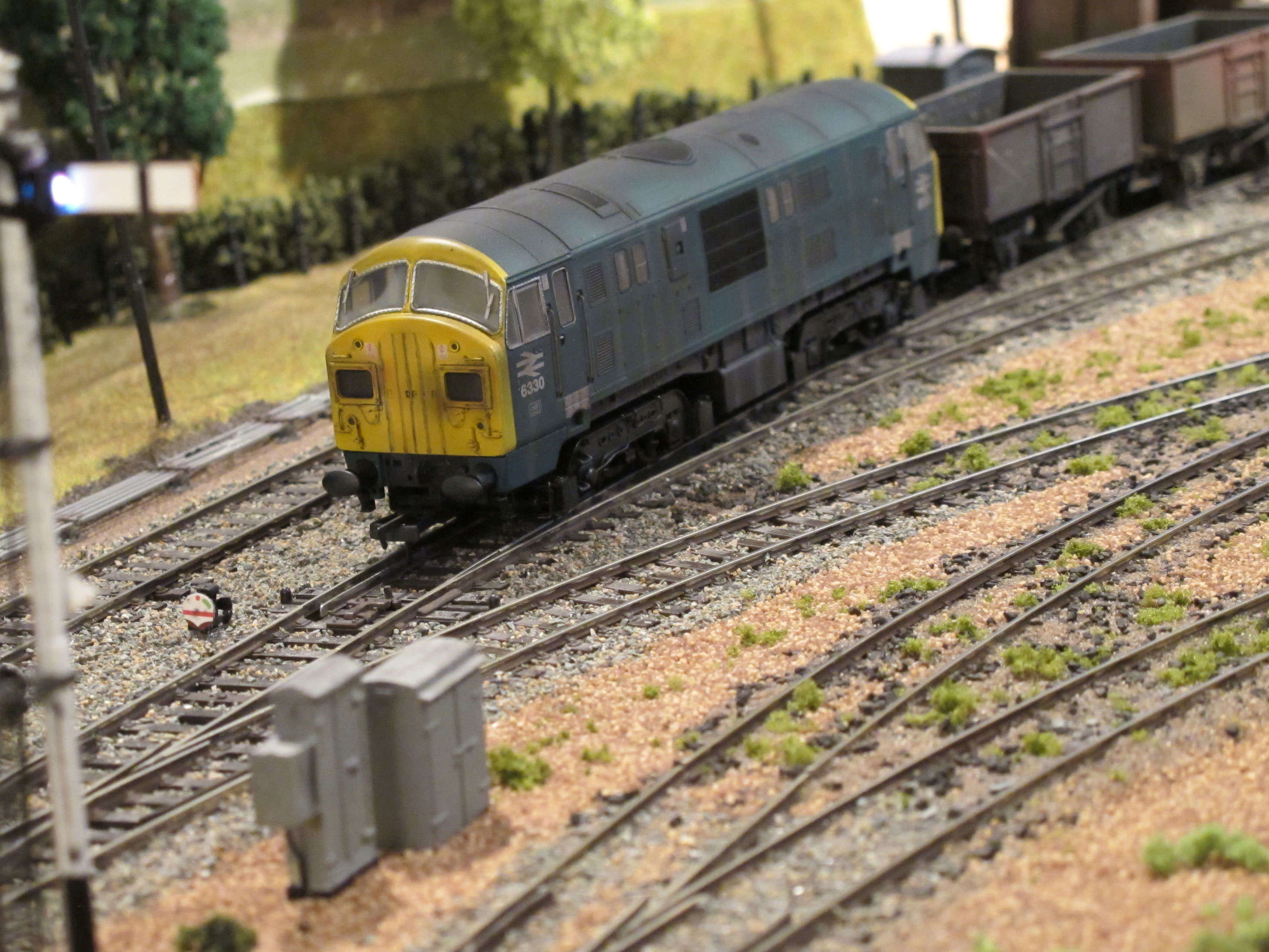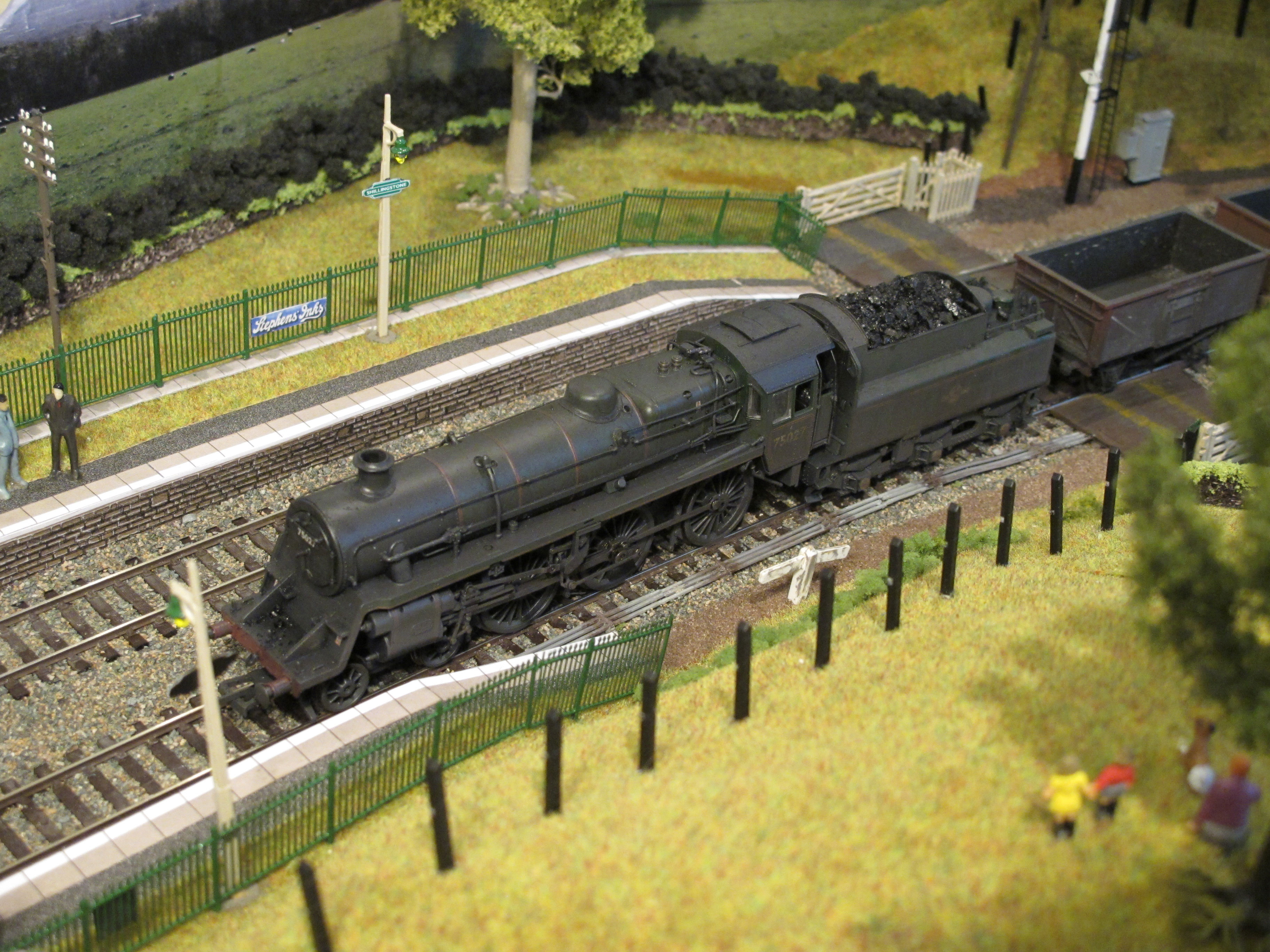 This lovely layout (with some KMRC O2s obviously!) is Mr Spooner's Island Line attempt and what a fantastic attempt he has made! :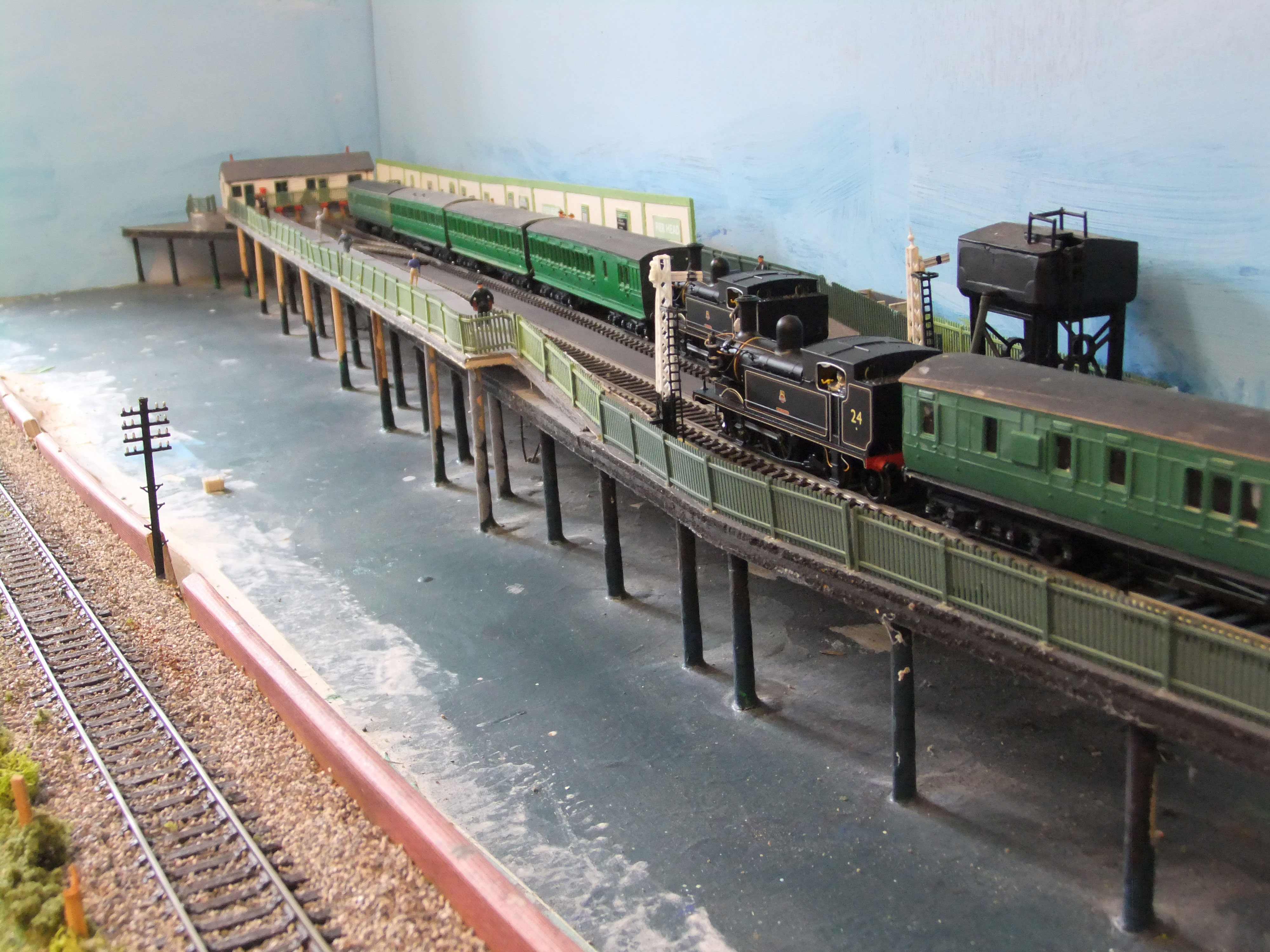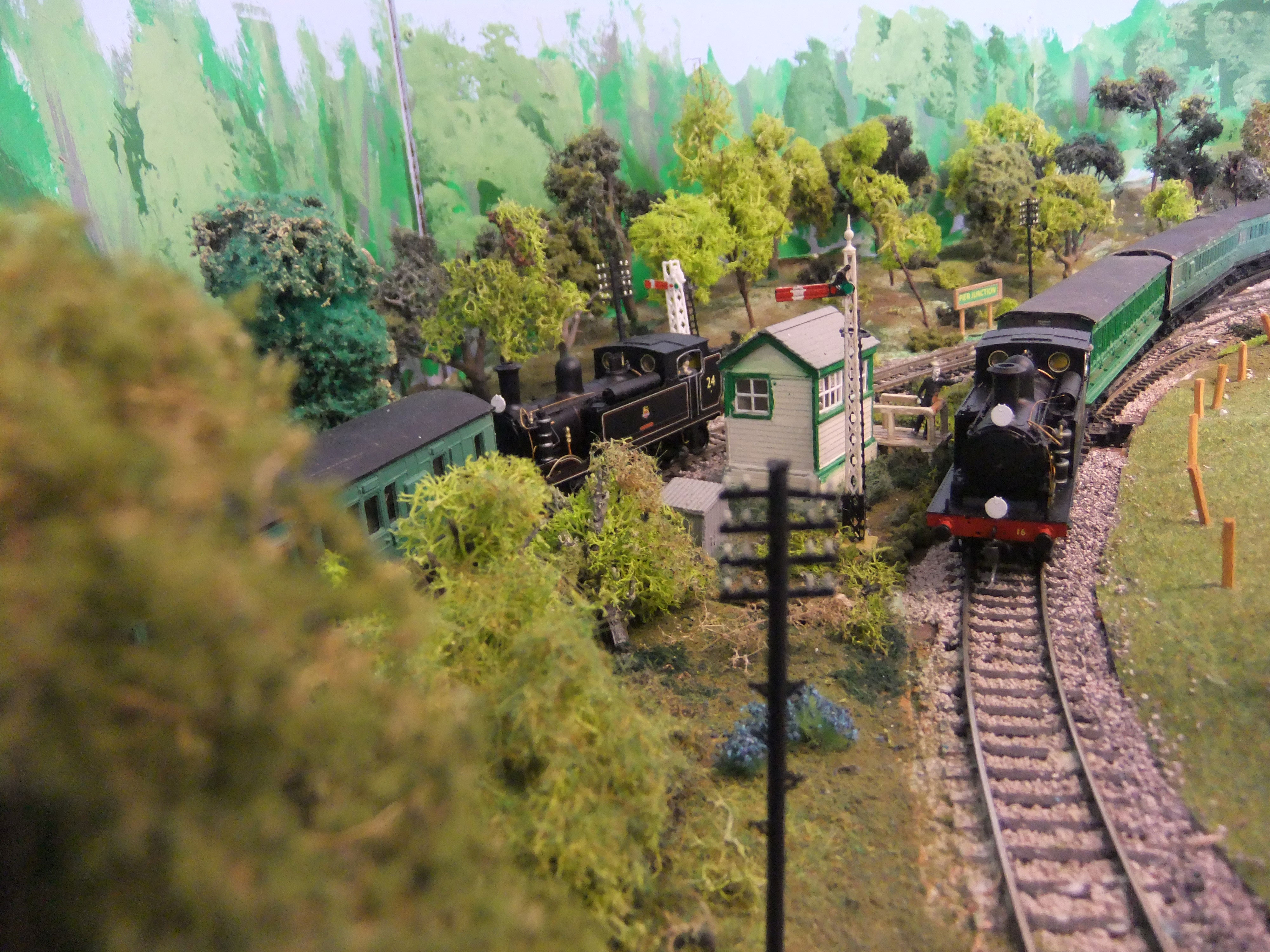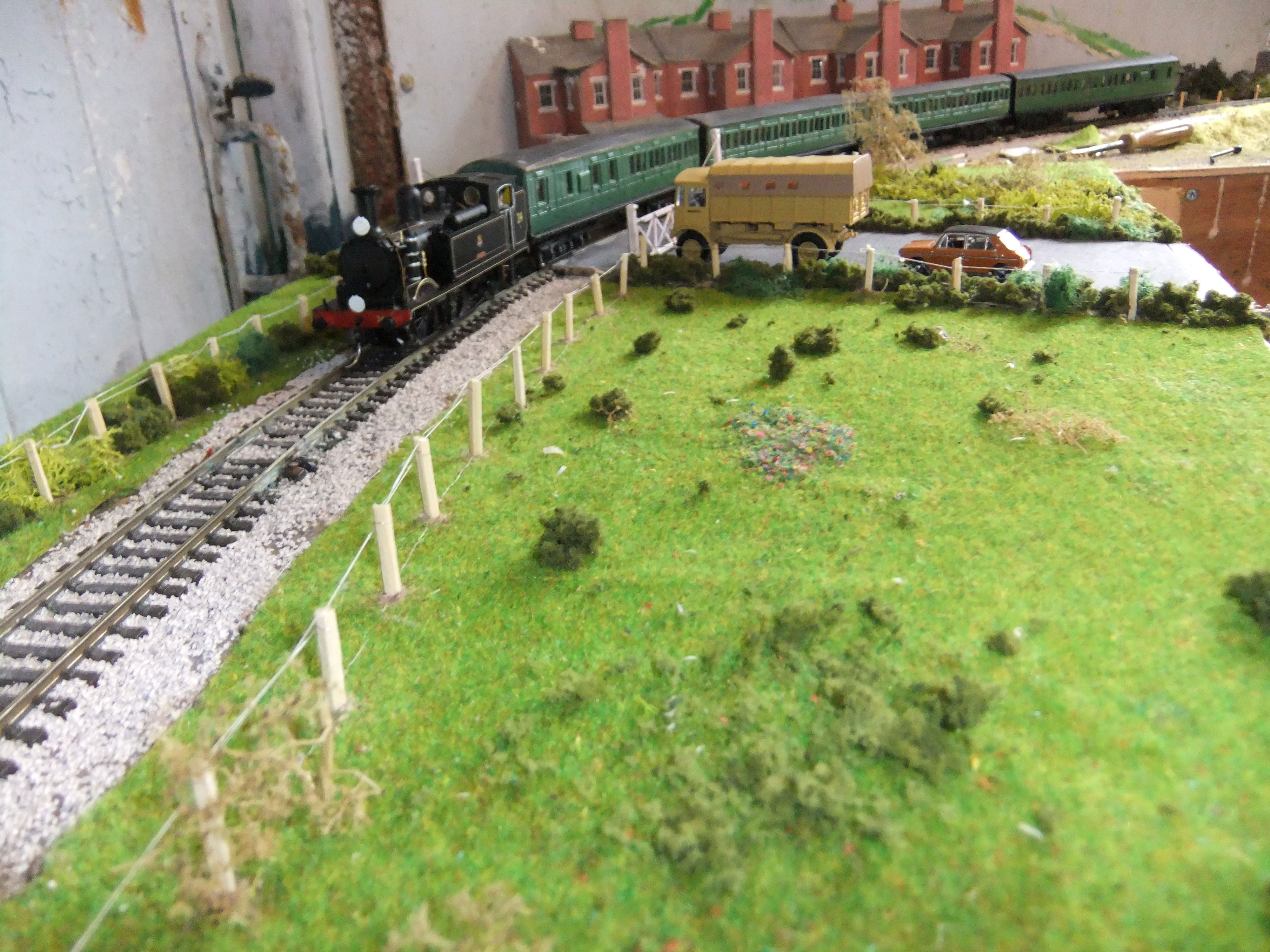 This wonderful layout named 'Watchet' is by Mr Jones. It is 21ft by 10ft and was intended to be a model of his home town on the Taunton to Minehead branch line. Mr Jones travelled daily to school in Taunton behind Panniers, Prairies (small and large), 3MTs, Class 22s, Hymeks and finally DMUs. Afternoons at Taunton station gave plenty of opportunities to see Kings, Castles, D600 and D800 Warships and D1000 Westerns so, as he put it himself, his eventual love of model railways was inevitable!

'One side of my layout is a fairly accurate model of Watchet as it was back then, with a ship in the harbour and plenty of activity in the sidings. The other side of the layout is just a flight of fancy, which allows me to run some of the beautiful expresses that used to run through Taunton.'

He also has a caravan site, a water mill and an aircraft display, which is popular with tourists in the summer season (love this!). All the buildings and most of the ships and aircraft are fully illuminated. One word - magnificent! Thank you for the background information :)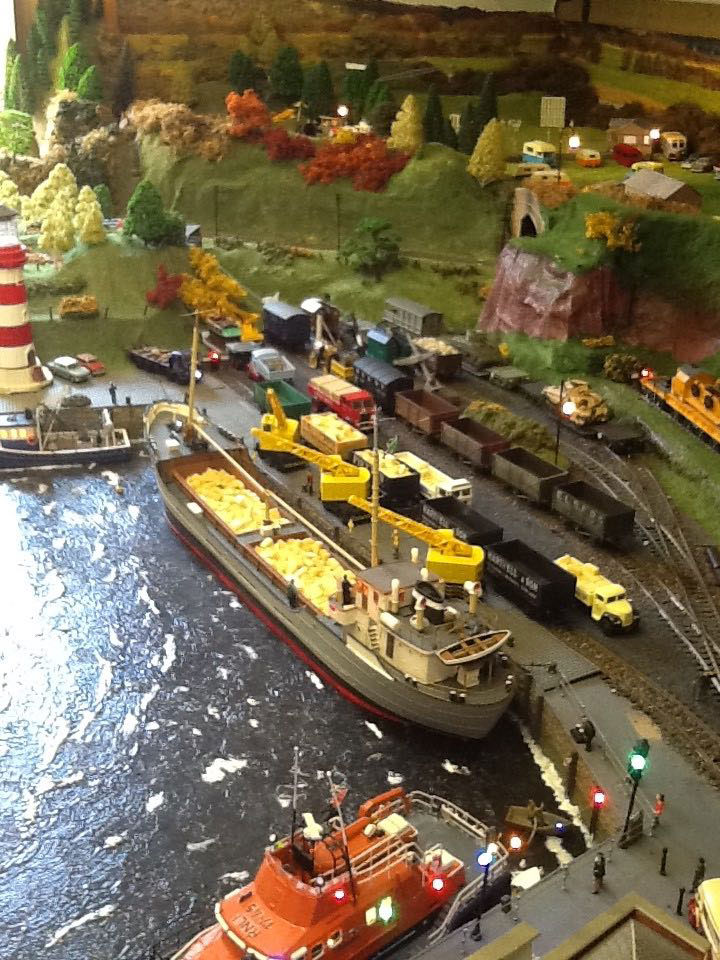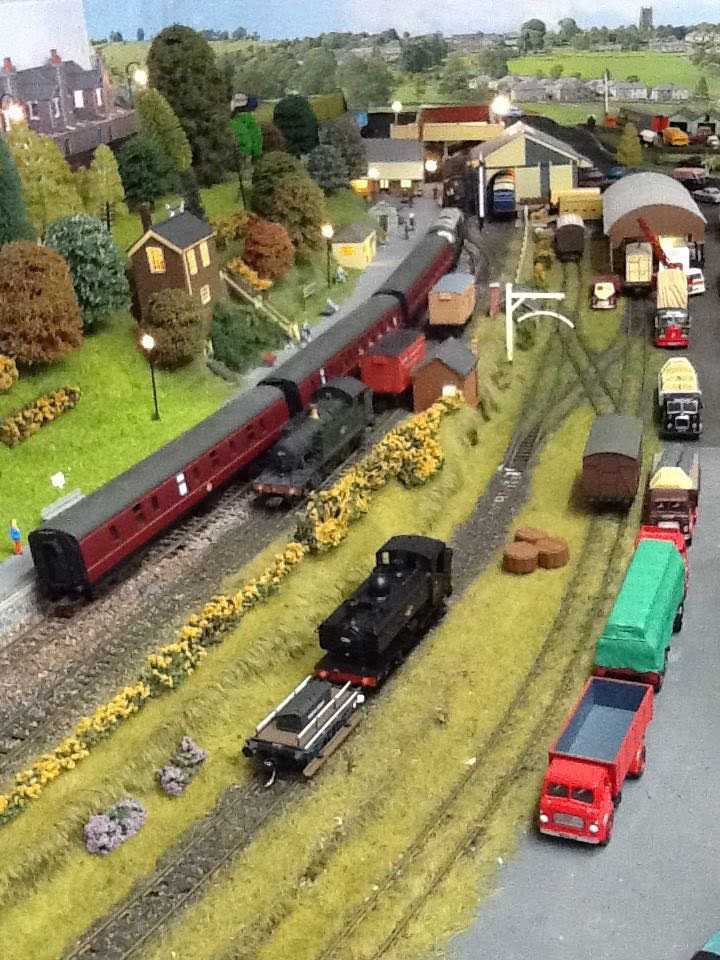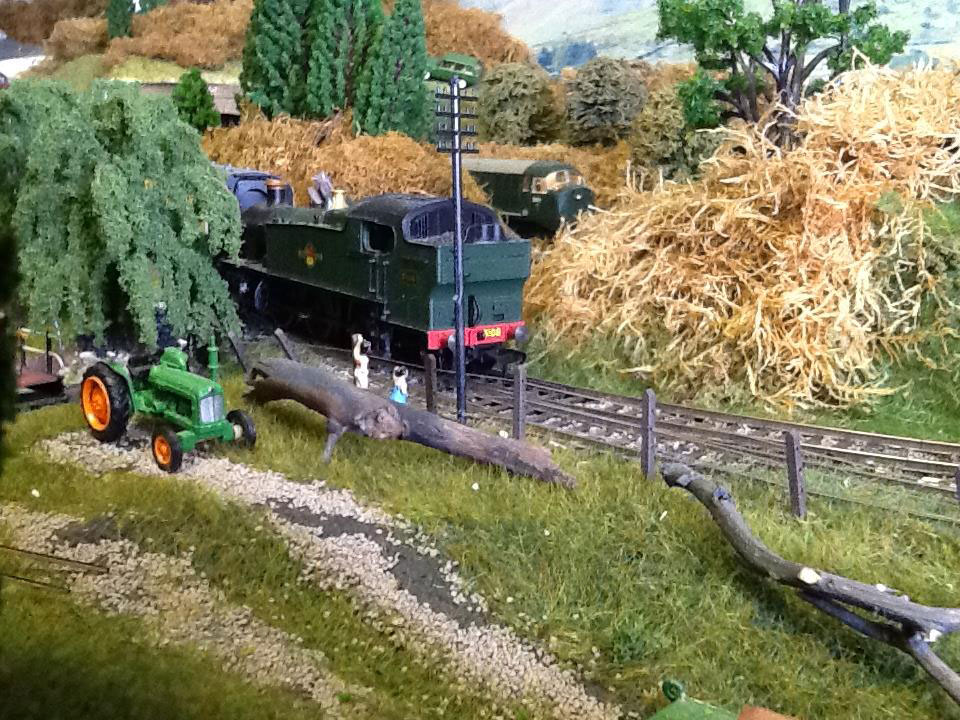 This week we have snippets of 'Trevean Siding' created by Mr Nall! It is a 4 mm layout, single restored Cornish branch line with an ex GWR siding. ERA: preserved. This super detailed layout has been published in Model Rail magazine and is even blogged by Mr Nall from time to time. It is currently up and running in his lounge, themed as 'China Clay Days', so lots of JIAs, Tigers and Polybulks. What a brilliant layout!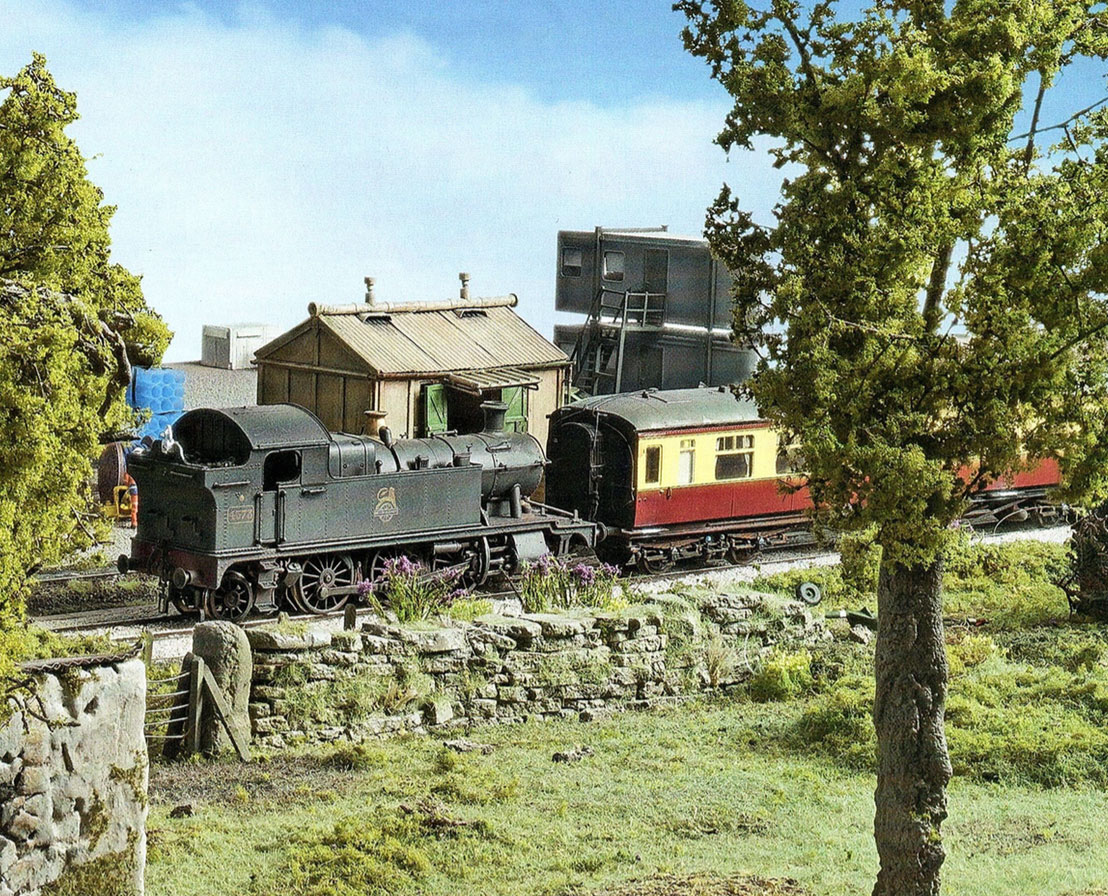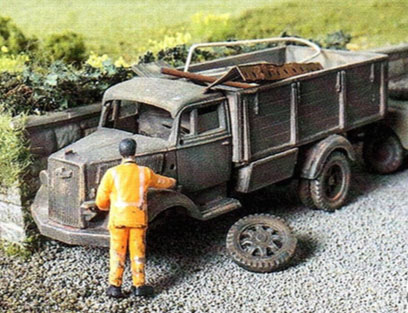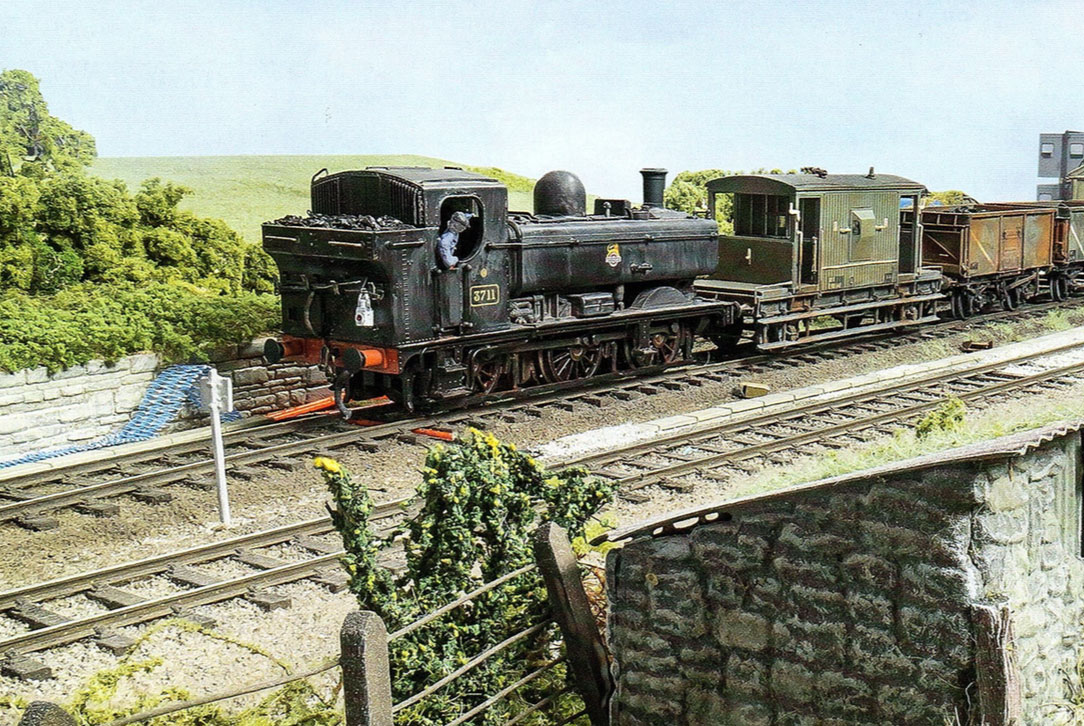 A lovely looking Kernow Bulleid 10201 posing on the programming track of 'Newton Broadway', a fictitious layout by Mr Lynn in Austrailia! He mentioned that the programming track is fully scenic because he also wanted somewhere to pose locomotives for their "official" photos. Great idea! The track is not actually connected to any other tracks on the layout, although he has made it appear that it would join his London Underground tracks in the tunnel. Sounds good to me!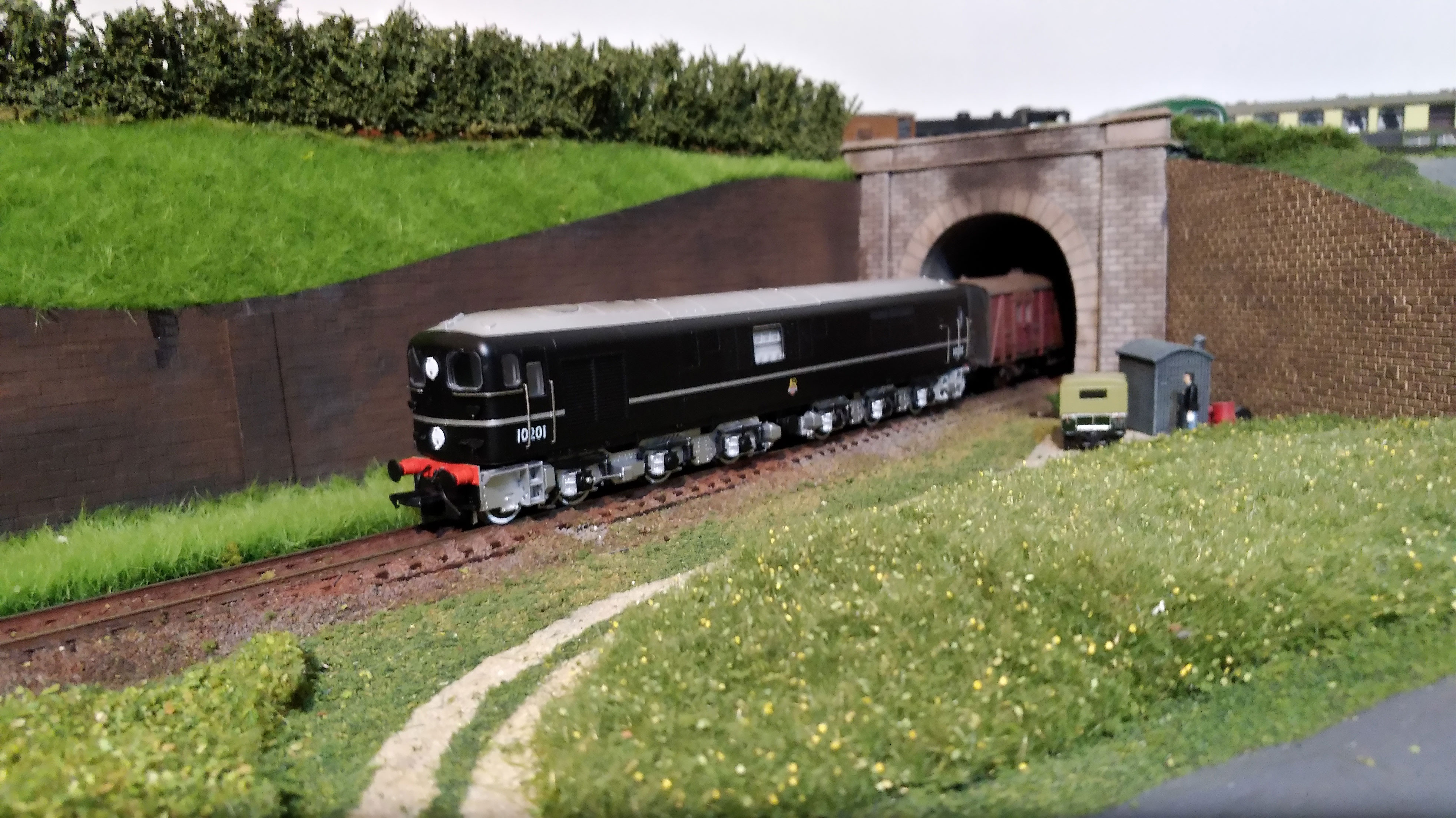 Look at the work (a lot of love and attention by the look of it!) that has gone into this 1950s ex-S&DJR goods yard, Bleat Wharf, by Mr Gunstone! Very impressive. He mentions it is slightly run down, somewhat overgrown in places but it is a quiet corner of Somerset - where the flowers grow and the birds sing. Sounds idyllic to me: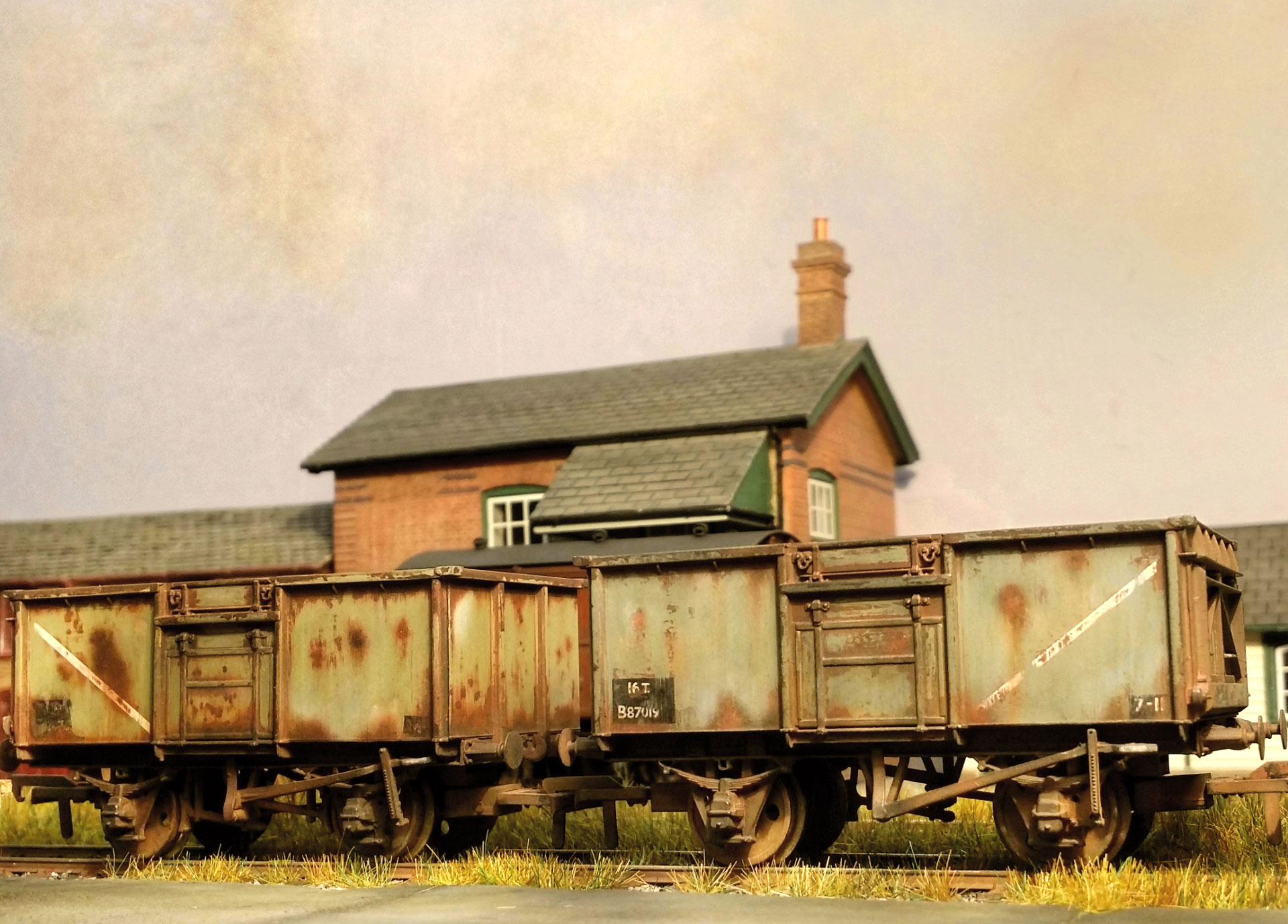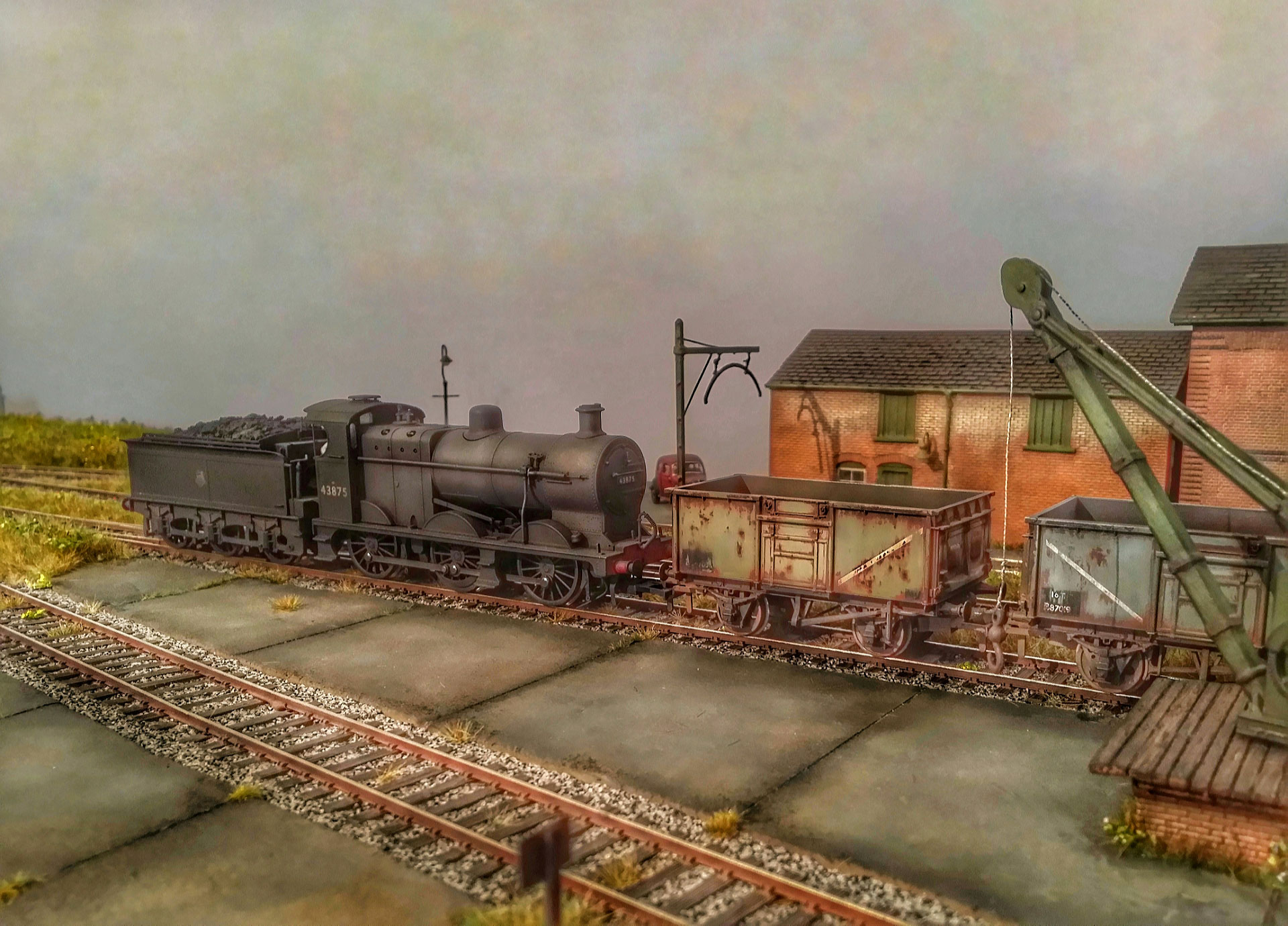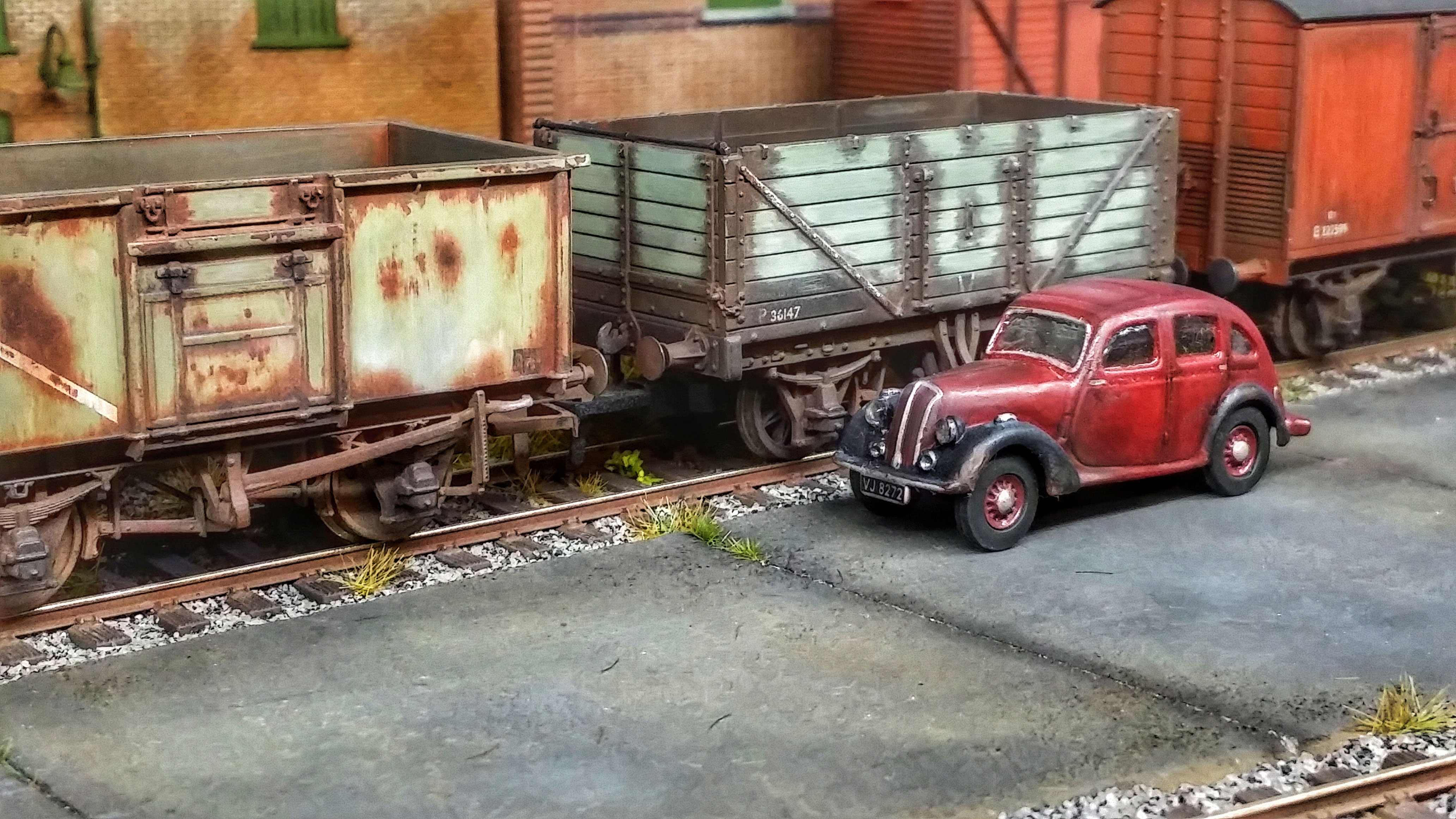 Mr Hill has kindly sent in these photos of his layout - loosely based on St Erth and the beginning of the St Ives branch line. He lived in Lelant, overlooking the main and branch lines, for many years, catching the last three years of steam followed by the invasion of the 'green slugs' as he and his father christened them - brilliant! Mr Hill features a Warship being towed by a Grange which was a commonplace event in real life - my education is ongoing and I thank you for all guidance!: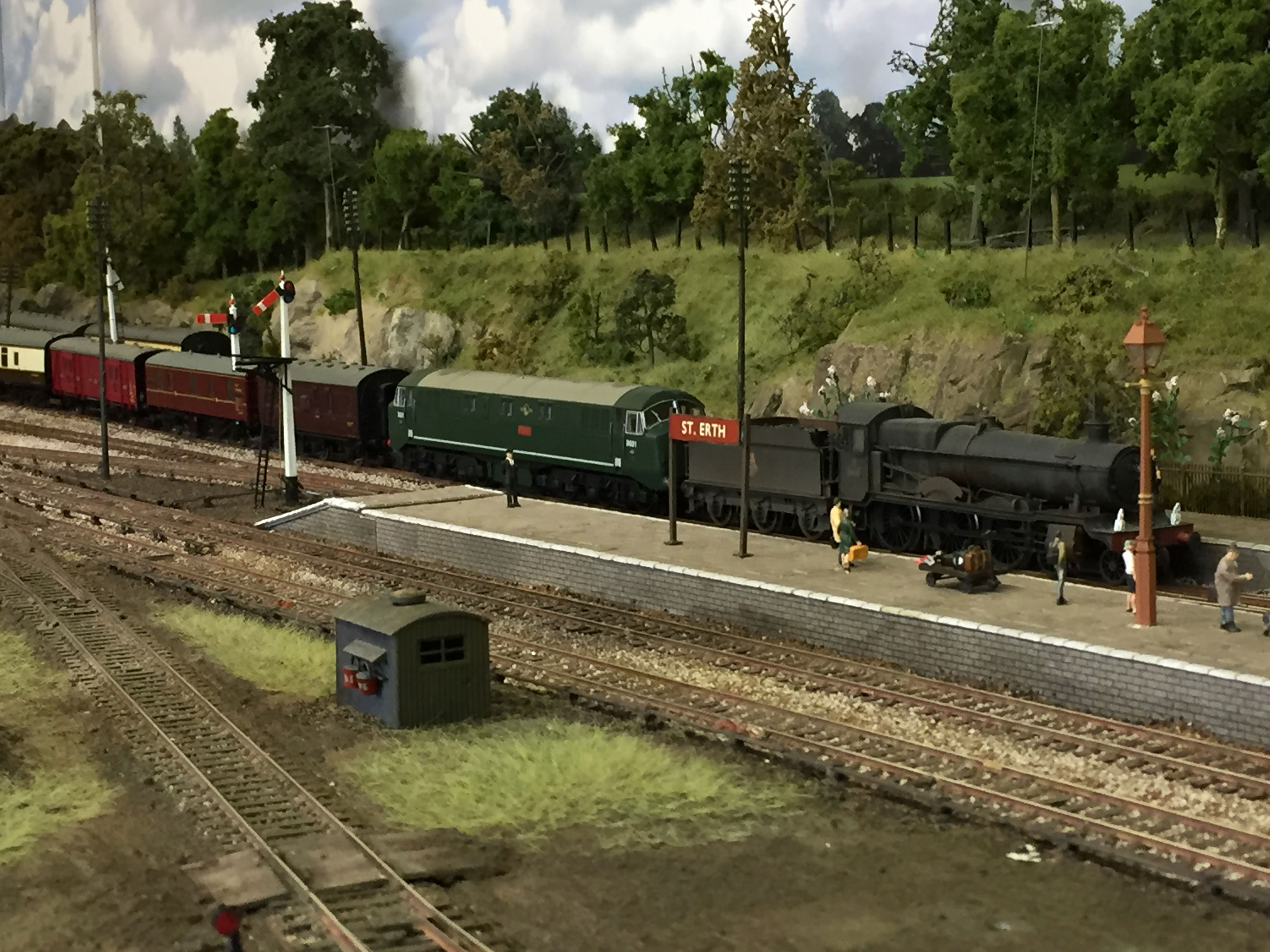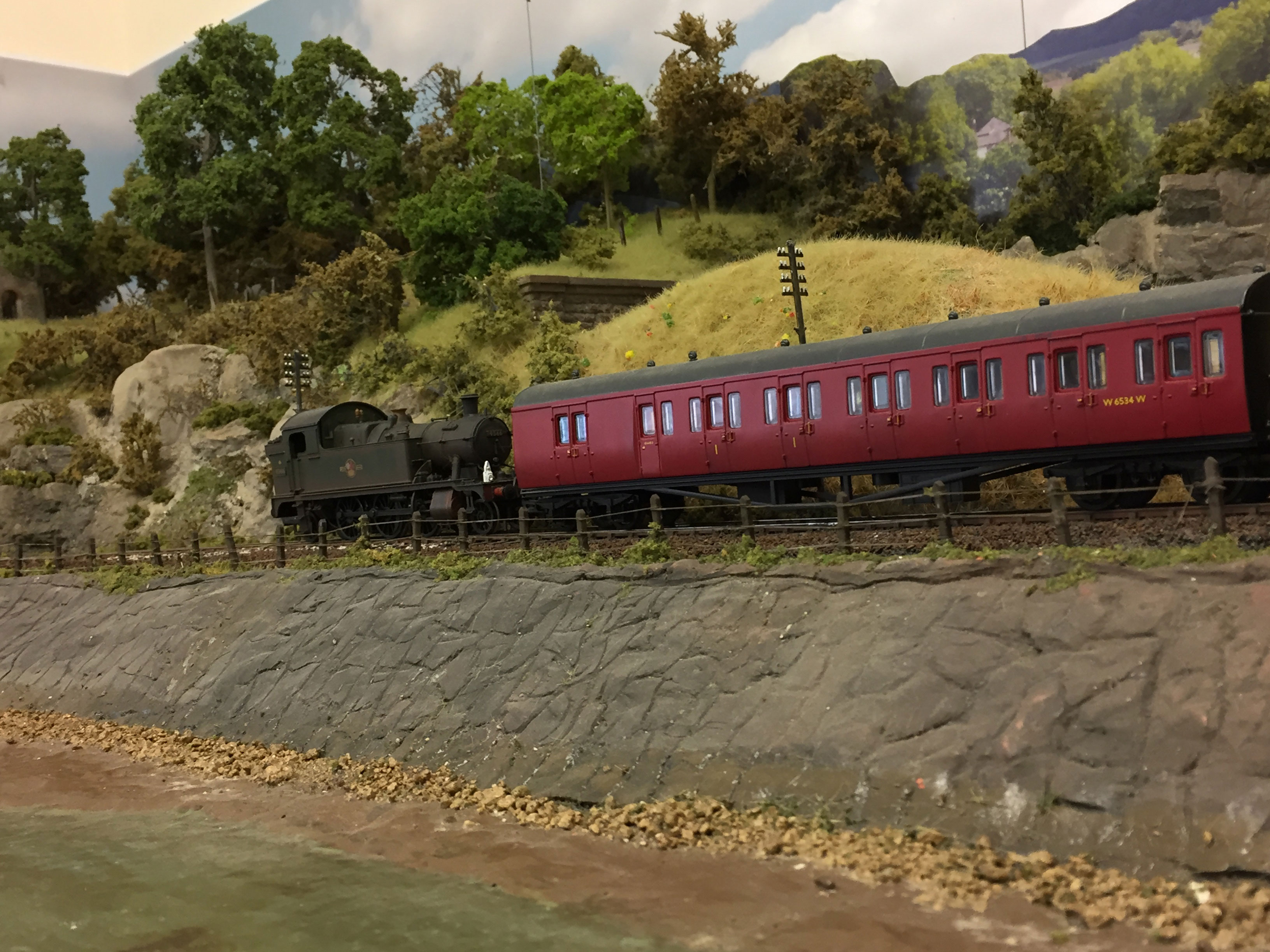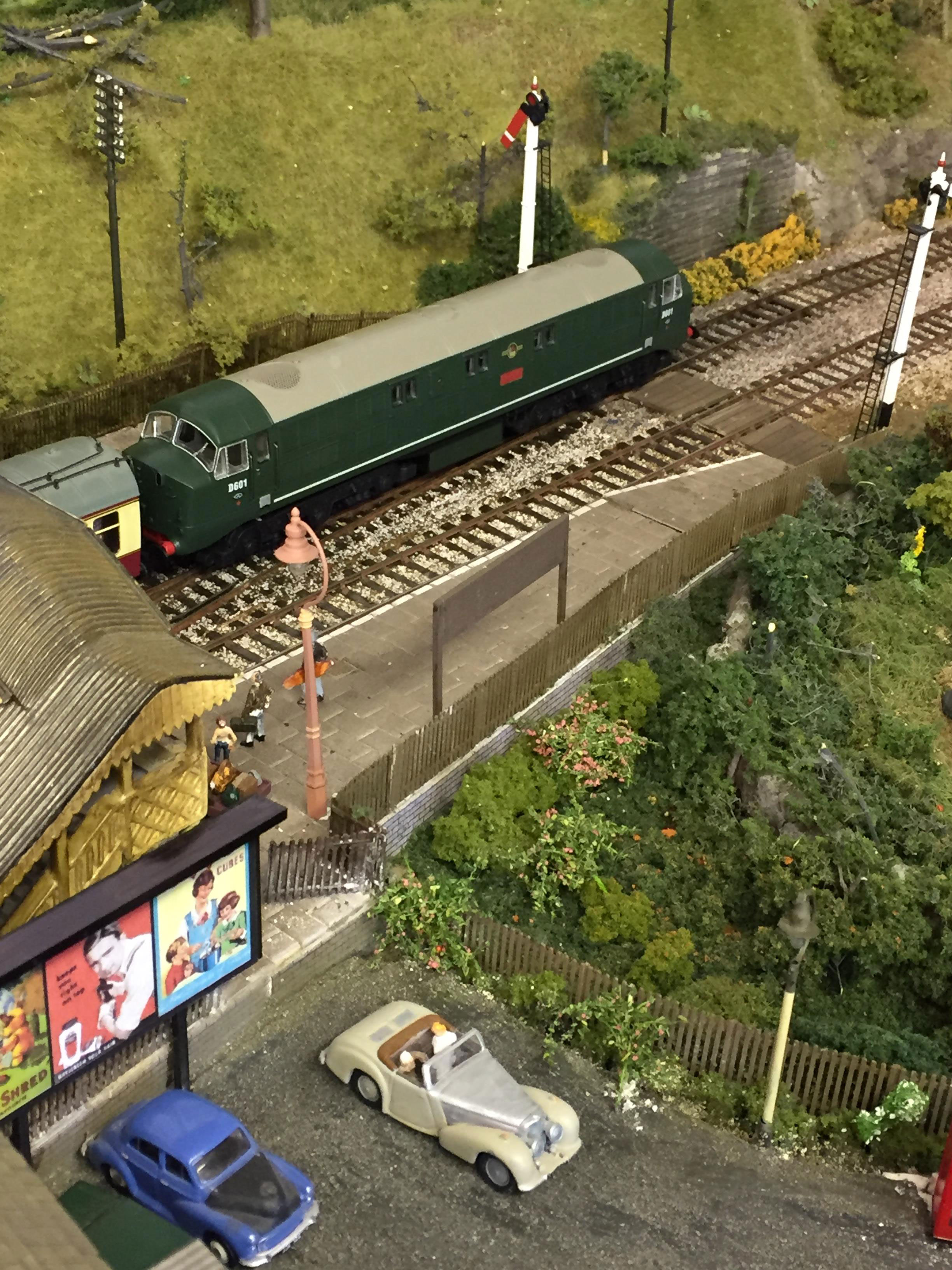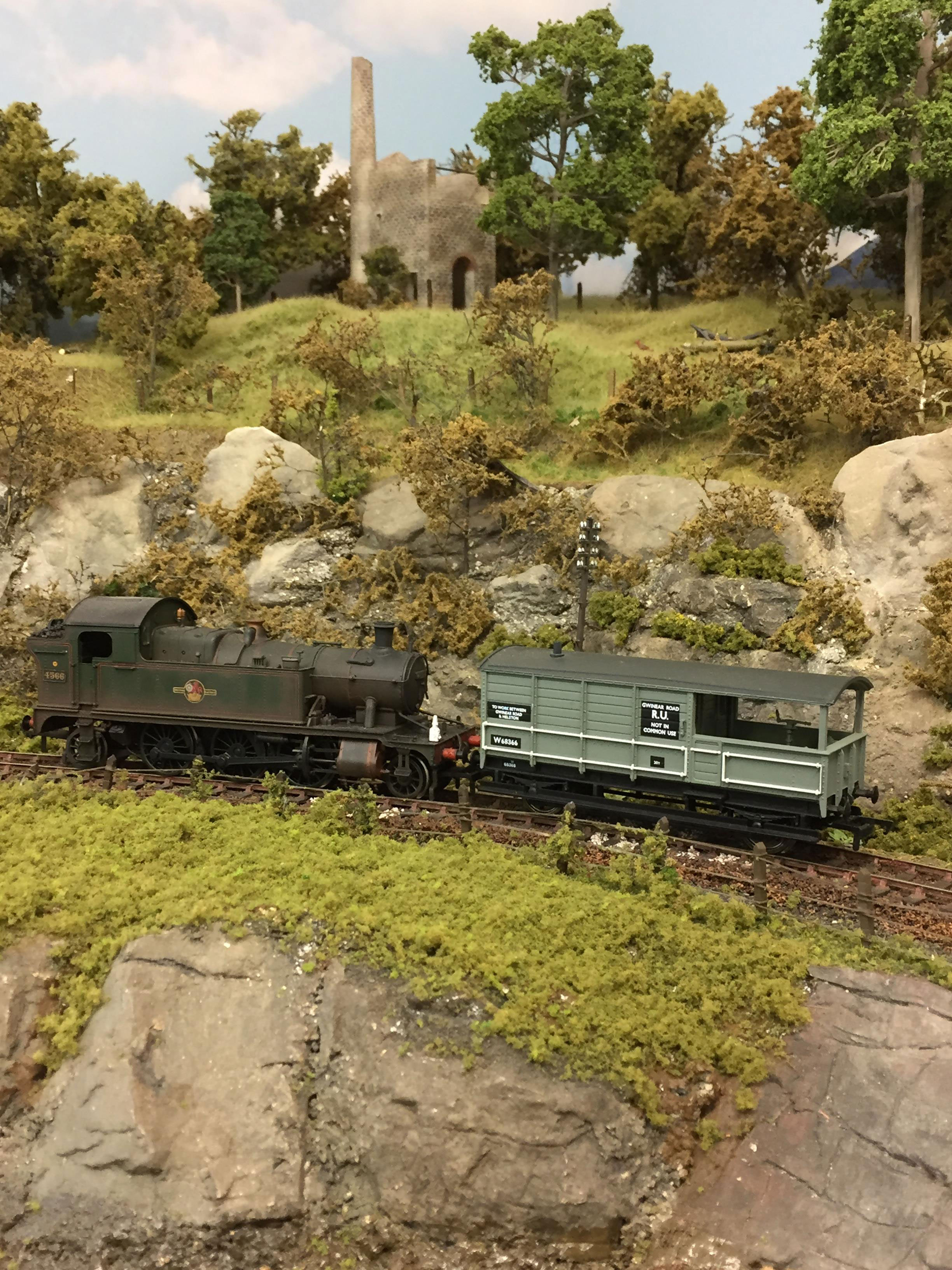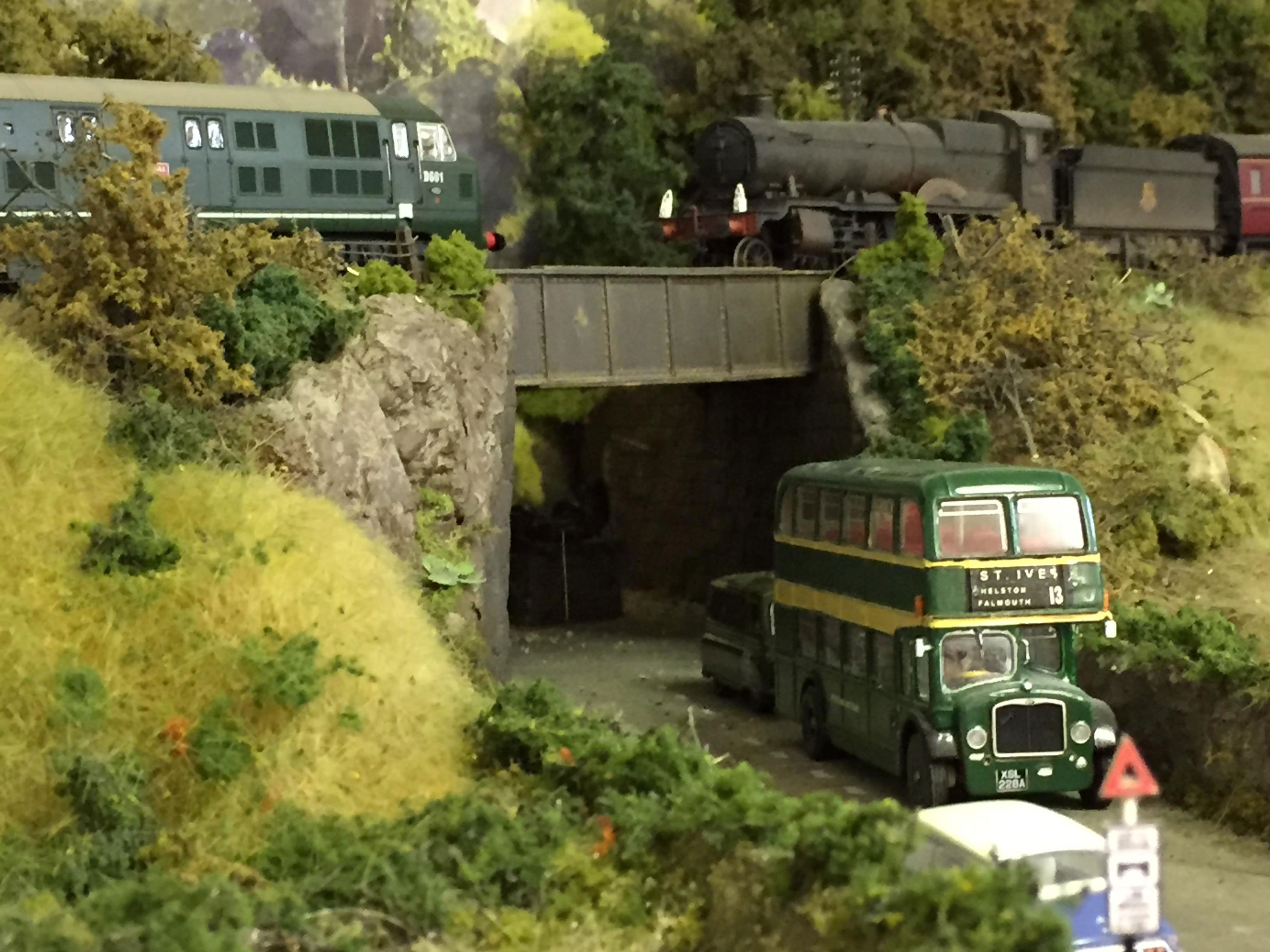 Mr Davis has received his D601 Ark Royal (well worth waiting for - his words!). She can be seen here passing through Mantles Wood - his layout set in the outer reaches of the Metropolitan Line around 1959/60, along with some other stock. She is beautiful!: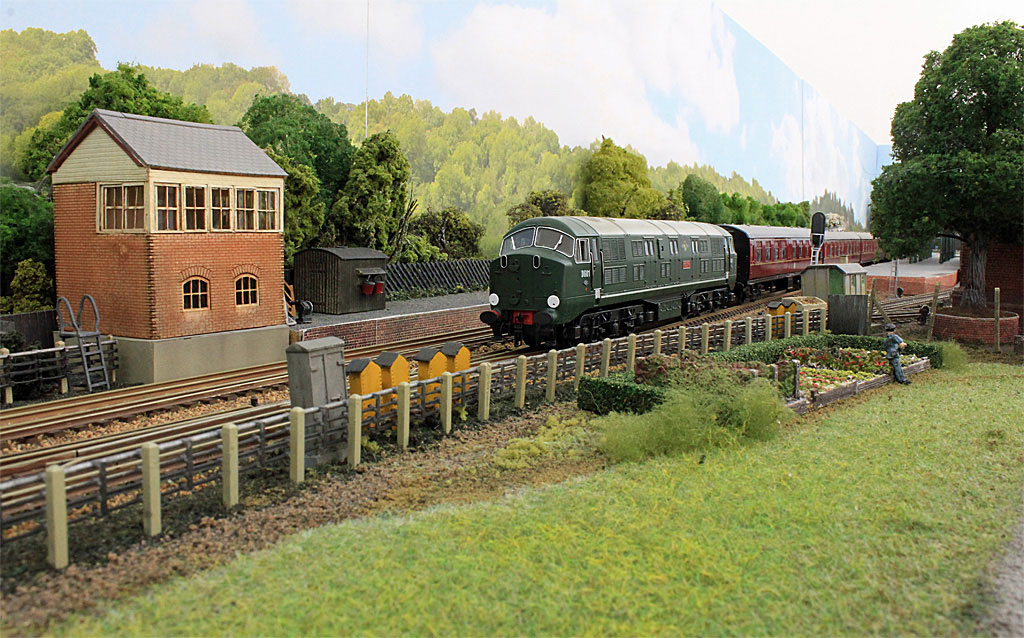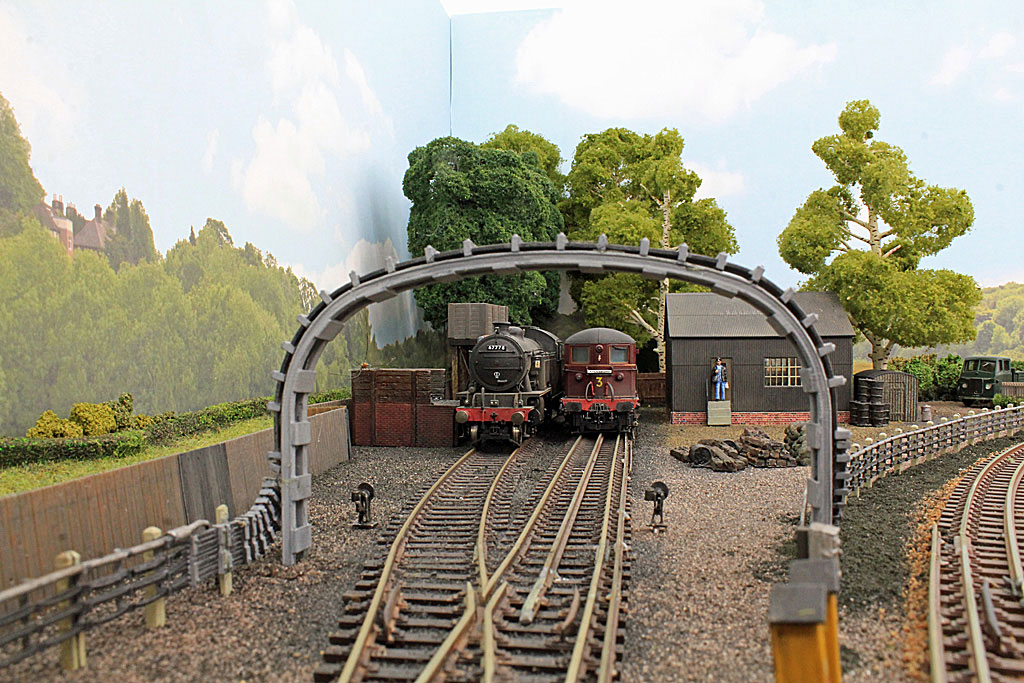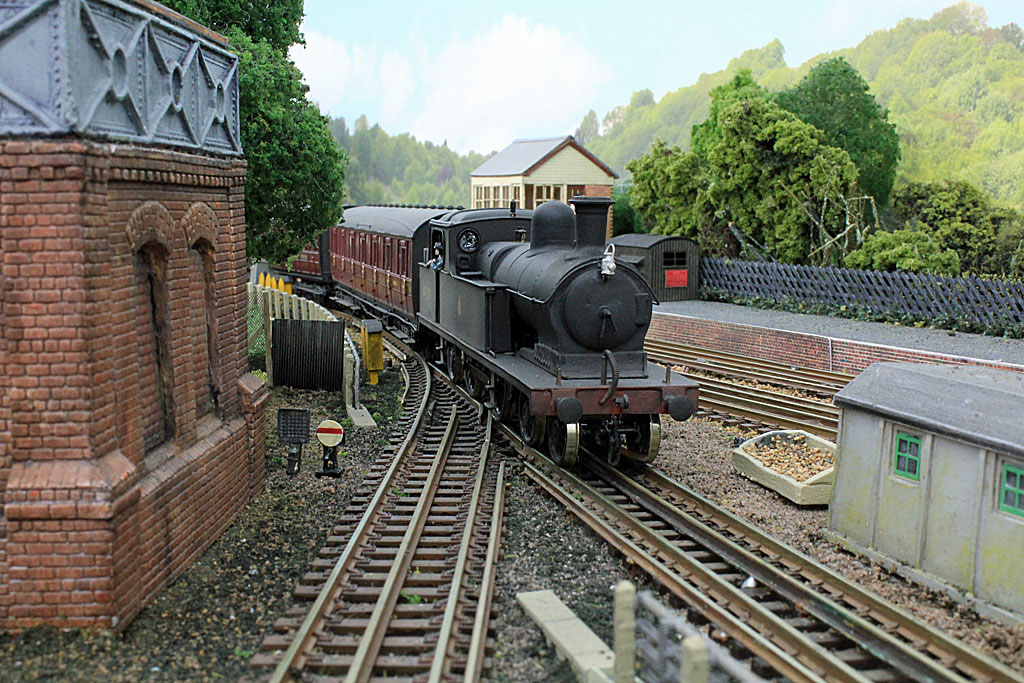 After featuring the 'Elmleigh Market' layout last week it inspired Kevin and Robin to show us a few more scenes from around the layout - thank you! You can tell many an hour has been spent with all of that scratchbuild and kit-built models on show - absolutely fantastic! They mentioned that "the W&M railbus was scratchbuilt many years before the appearance of the Heljan model, and runs on the Stratford St. Mary branch line, along with the E4, also virtually scratchbuilt with parts from a Nu-cast kit.":



Here we have a layout in a basement in Burlington, Canada! Mr Potter, with his friend Steve (originally from Newport Gwent), started this layout in 2004 and named it the Holborne and Woodcroft Railway. They designed it on two levels so they can run four trains at once - with one line being DCC on the lower level. They have kept a couple of steam locomotives to represent West Coast Railways - because why wouldn't you?!

Steve built the terminal station and covers six tracks! They are gradually updating parts by replacing the old Hornby Dublo Semaphore signals with automatic colour lights - the green will change to red as the train passes and then back to green as the train enters the next block. I don't know about you but I feel I have definitely learnt something!: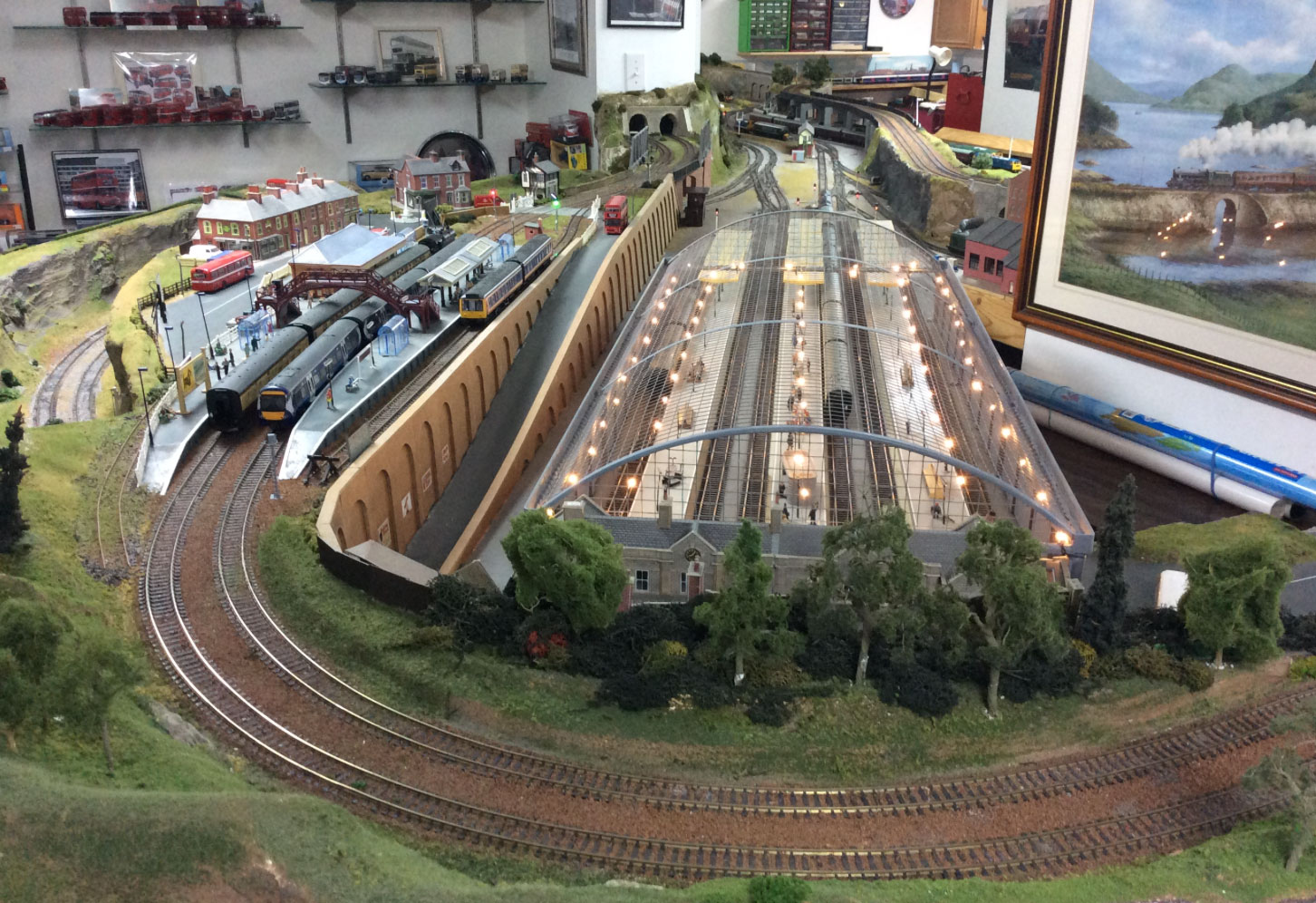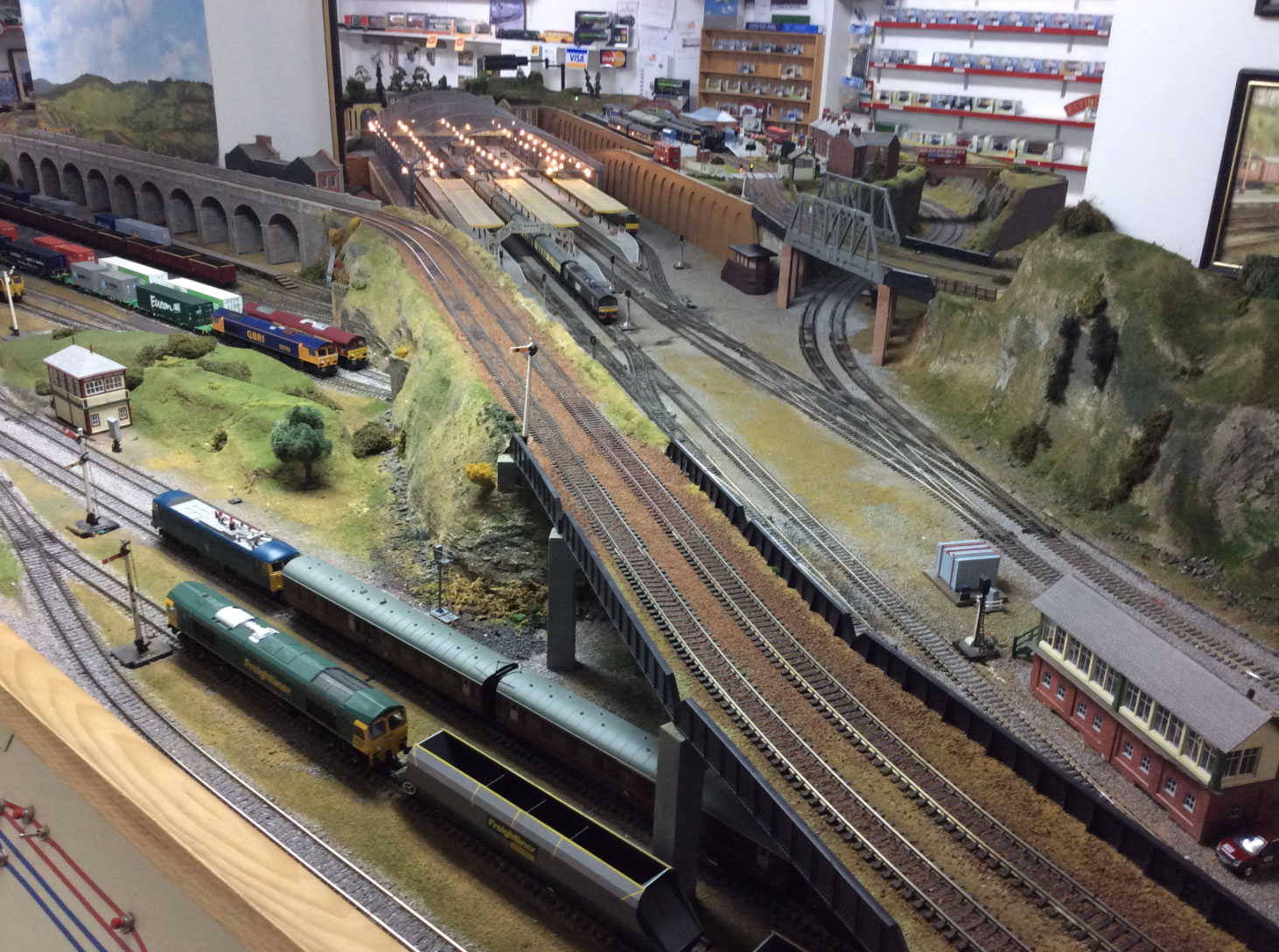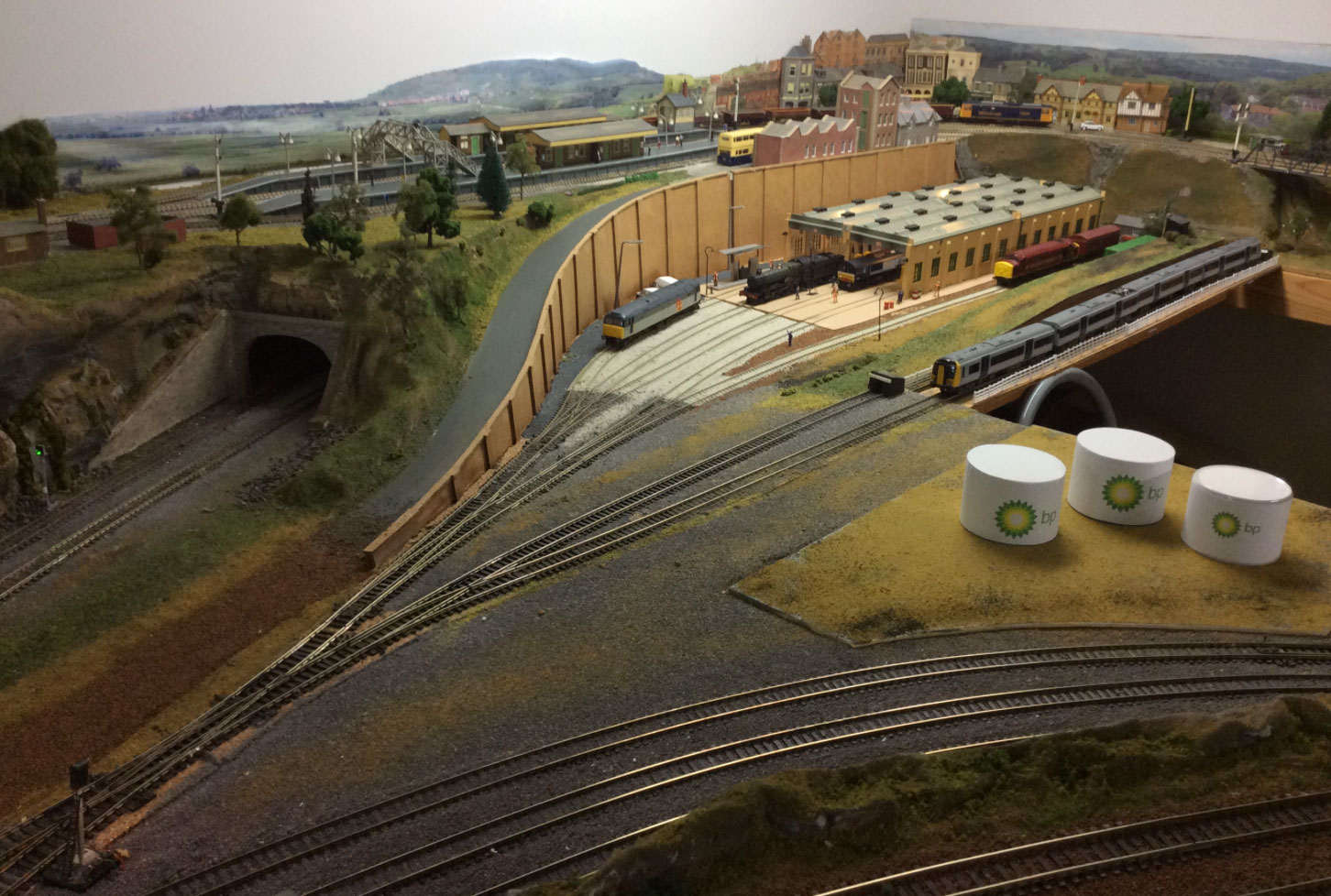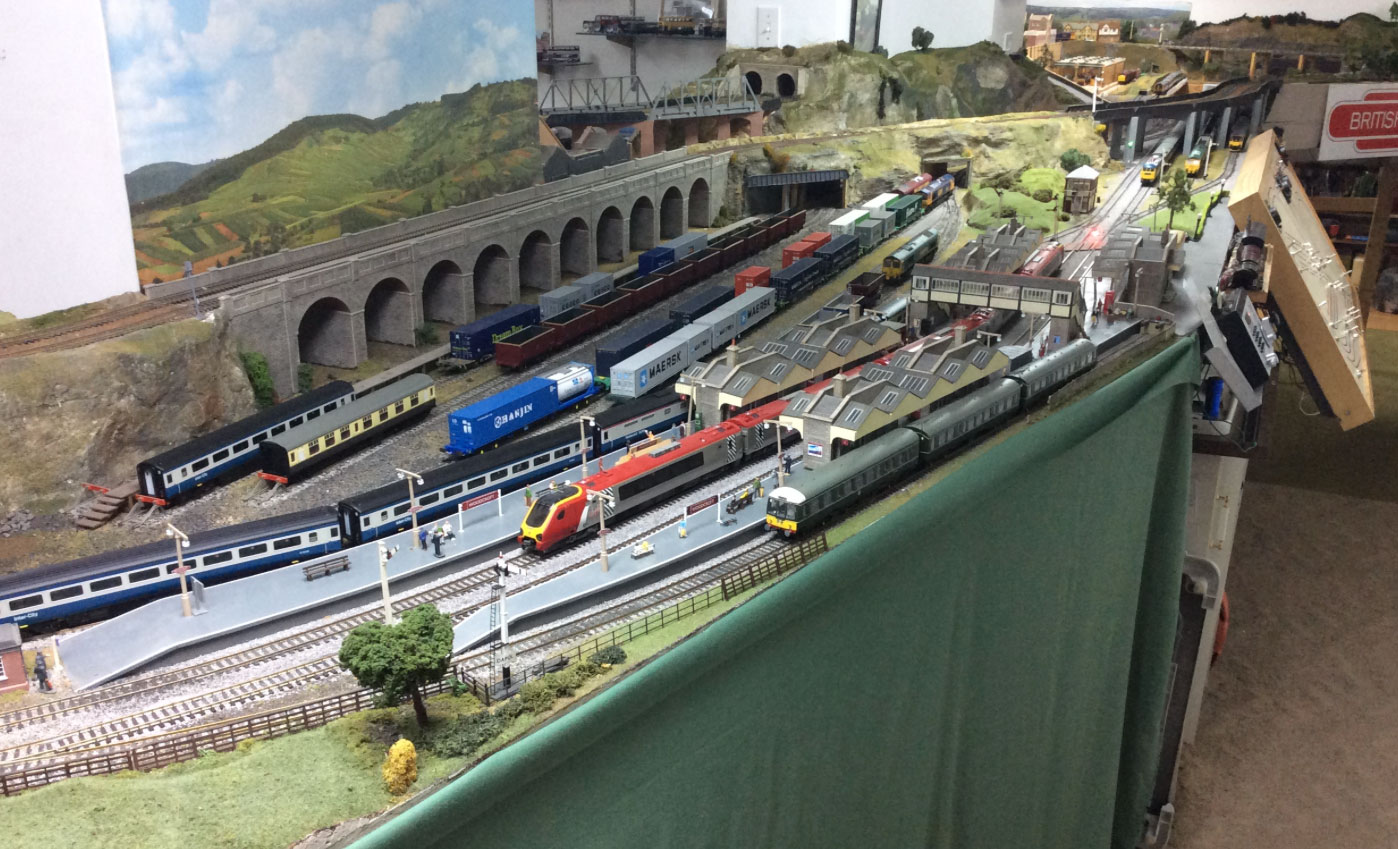 Kevin and Robin sent in layout photos of their East Anglian 'Elmleigh Market' on the Essex/Suffolk border. I am loving the placement of the figures as I really enjoy seeing what you all do away from the track on your layouts! All the interesting little side stories: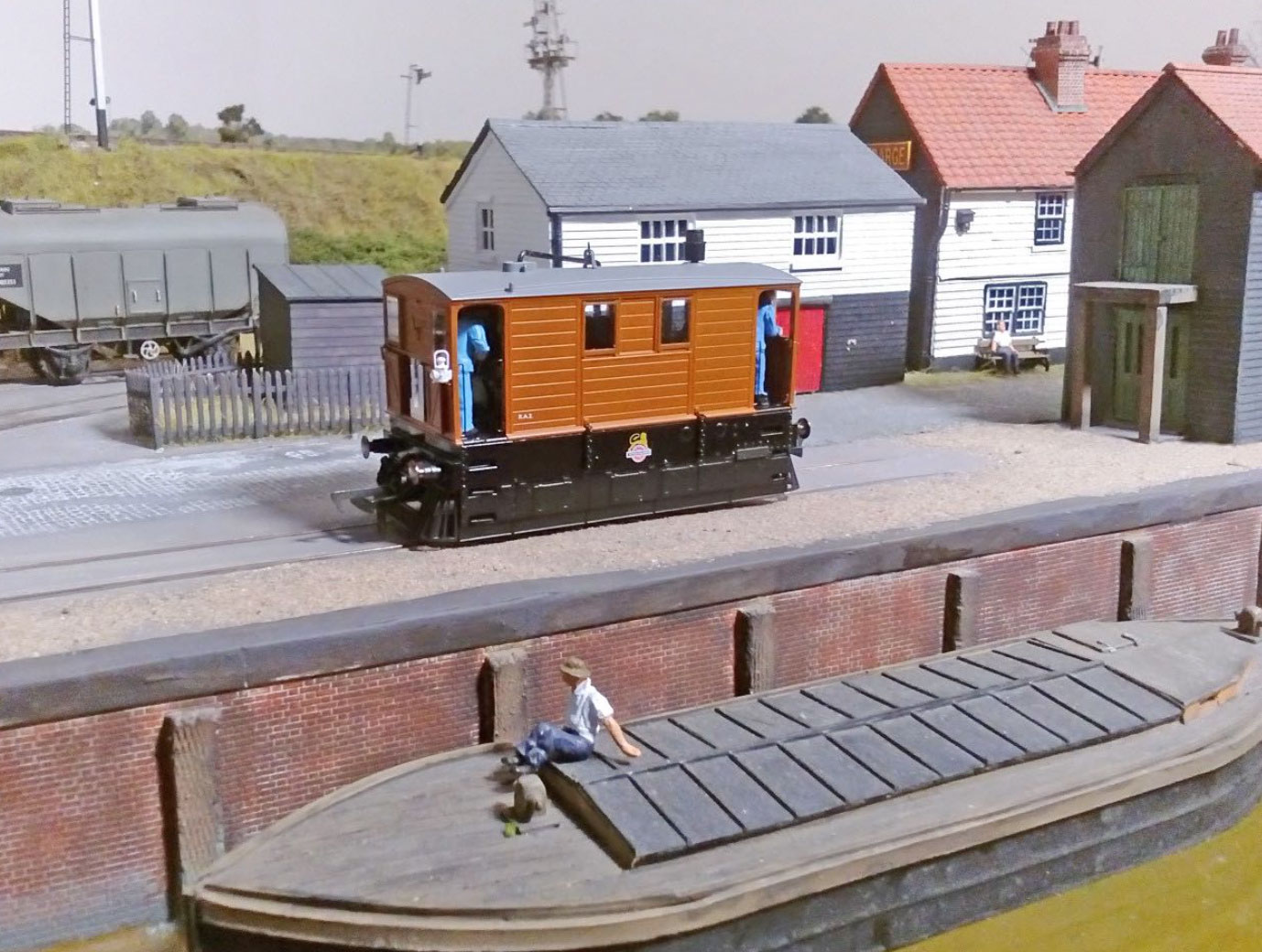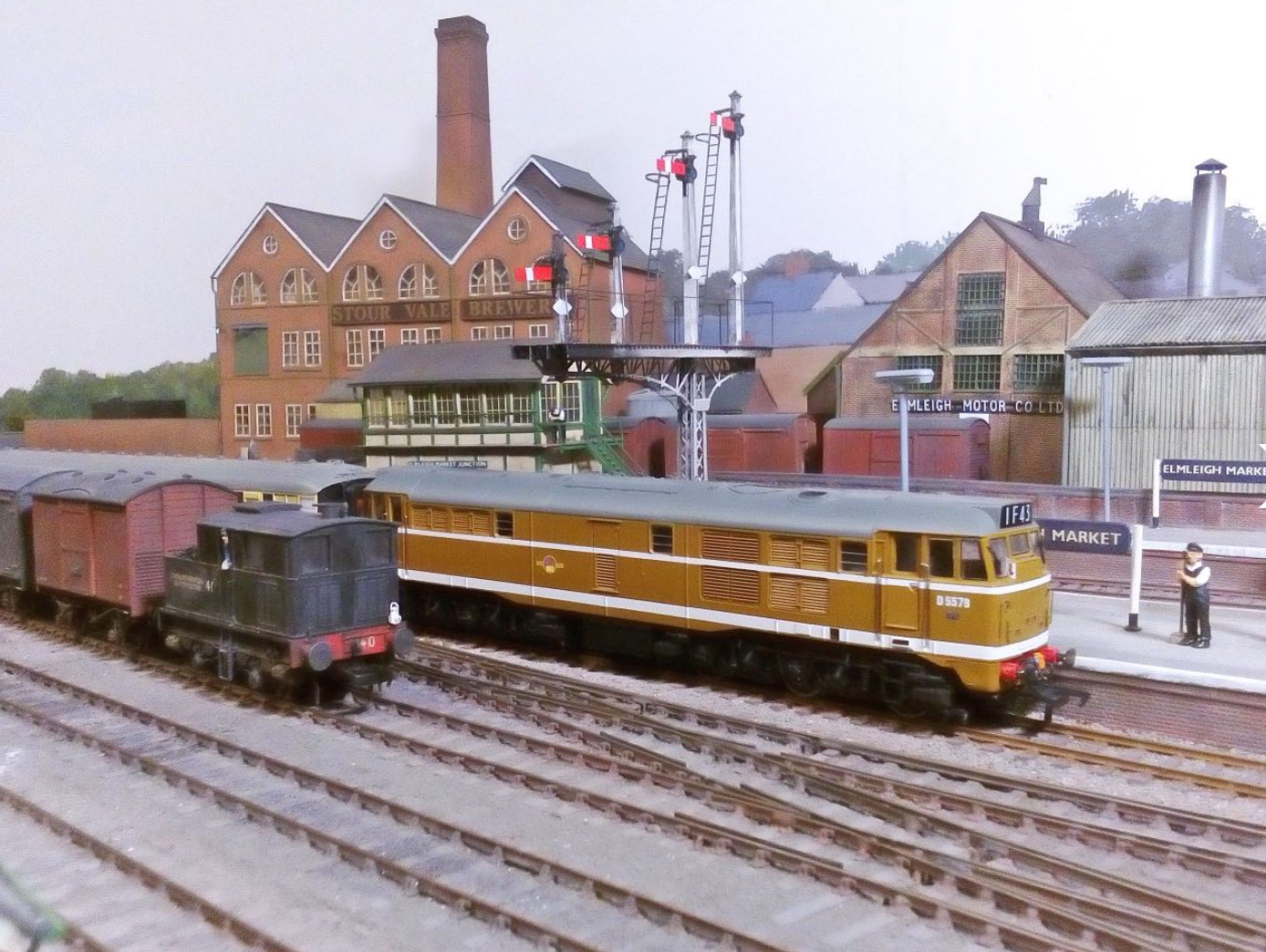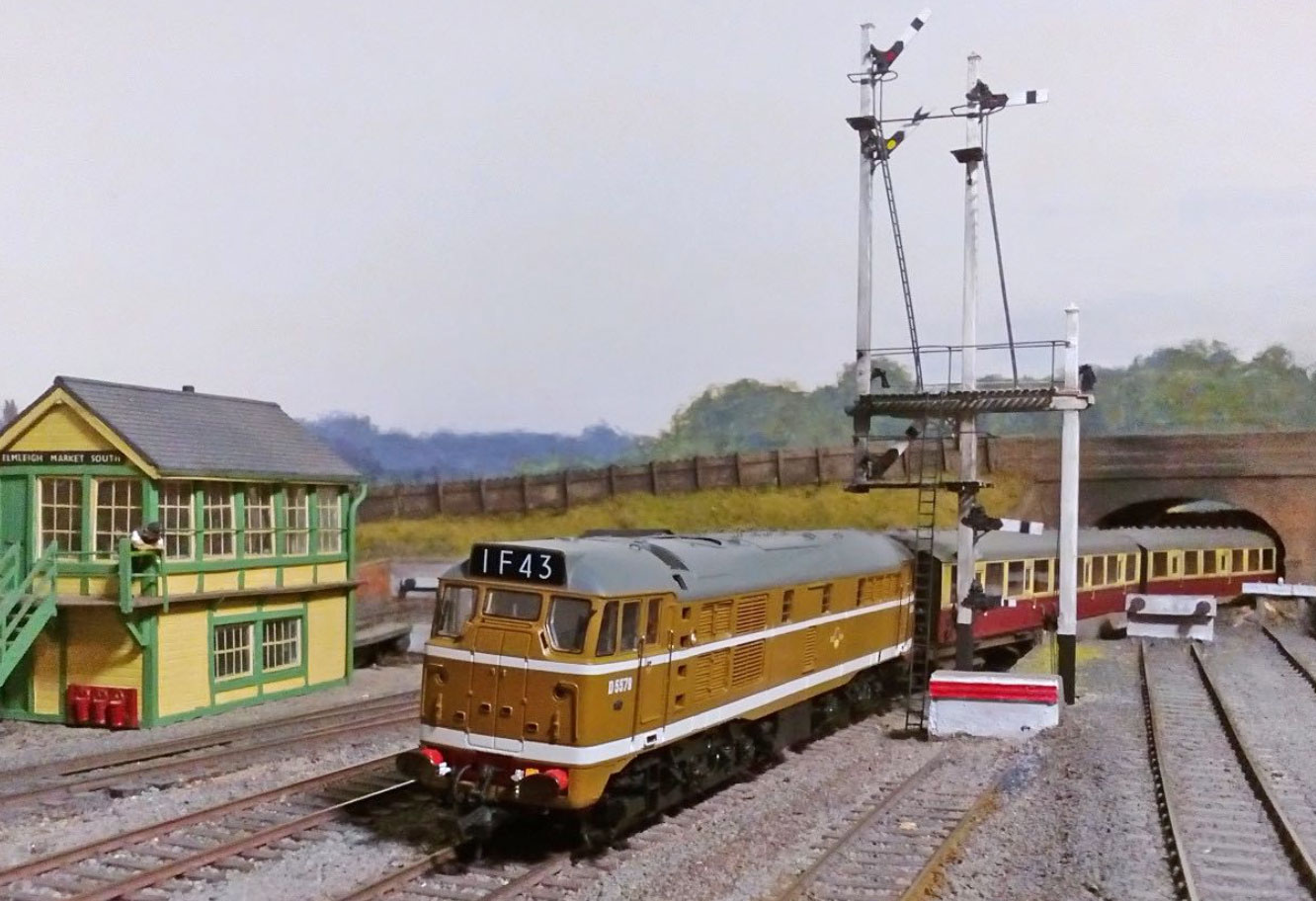 Mr Cole has sent me these great photos if his OO layout 'Sutton Oak'. It is approximately 5ft x 2ft and represents a branch line terminus set in the 1930's. He mentioned that it is not yet finished as he has some trees to grow, some figures to paint and some shrubbery to complete but I think it is pretty impressive thus far! He is also wanting to weather the rolling stock but, in his words, "I have been putting this off as they all look so good out of the box". I can't disagree with that!: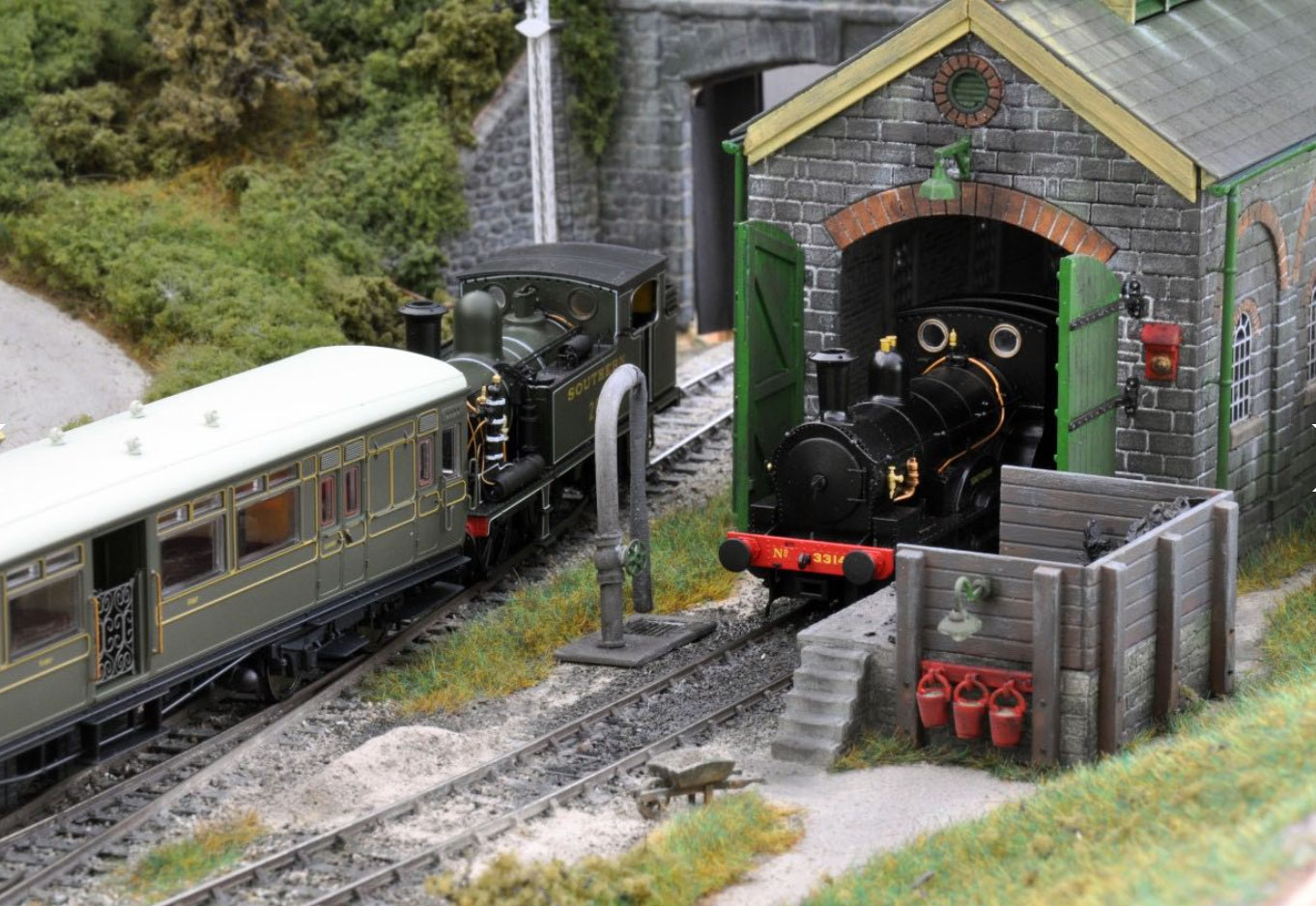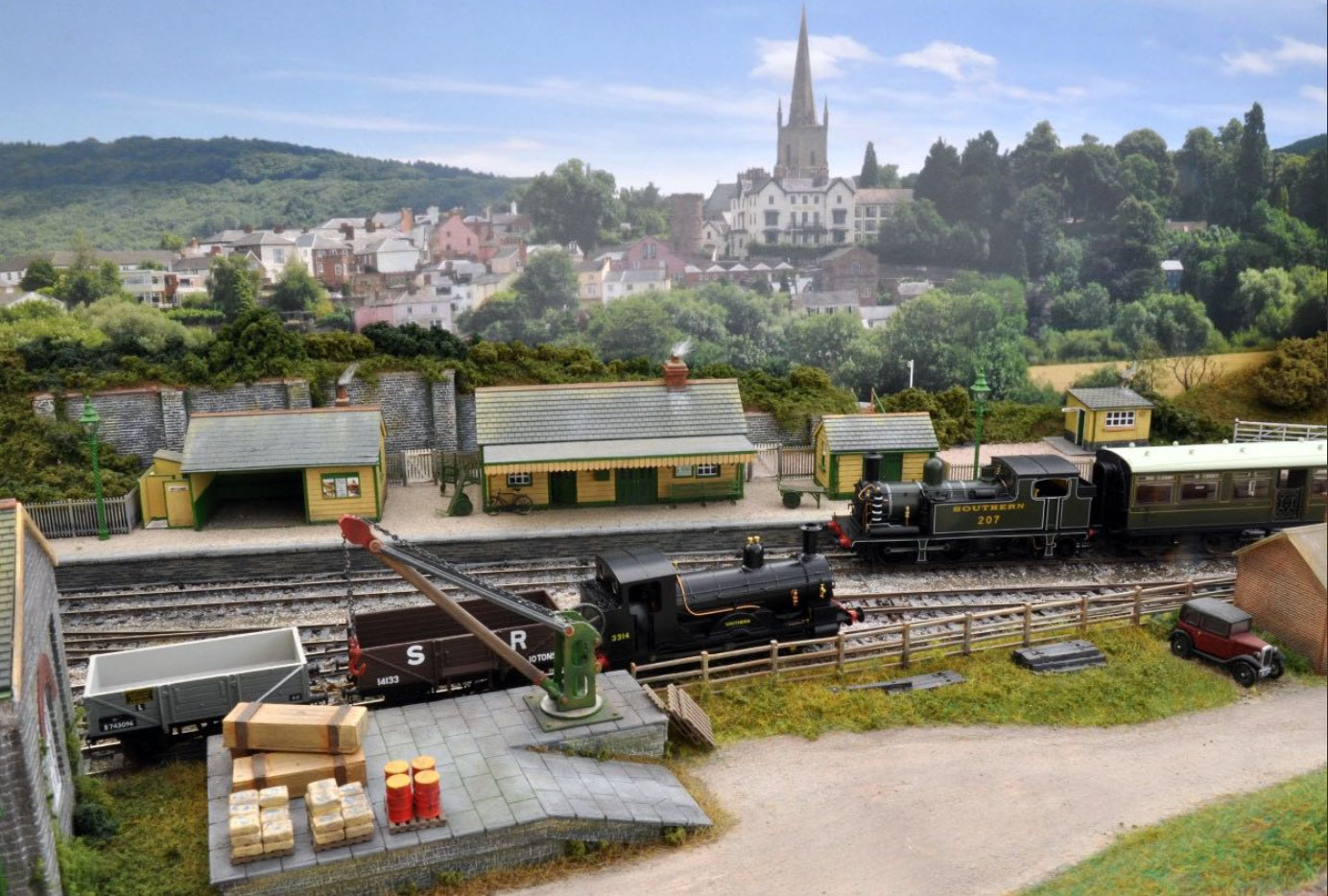 True to his word - Syd (from last weeks chosen layouts) has sent me some more photos of his D600 ACTIVE following the fitting of the various spare parts and a couple of works plates. It has also also picked up a little road dirt! We absolutely love what you have produced - thank you Syd!
A little back story about his layout... with only a few months before withdrawal and having been reduced to local trip workings, the loco is snapped on various sorties to Trevelyan on the Polmewan branch. It's seen waiting for the road out of the station, stabled on Trevelyan Shed, in tandem with D6327 and arriving from Truro with a couple of empty milk tanks bound for Polmewan: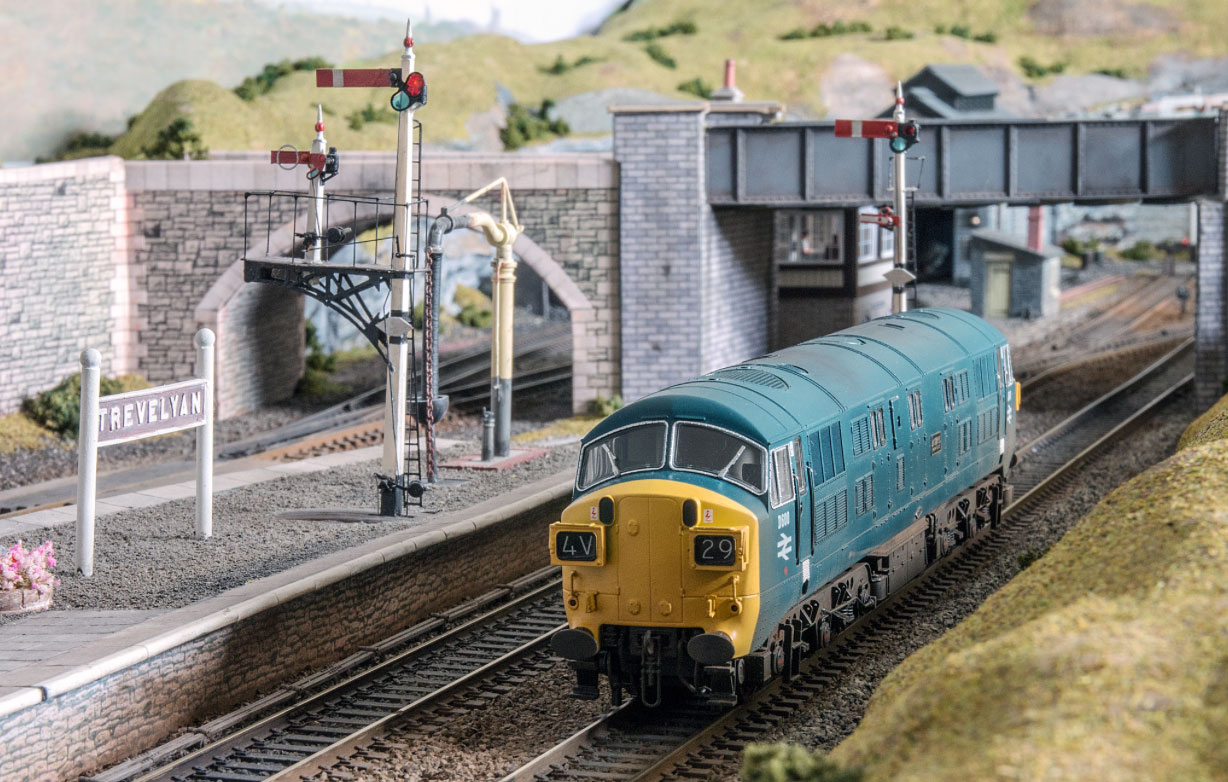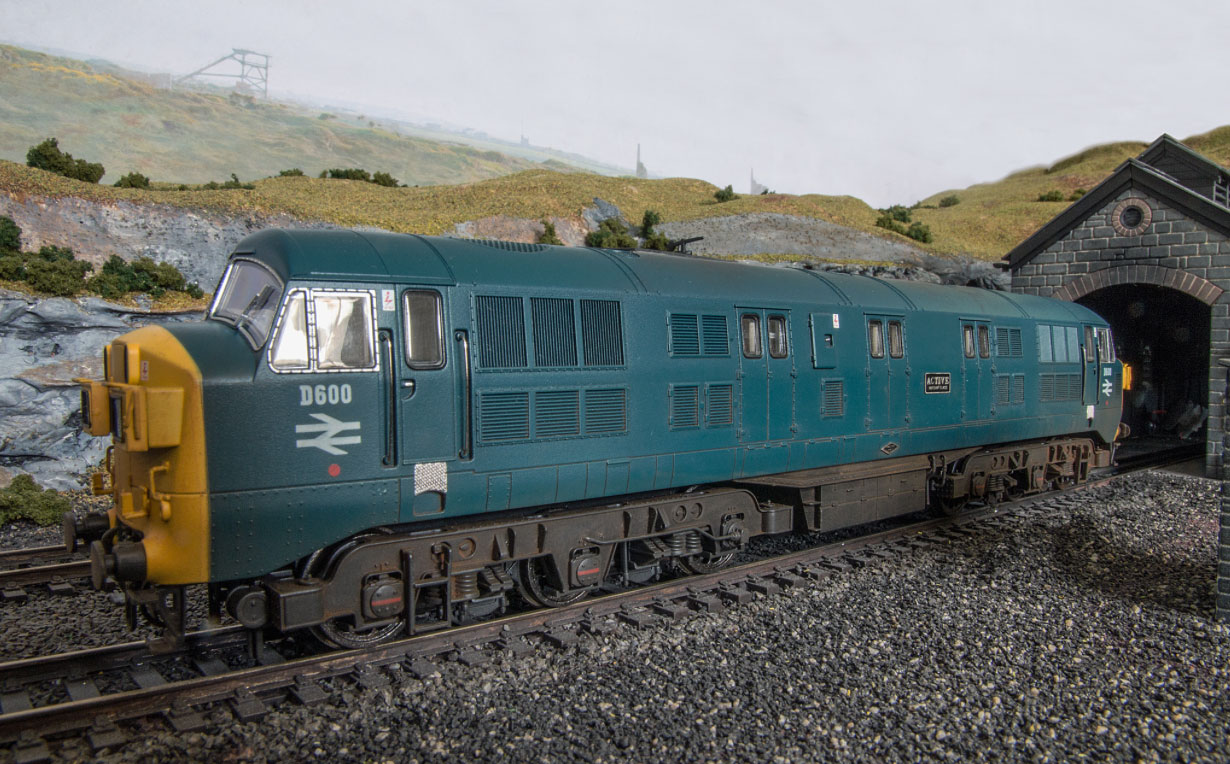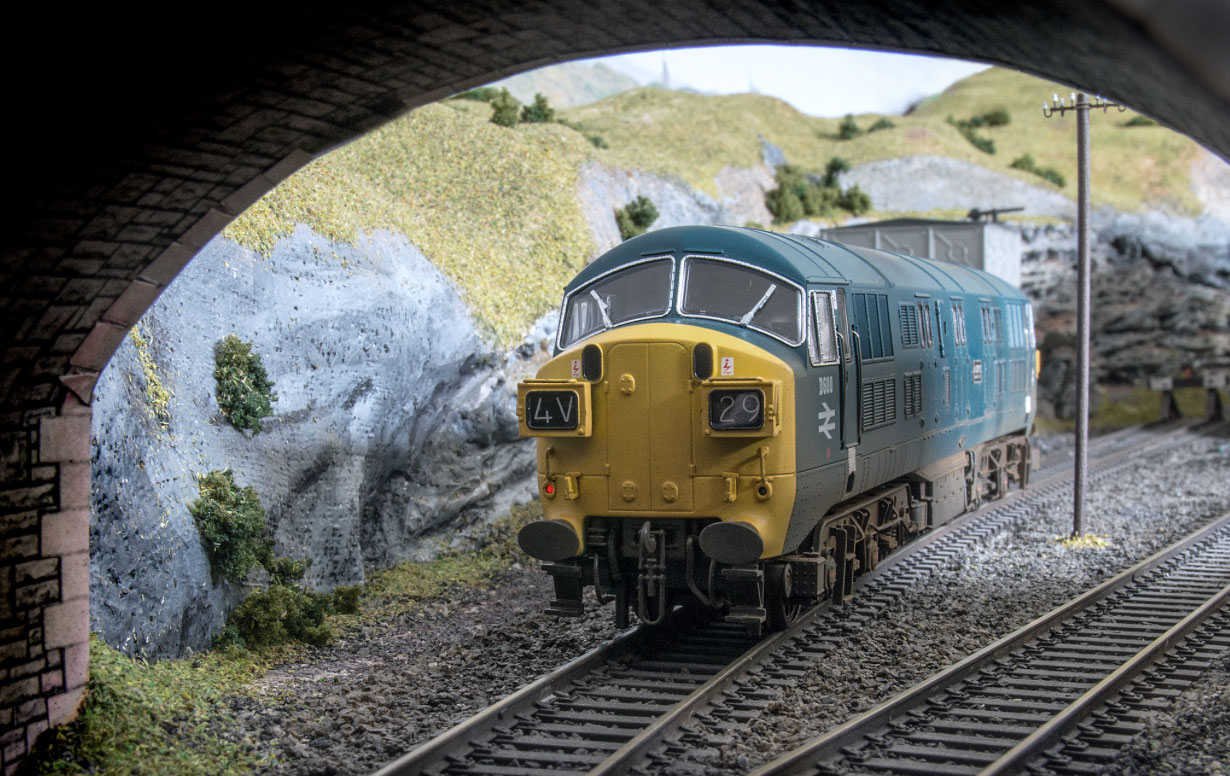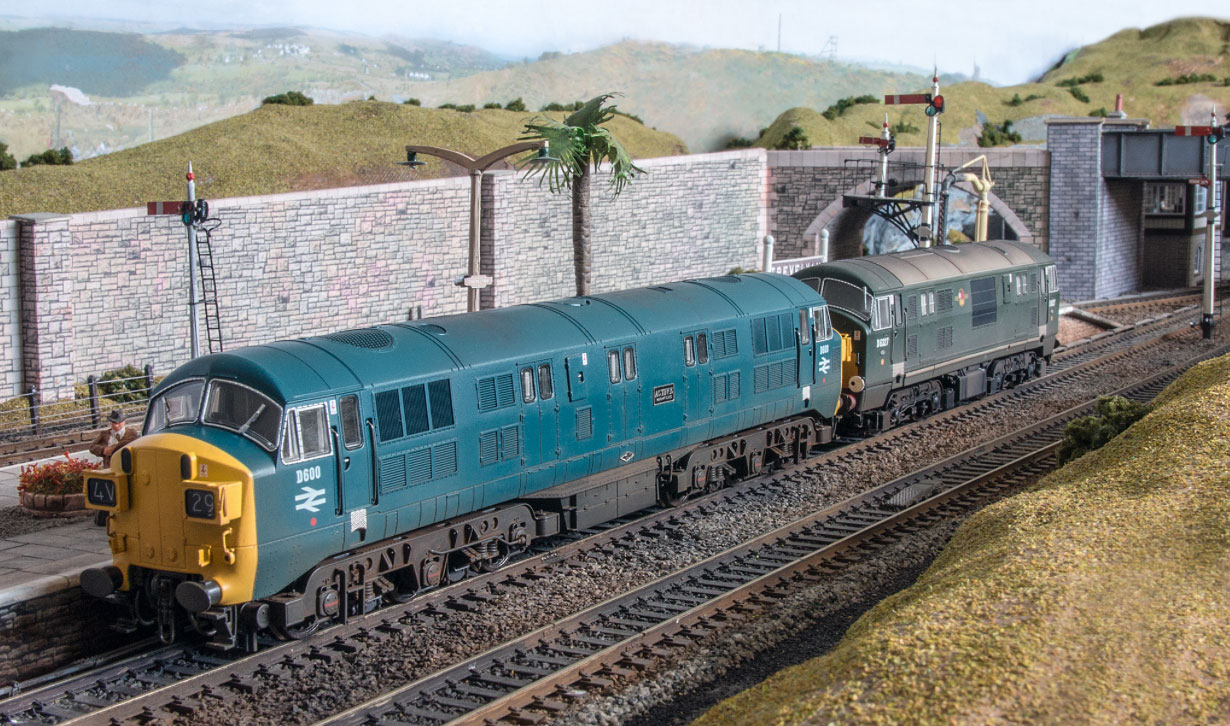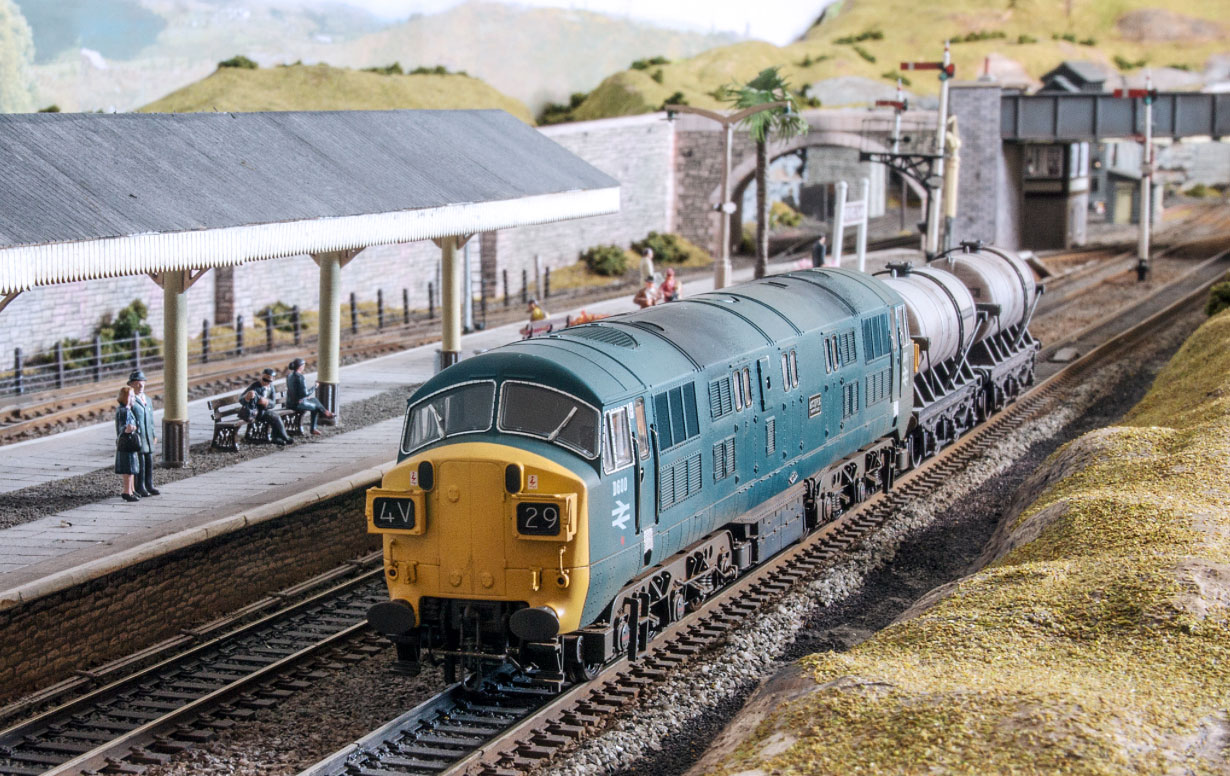 I think you are all trying to trick me! Another very realistic layout, by Mr Ruming, entitled 'Industry Lane' over in Sydney: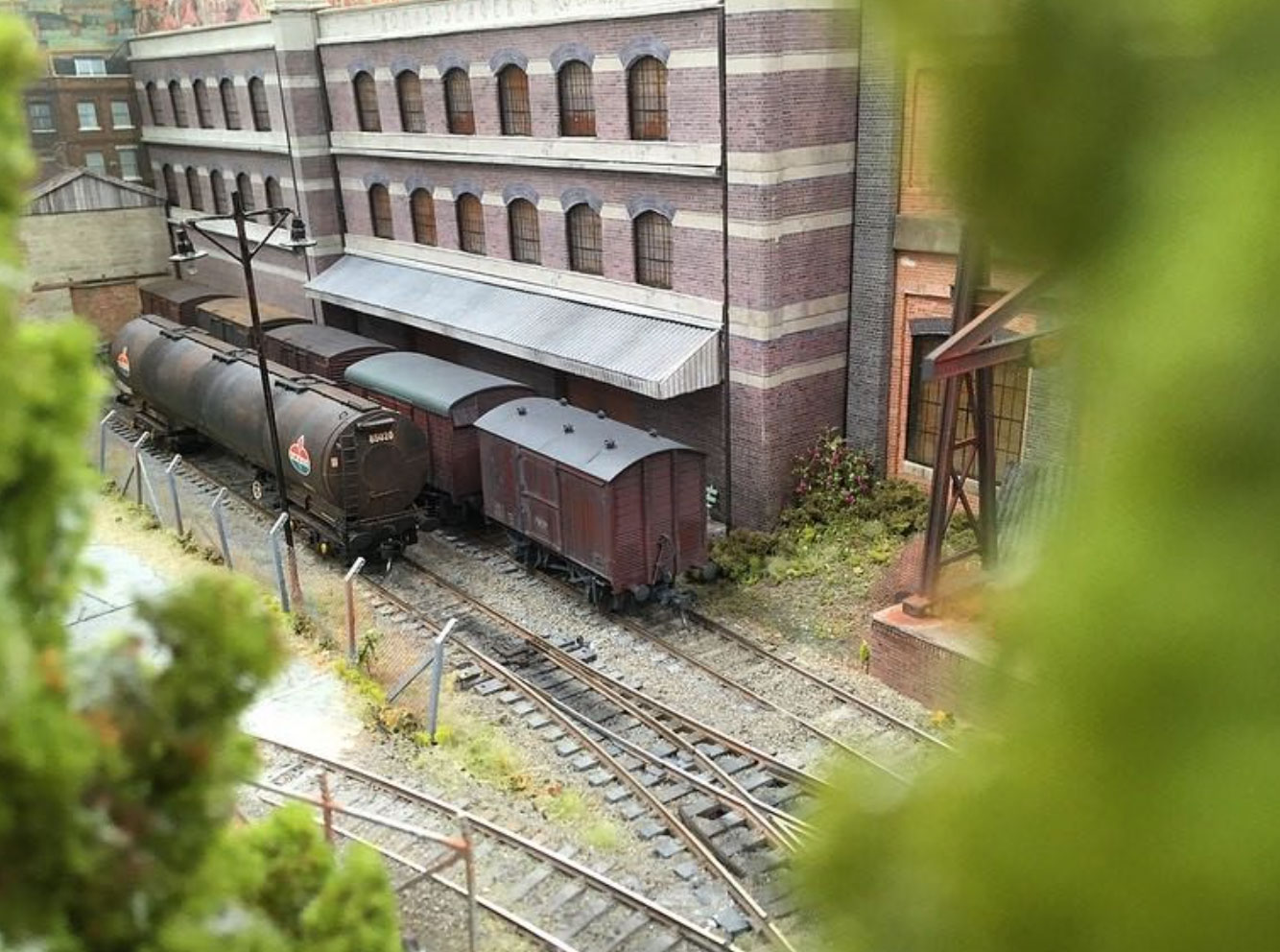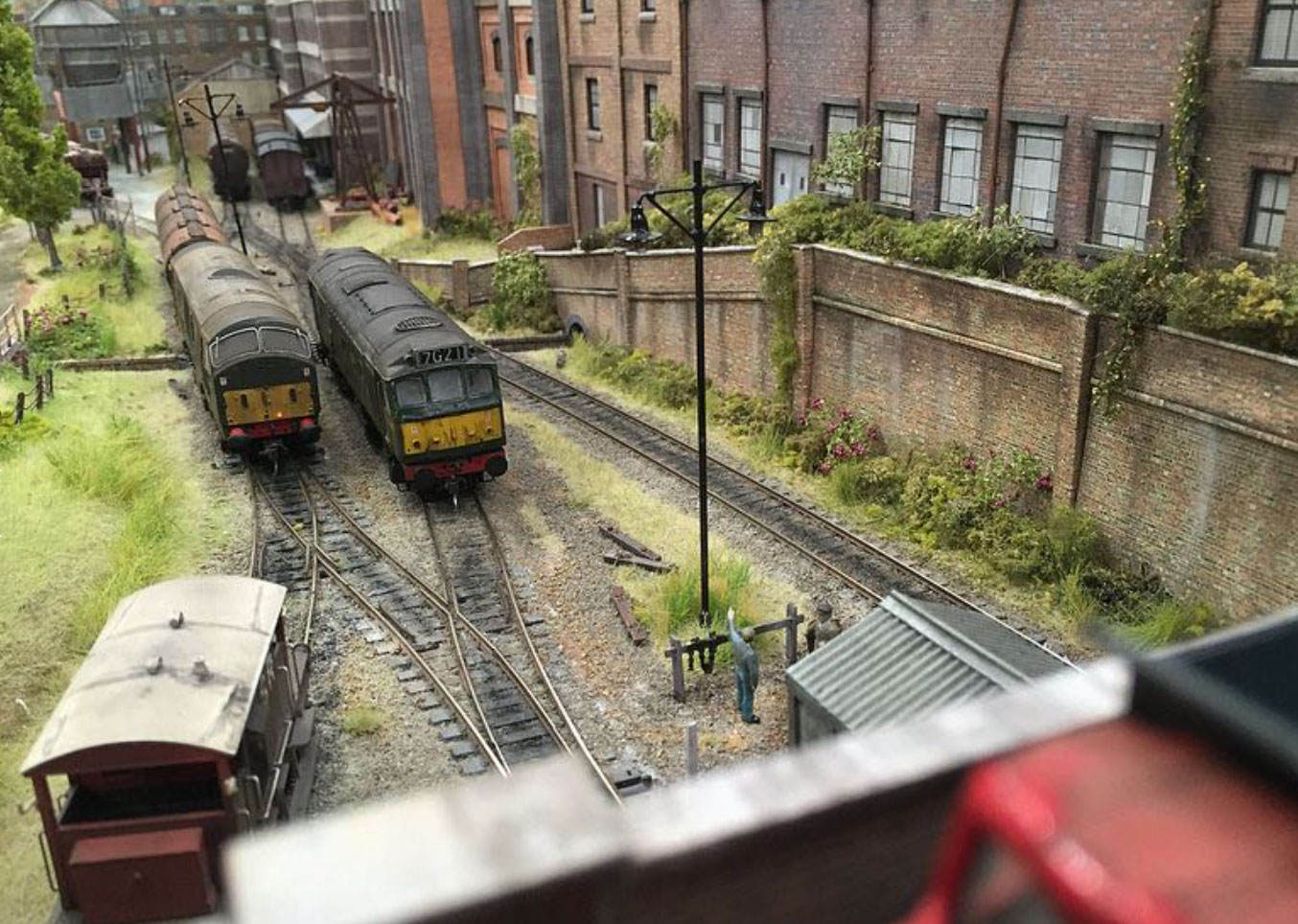 As we are on the subject of Sydney... Syd has sent me these 'ansome shots of his 'Active' straight out of the paint shop! They are currently on a running-in turn from Truro along the branch to Trevelyan and collecting some china clay wagons to trip back to Truro. I am looking forward to the updated photos when you complete your plan to do a bit of very light weathering and fitting the pipes and coupling gear! Proper job!: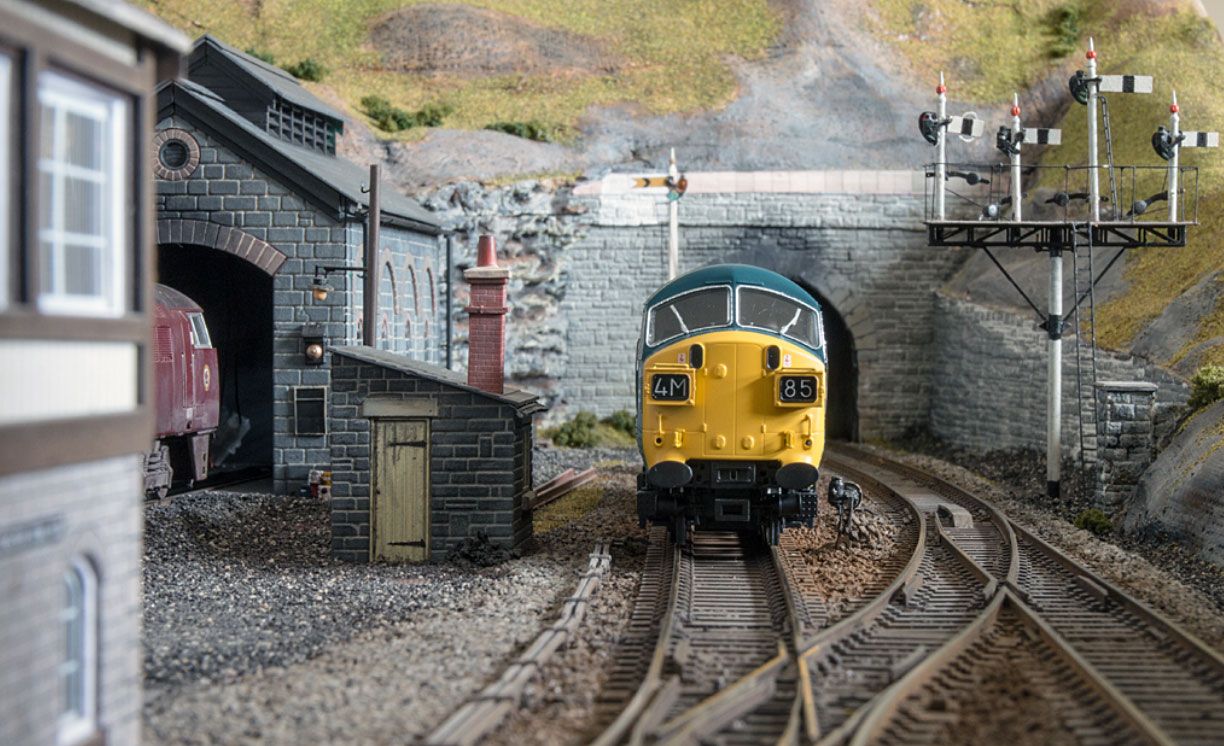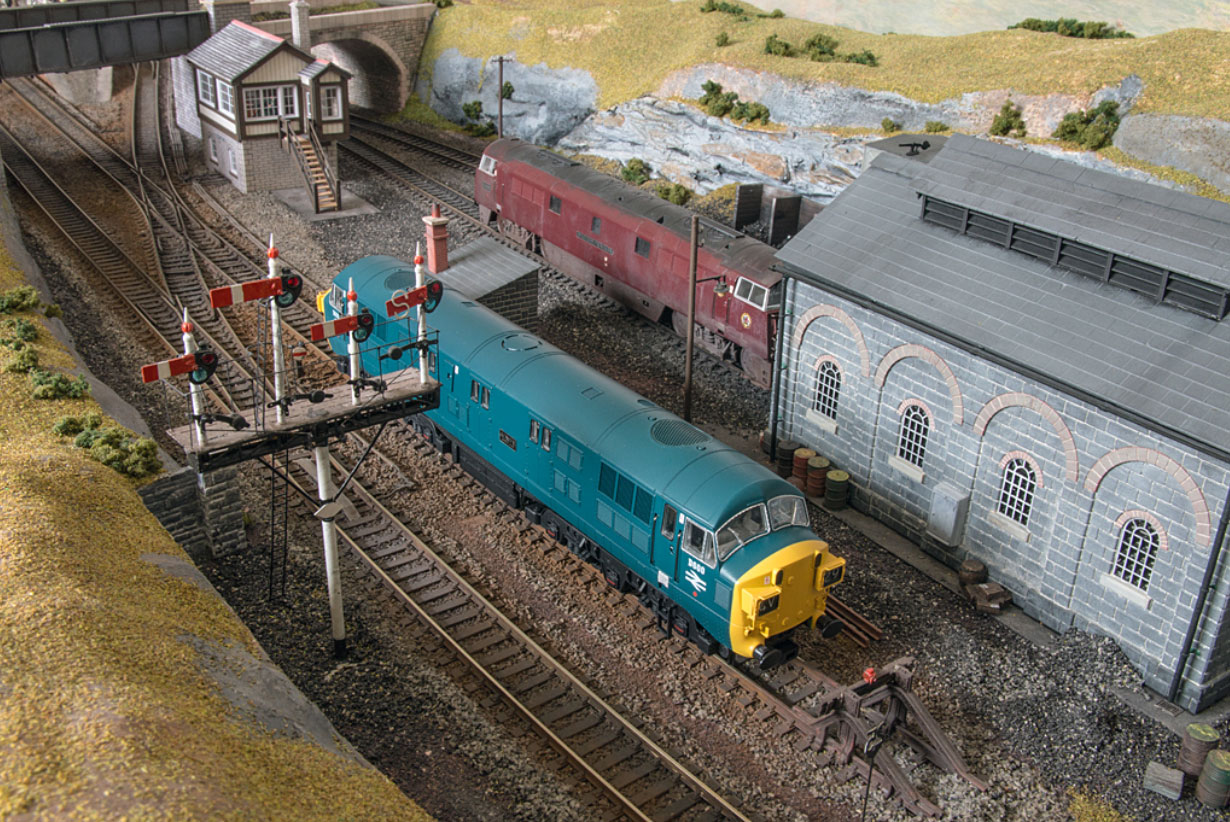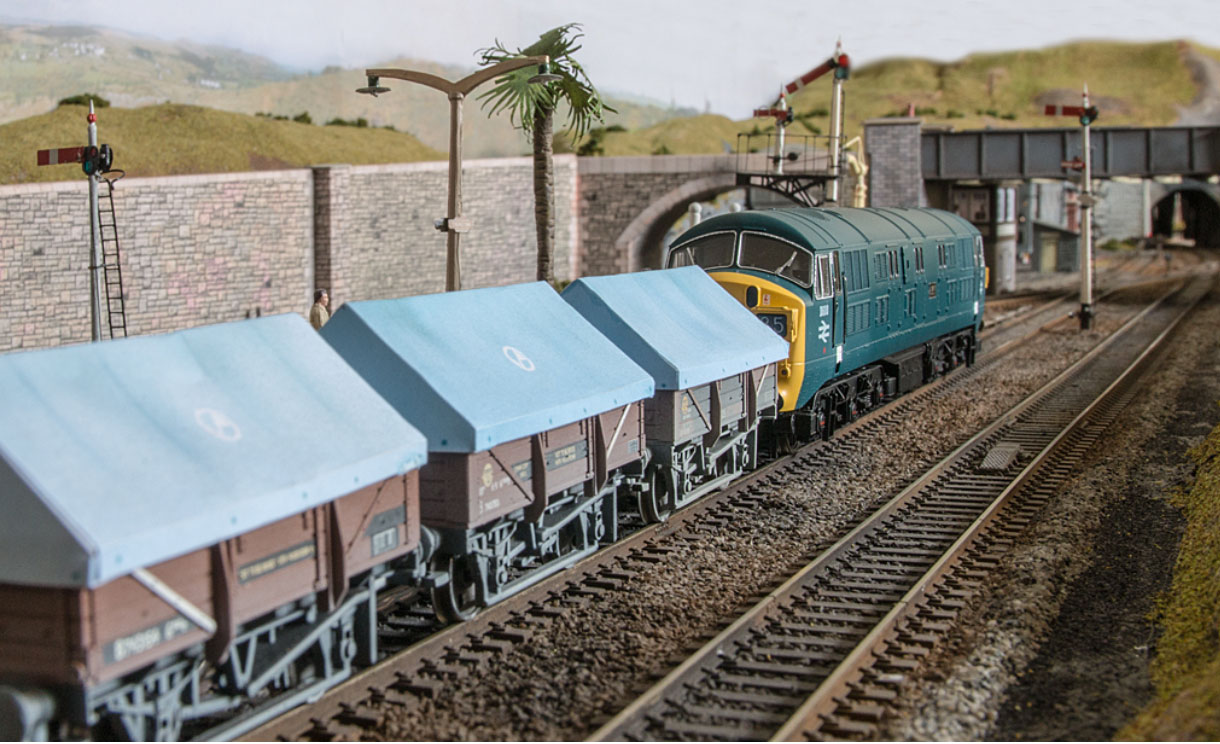 I had to look twice before I realised these photos were of a layout and not the real thing - very nice Mr Evans! Splendid photos of the D600 Active on your "Undy Junction" - aptly named due to the fact he gets rather warm in the loft during the summer months! I know if I need pop up into my parent's loft in the hotter months to grab some old momento of mine (yes I still store them there) I quickly return back down the steps to cool down!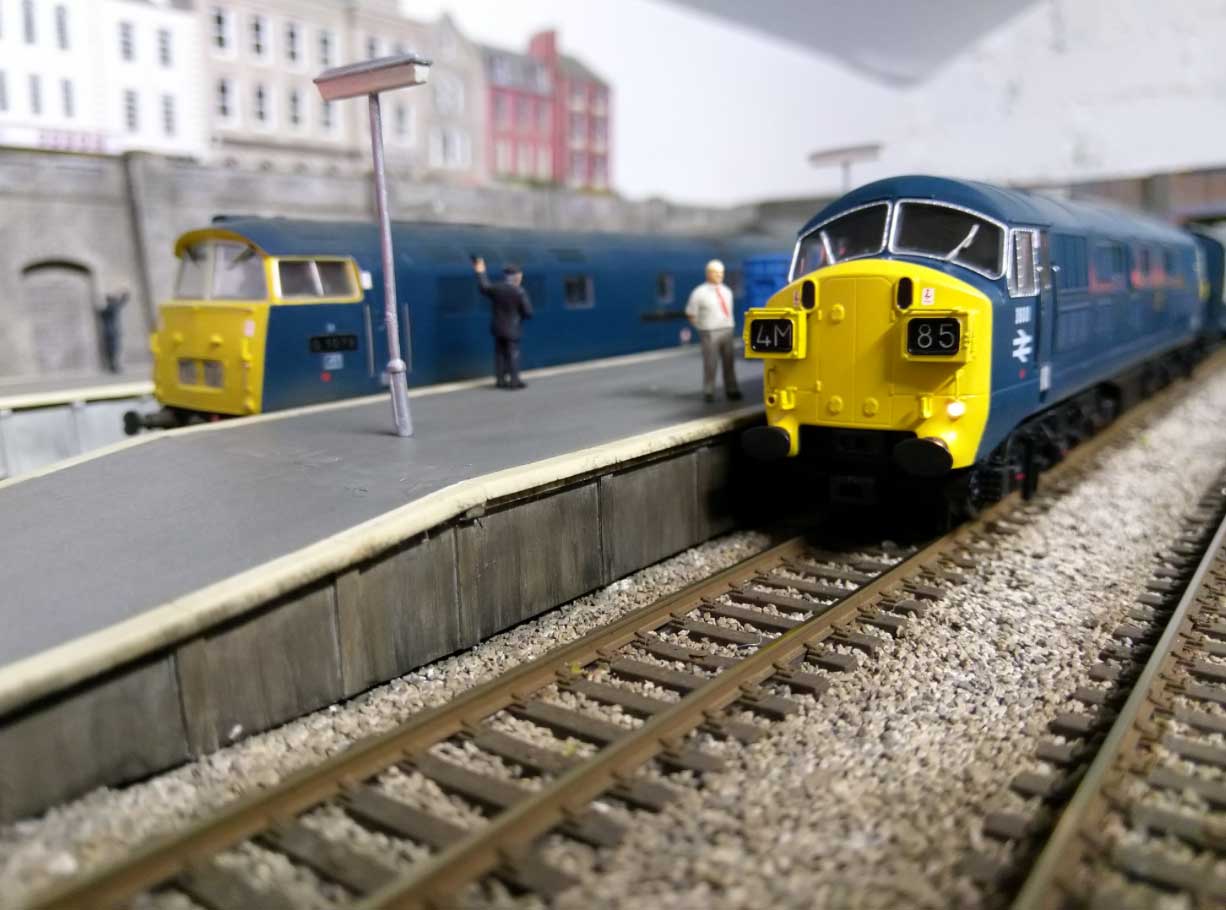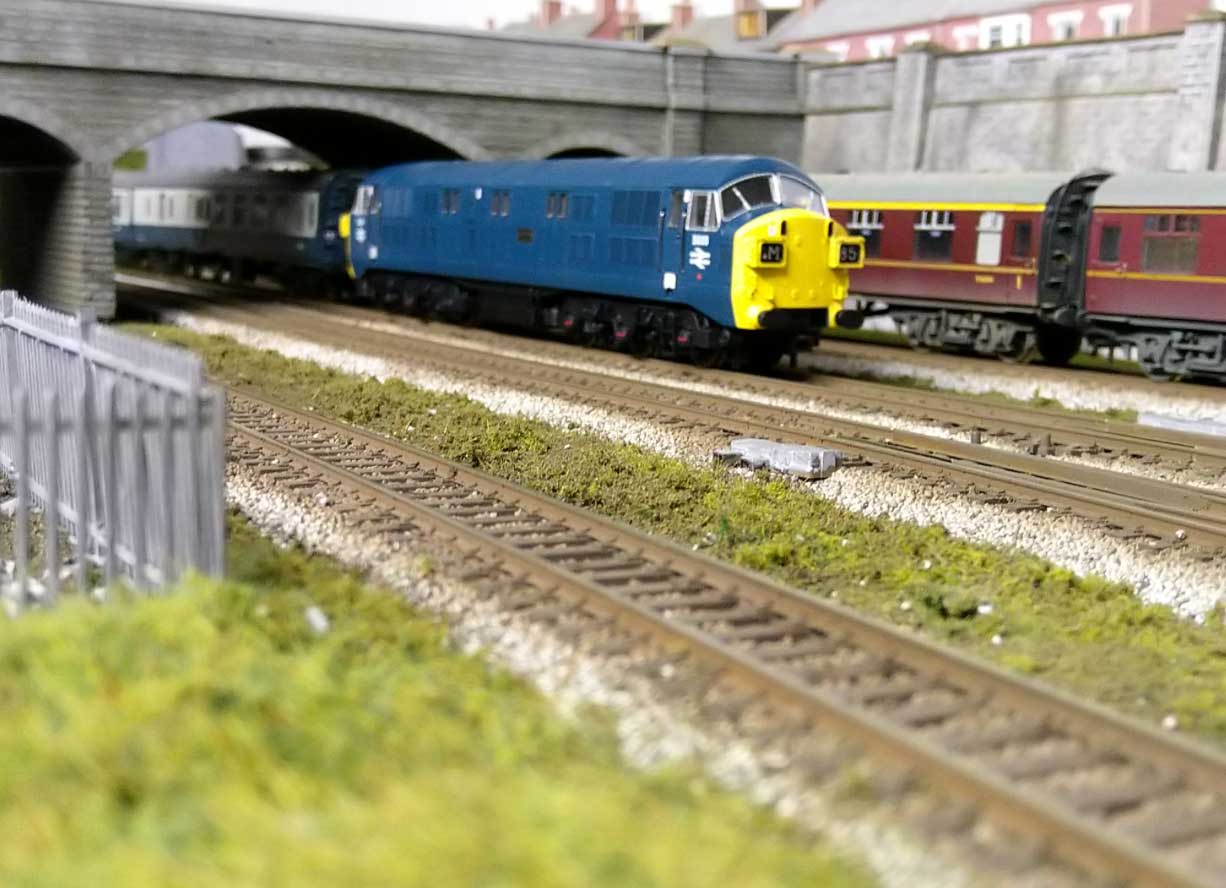 Mr Carter: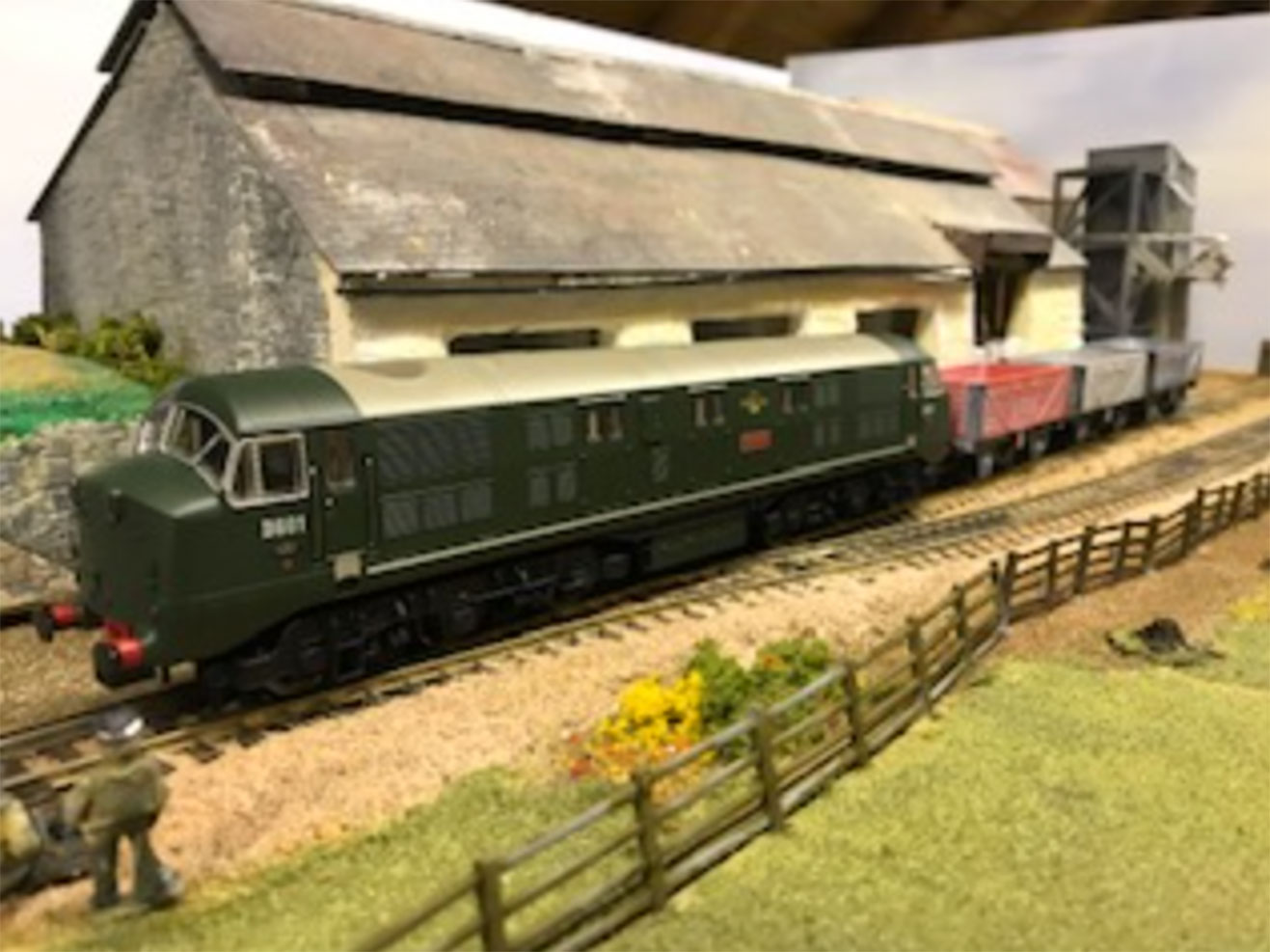 Mr Calverley:

Mr Palmer: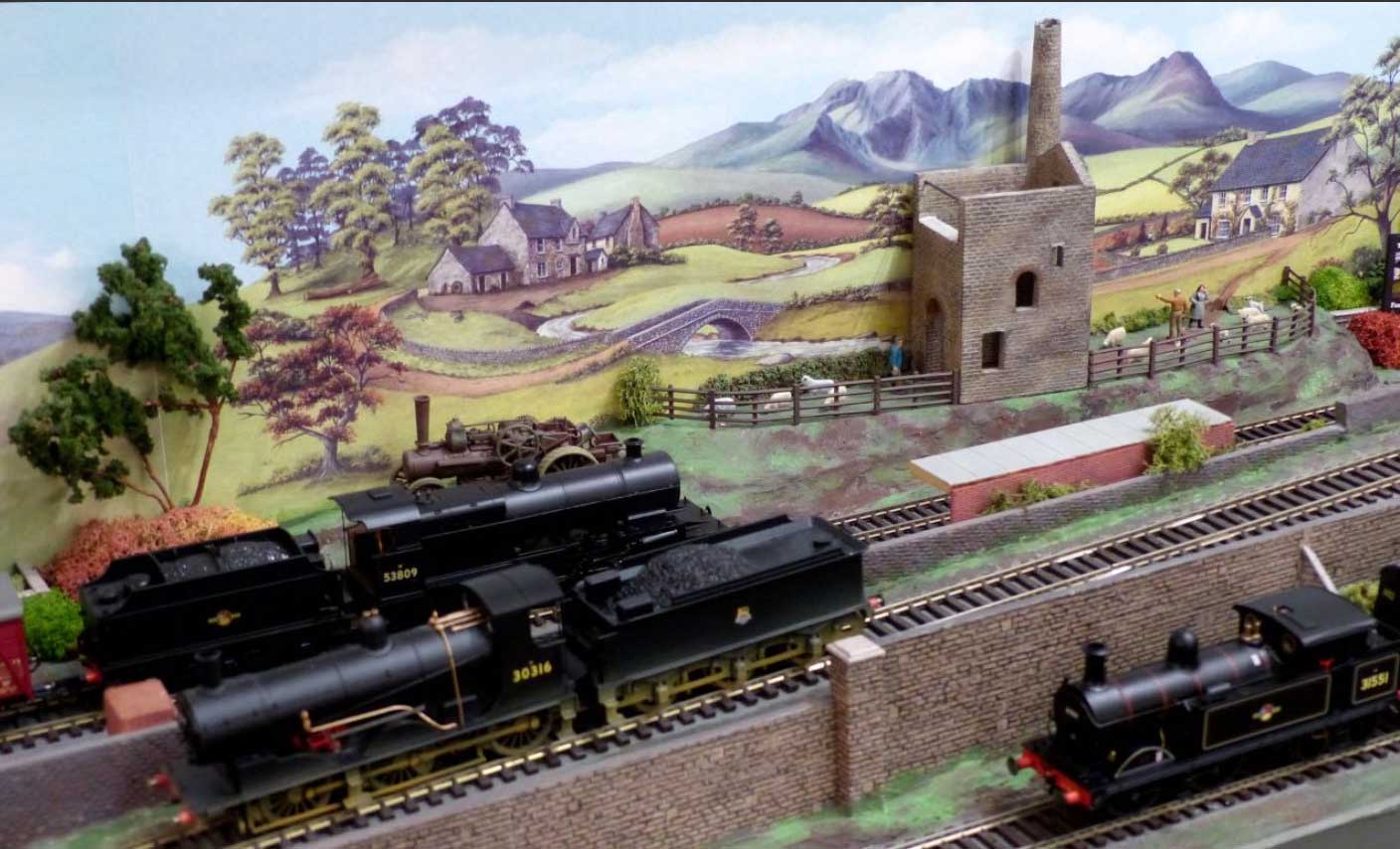 Mr Evans: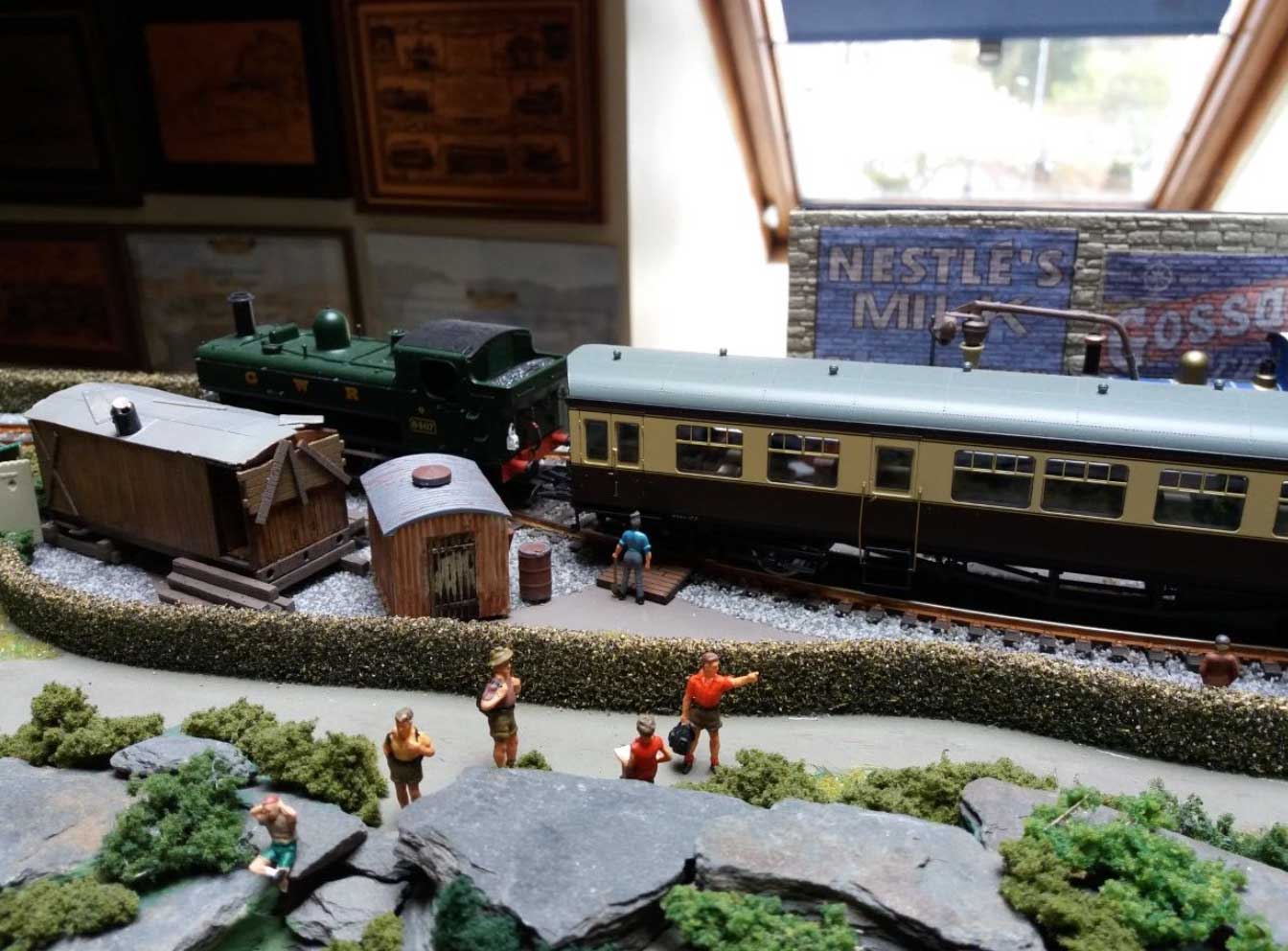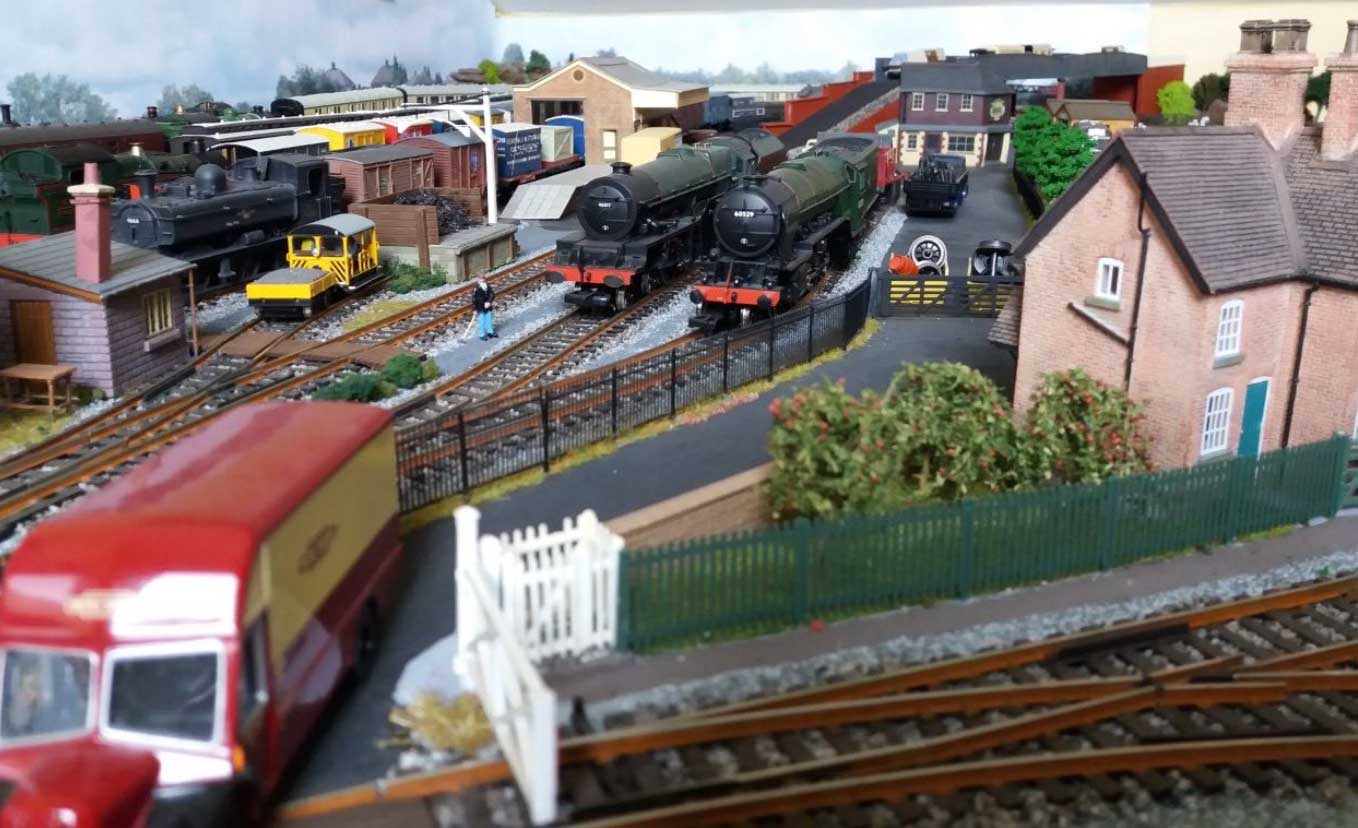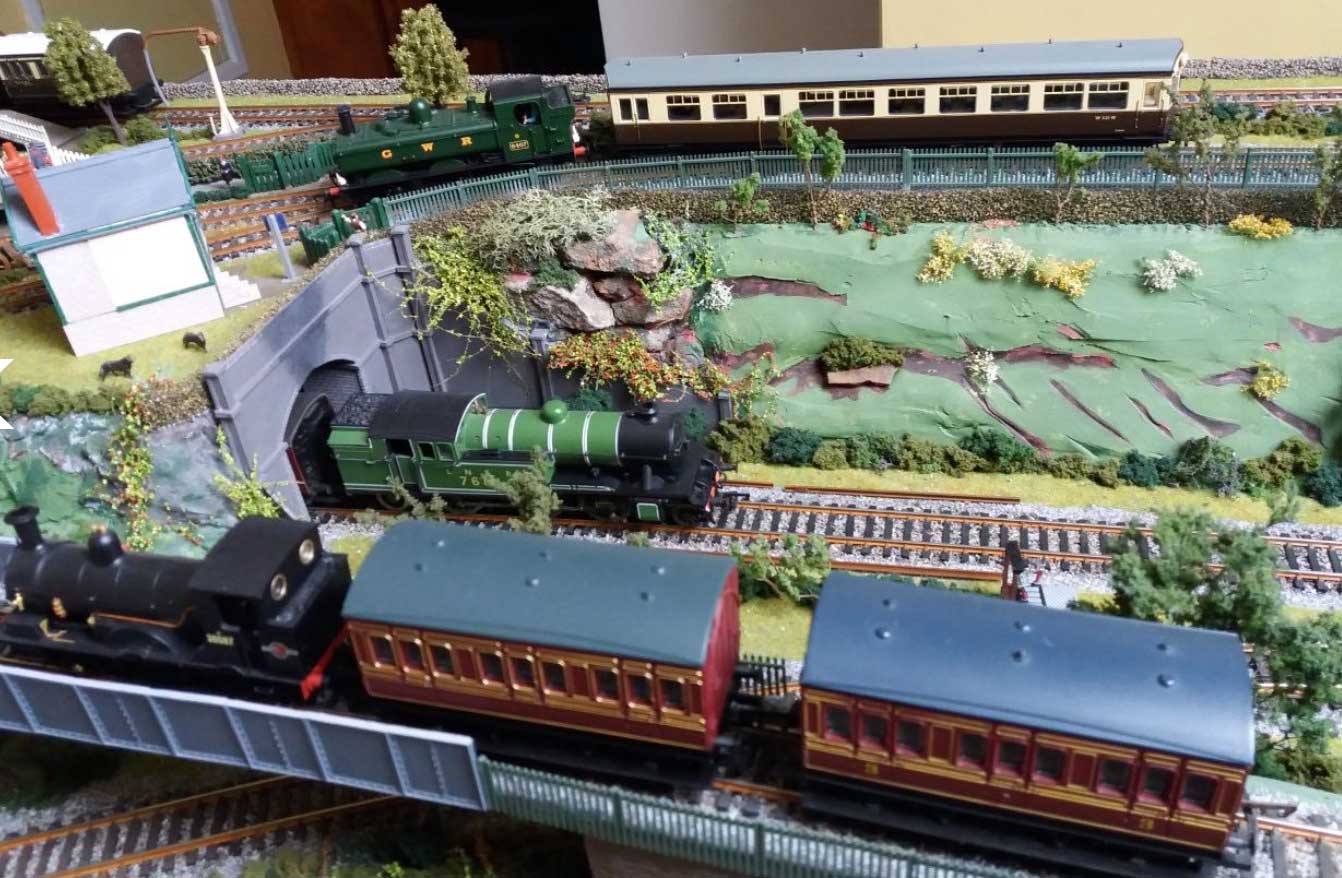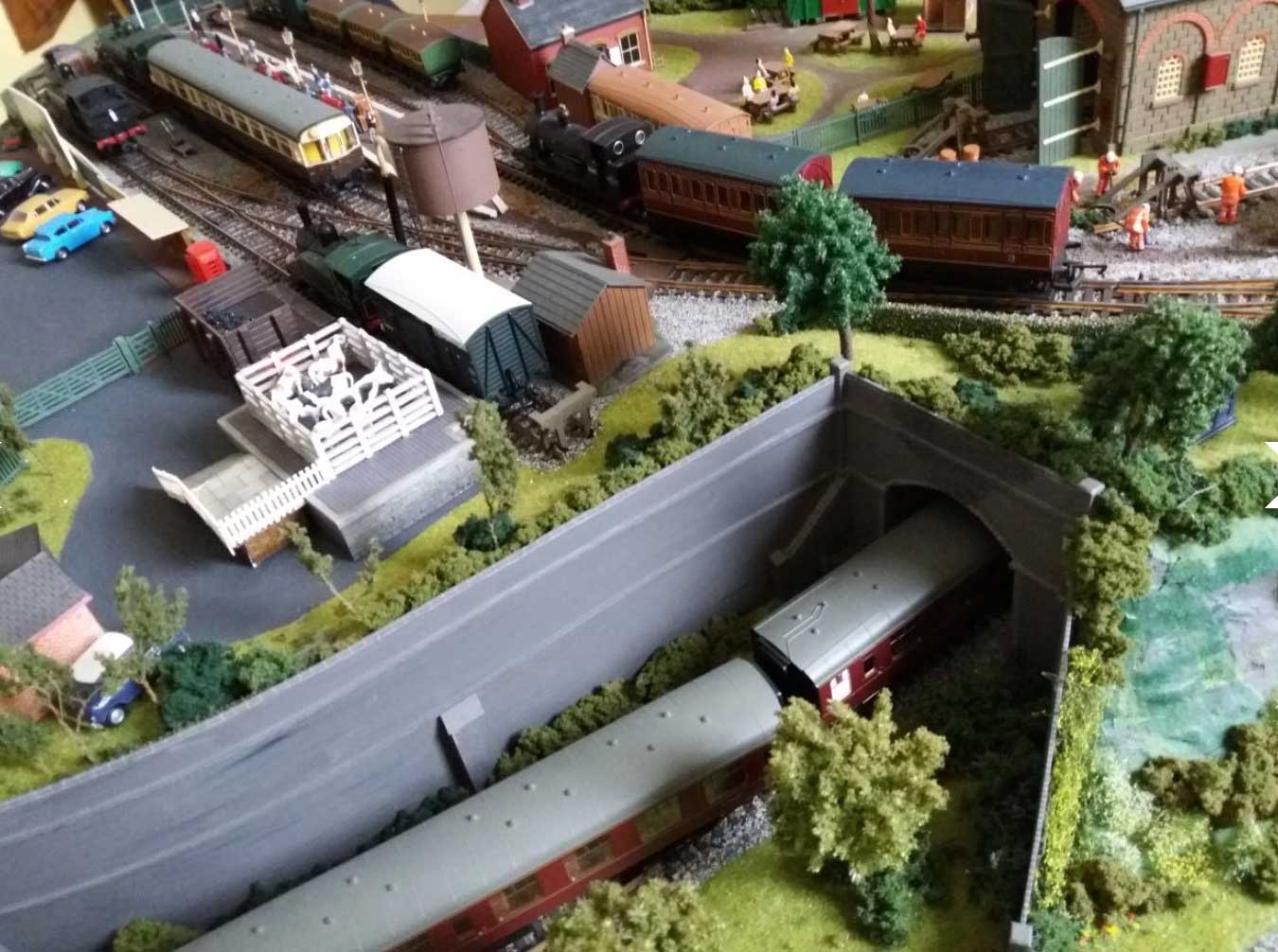 Mr Hayes: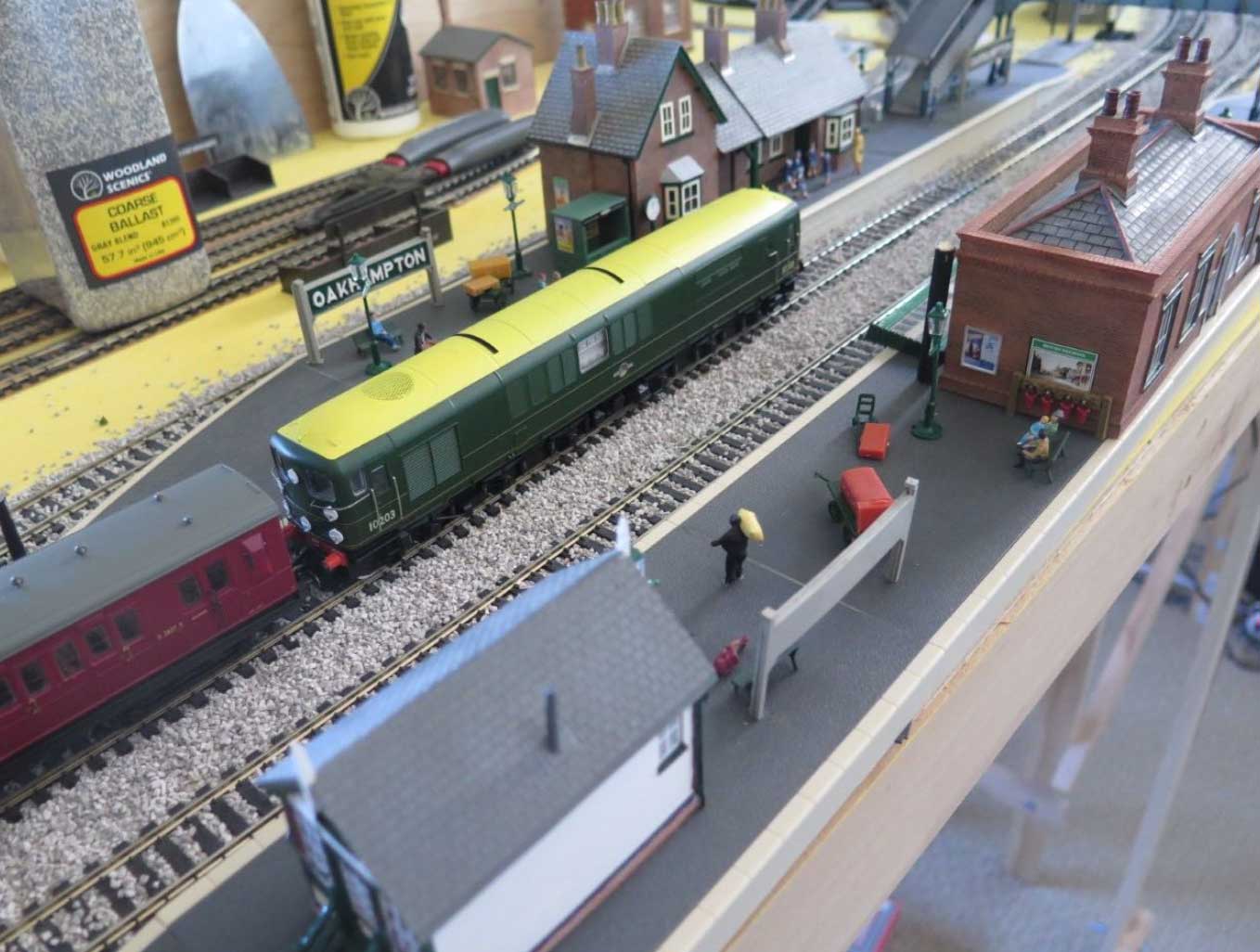 Mr Lenz: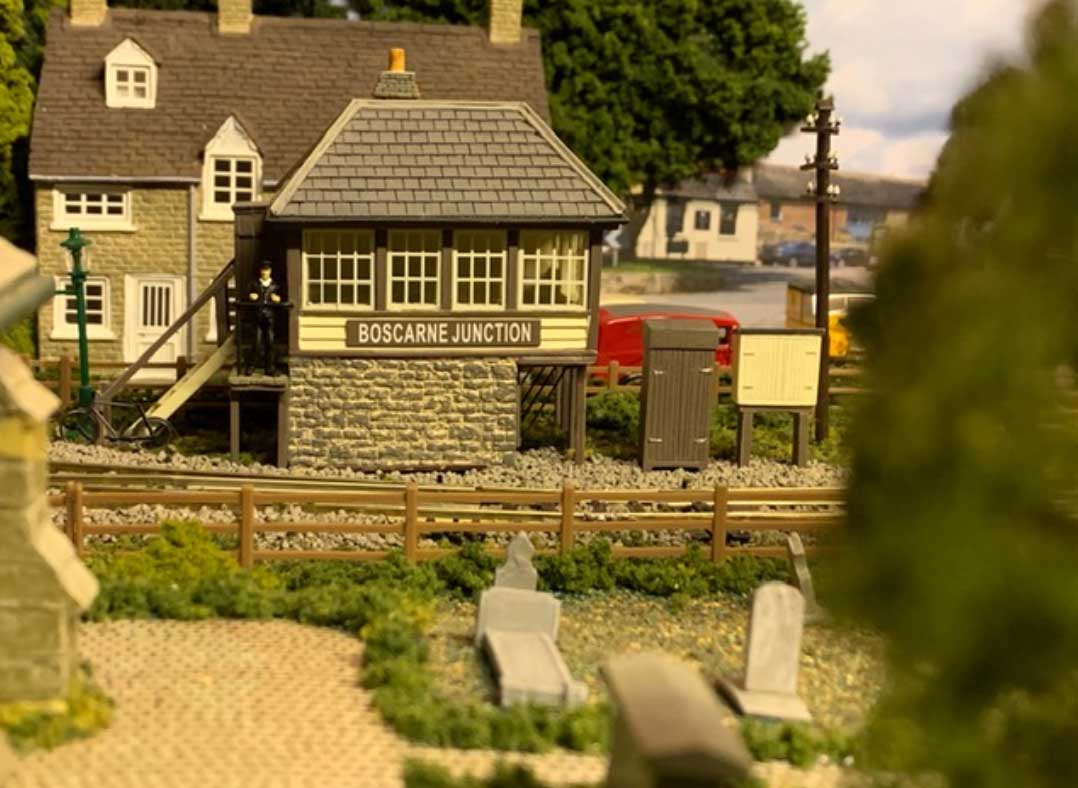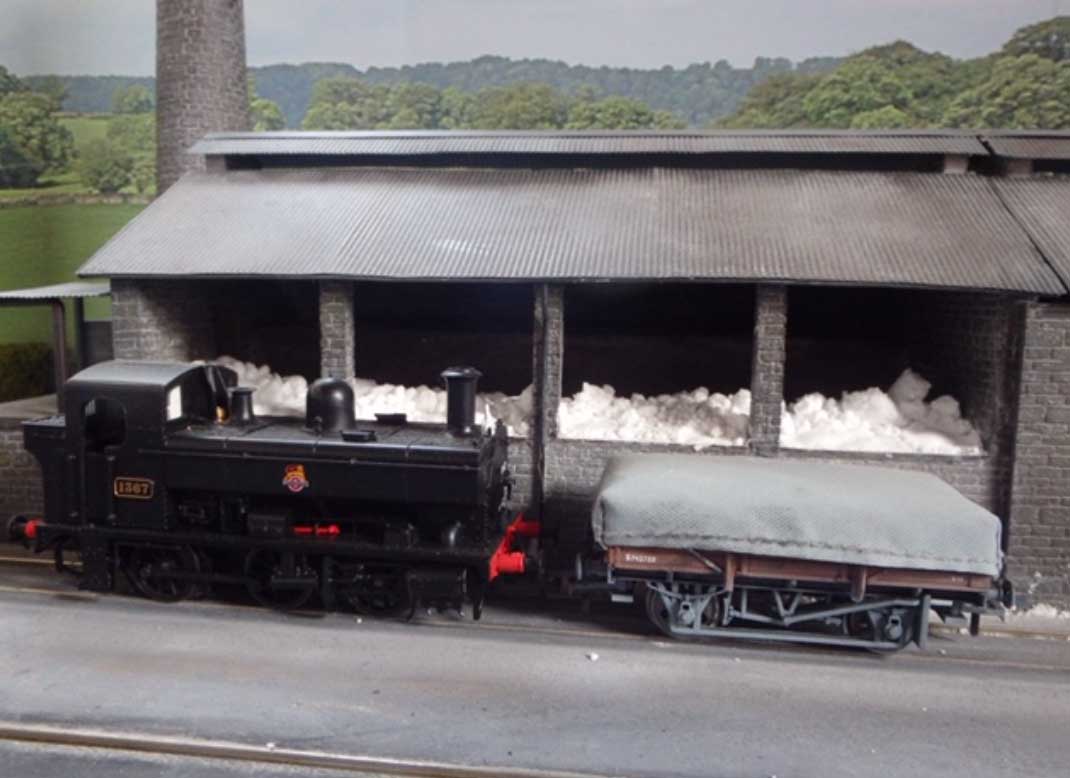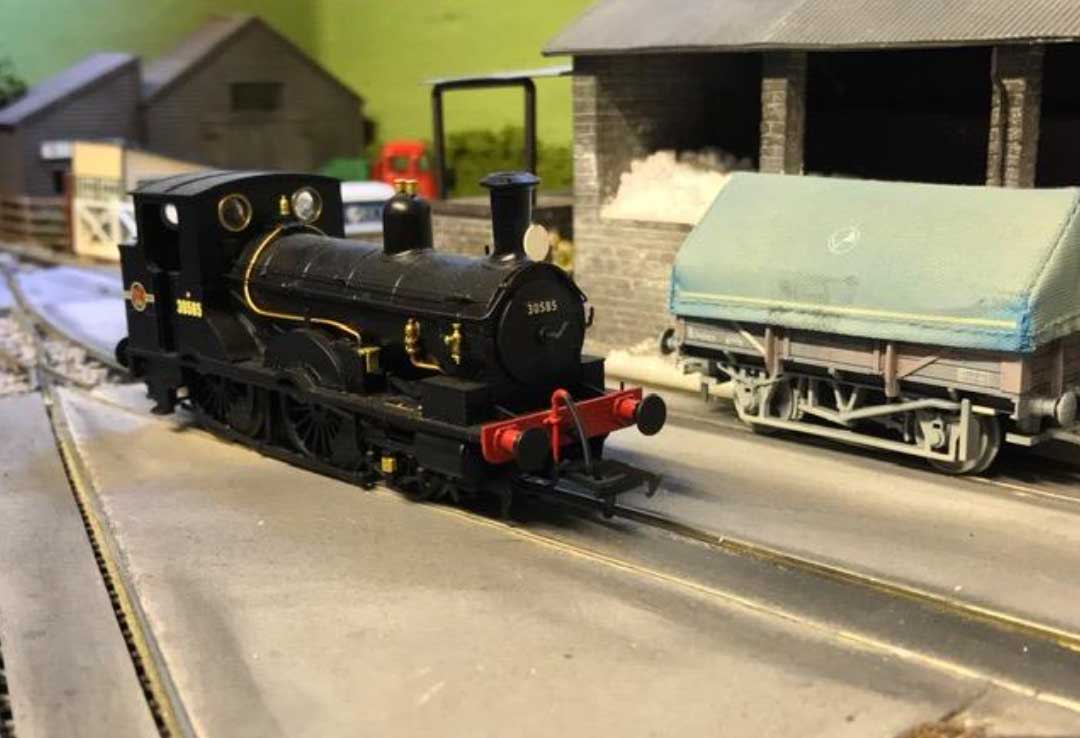 Mr Willetts: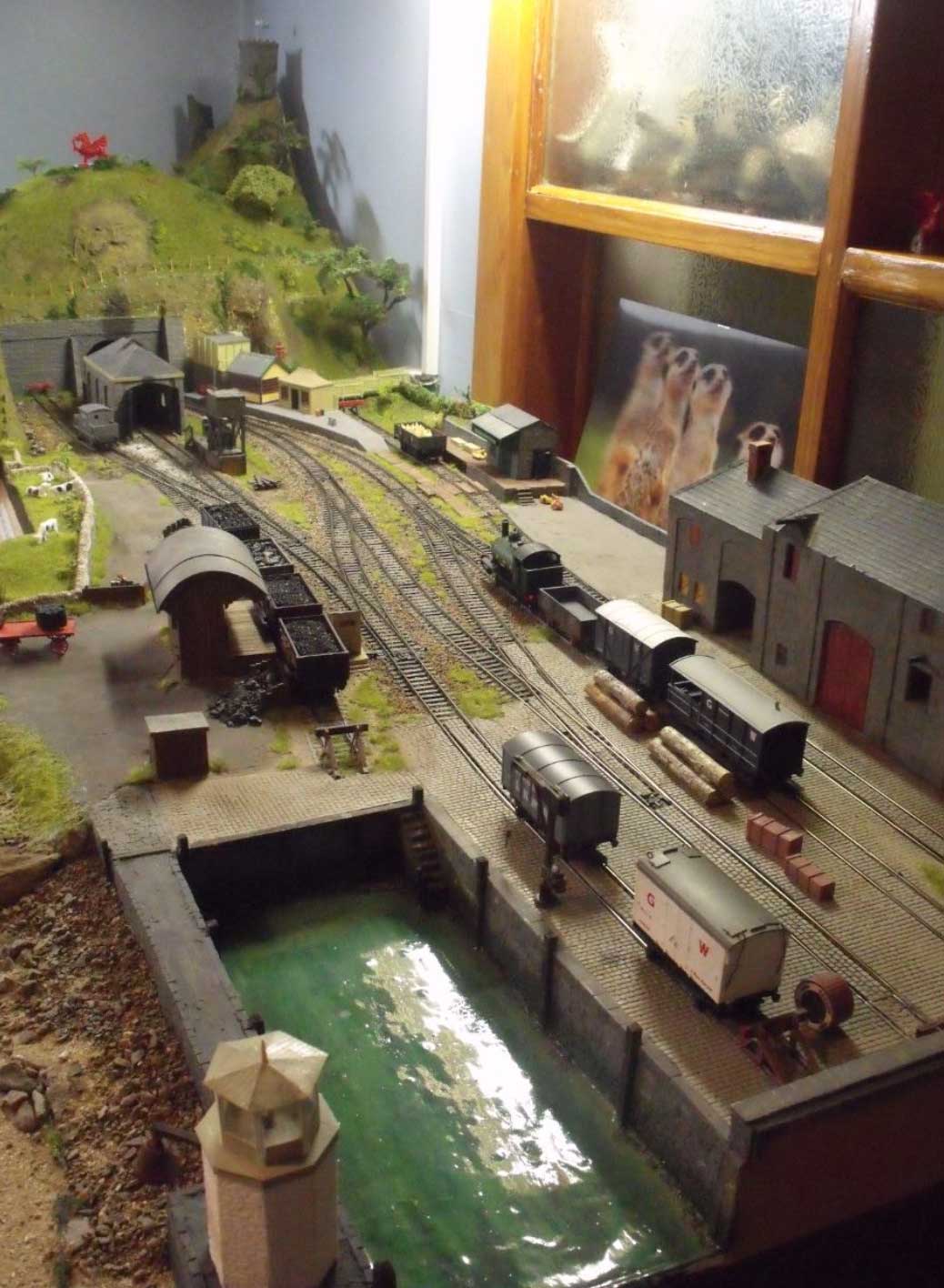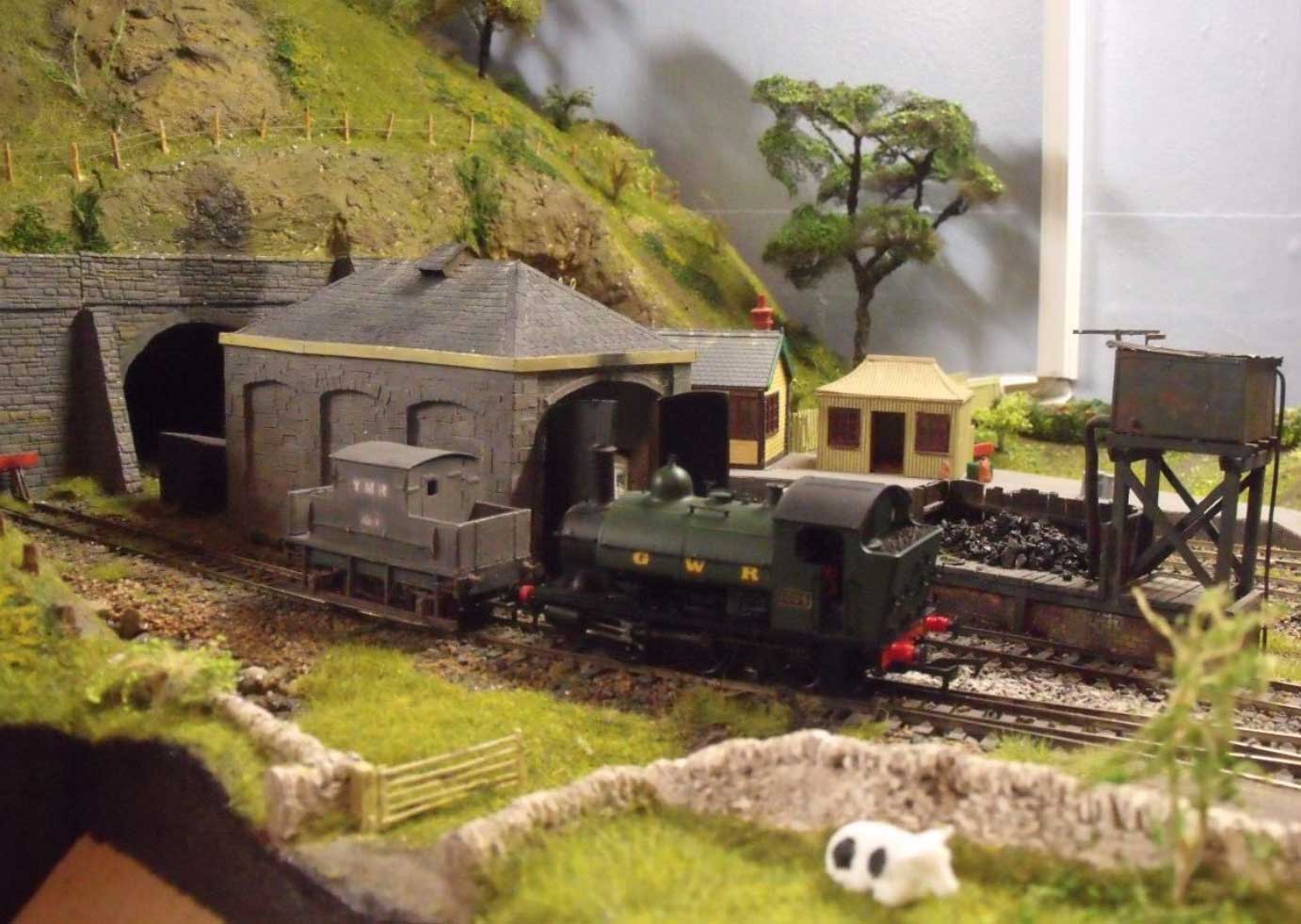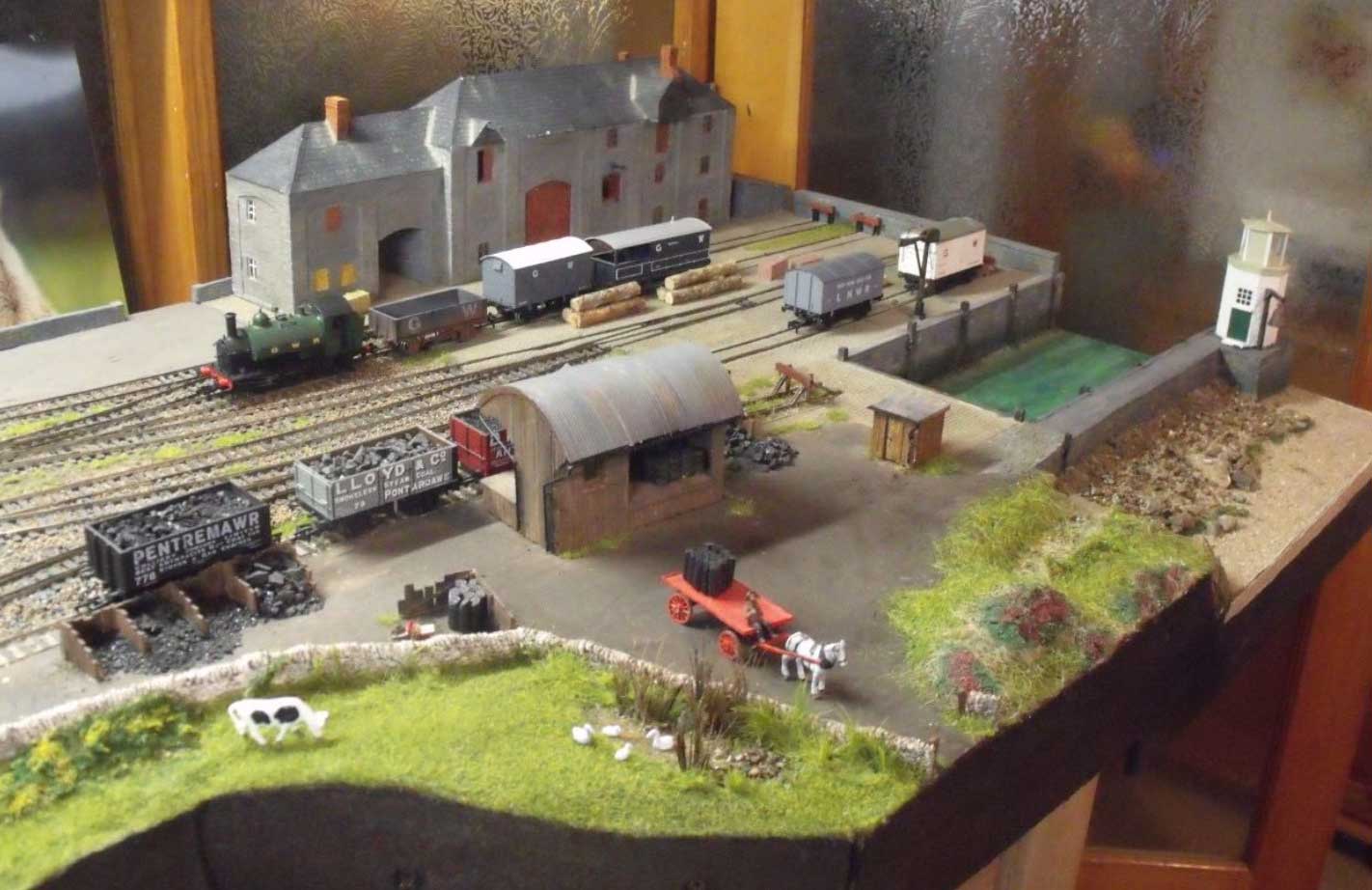 Mr Hemming: